Netflix's Passing - What We Know So Far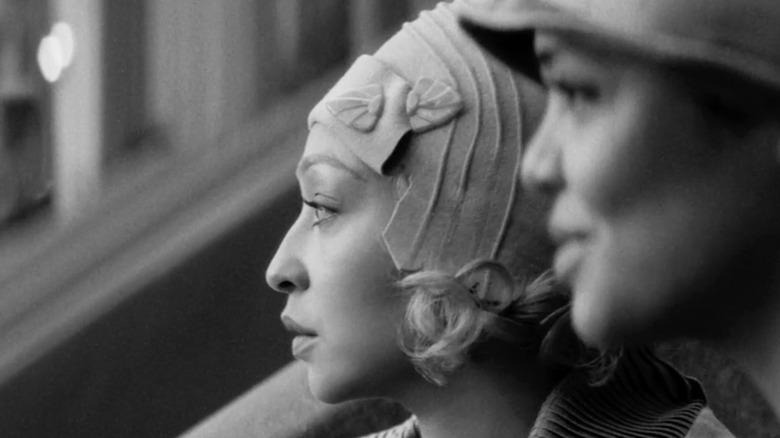 Netflix
Back in February 2021, after the film's premiere at the Sundance Film Festival, Netflix completed a deal to buy the new drama film "Passing," written and directed by actress Rebecca Hall. The movie is based on the novel of the same name by Nella Larsen from 1929, which focuses on the friendship of two Black women who both have the capability for "racial passing," or "white passing," with the two deciding to fall on different sides of the racial societal line. The movie is Hall's first time both writing and directing a film, and she's made a fantastic first impression. According to Deadline, Netflix purchased the new movie for around $16 million. 
The new movie "Passing" stars Tessa Thompson and Ruth Negga in the starring roles, with the dramatic story exploring the ramifications of their "passing" decisions and relationship with one another. It is entirely in black and white, which only emphasizes the main themes of colorism and passing explored in the movie. The actors, director, and story all impressed critics and audiences so far, with the film earning a positive 86% on Rotten Tomatoes from 83 reviews, and that's even before it's gotten a wide release. 
For those who are eager to see the film "Passing," which thoroughly impressed audiences at the Sundance Film Festival, here's everything we know so far about the upcoming Netflix movie. 
What is the release date for Passing?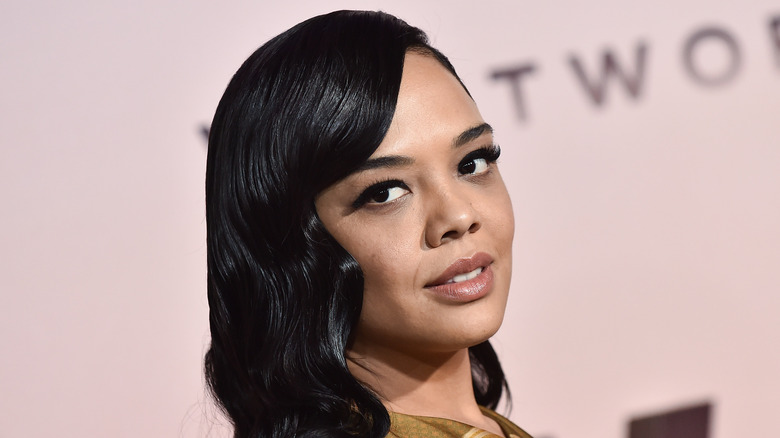 DFree/Shutterstock
Although the film has been finished for quite some time and was already seen by audiences at the Sundance Film Festival, Netflix has been patiently waiting to release "Passing" at the right time, hoping it will get more attention for the upcoming award season. 
In the press release from Deadline mentioned above, the publication also stated that Netflix "will do one of its top-shelf awards streaming releases with a theatrical distribution component." This was just confirmed with the announcement that "Passing" will receive a limited release in theaters on October 27, 2021, before premiering on Netflix on November 10, 2021 (via Deadline). Prior to the wide theatrical release, "Passing" will also appear at the New York Film Festival on October 3, 2021. 
The release structure for "Passing" is very similar to last year's "Mank," another black-and-white film which was definitely strategically released to get awards attention. "Mank," directed by David Fincher and starring Gary Oldman, was released on November 13, 2020 in theaters, premiering on the streamer on December 4, 2021 (Collider). Only time will tell whether this plan will pay off for "Passing" with awards season audiences. 
Who is in the cast of the upcoming Netflix film?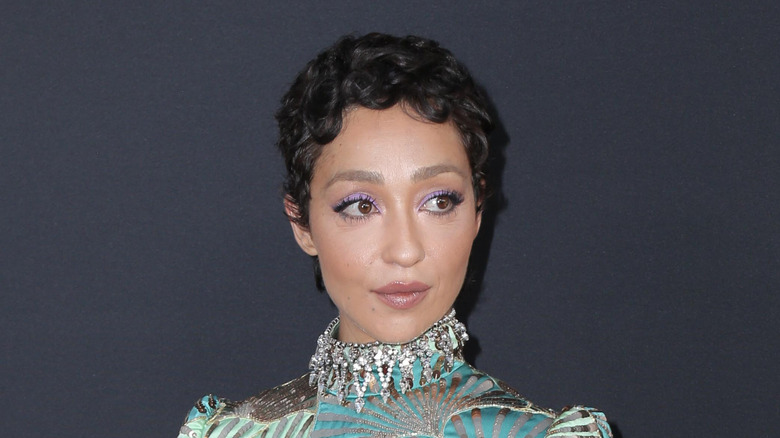 Kathy Hutchins/Shutterstock
The upcoming period drama "Passing" stars Tessa Thompson, who many will recognize from films like "Thor Ragnarok" and "Creed," as Irene "Reenie" Redfield, while Ruth Negga, who previously starred in "Loving" and the television series "Preacher," plays Clare Kendry. 
Both Irene and Claire are bi-racial women, but they have the ability to pass as white if they desire to. While the two women are childhood friends, their lives soon go in completely different directions, as Clare decides to pass as white and marry a wealthy white man, while Irene identifies as African-American and lives a less-privileged life in Harlem, married to a Black doctor. 
André Holland, who has previously appeared in critically-acclaimed movies like "Moonlight" and "Selma," plays Irene's husband, Brian Redfield, while Alexander Skarsgård of "Big Little Lies" and "True Blood" plays John, Clare's ignorant, privileged husband. "Passing" also stars Bill Camp, Ashley Ware Jenkins, Antoinette Crowe-Legacy, and Gbenga Akinnagbe, and more.
What is Netflix's Passing about?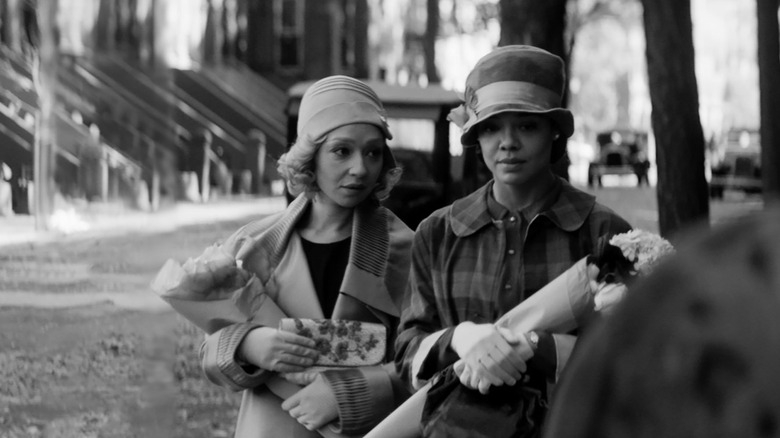 Netflix
While Irene and Clare lead separate, very different lives after childhood, the two are reconnected in adulthood through a chance run-in meeting. Irene is initially reluctant to spend time with her old friend, seeing Clare's situation as dangerous and wanting to focus on her life at home with Brian and their kids, but over time she warms up to Clare once again. Because of her ability to pass as white, Clare has lived a relatively easy, privileged life with her husband. But that doesn't mean that she doesn't see an appeal in Irene's lifestyle and their shared culture, and she can't help but spend more and more time in Harlem and the Black community. It seems like she wants the best of both worlds, and despite Irene constantly warning Clare against it for fear that her husband will discover the truth, Clare just won't give up her friendship with Irene. 
"Passing" is a deep study on colorism, which is varying prejudice based on a person's skin tone, with it generally being exhibited through those with a darker skin tone facing more discrimination, even from people of their own race or ethnicity. In this film, the topic of colorism is mixed in with how bi-racial people can experience a confusion of identity, unsure about their place in society. The upcoming Netflix film "Passing" is thoughtful and emotional in its depiction of the connection between these two women with such different experiences in life, with other topics like gender and sexuality also explored through the story. Considering how much those who have already seen the film loved it, "Passing" is sure to be a favorite on Netflix as well.