David Hasselhoff Raps On The Guardians Of The Galaxy Vol. 2 Soundtrack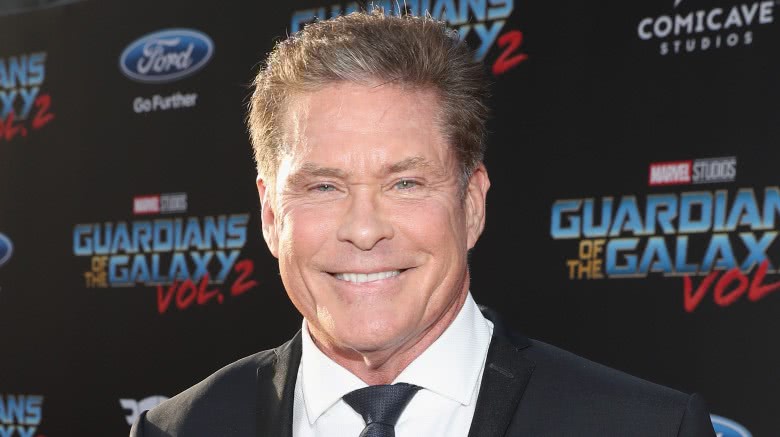 Getty Images
One of the strangest inclusions on the Guardians of the Galaxy Vol. 2 soundtrack (set to be released digitally on April 21) is a James Gunn and Tyler Bates penned song performed by The Sneepers featuring a very special guest: Baywatch star David Hasselhoff.
Gunn said Hasselhoff is one of Peter Quill's childhood heroes, and while we'll get to hear Hasselhoff's sweet pipes for ourselves soon, the actor offered a hint about what listeners can expect from his performance.
According to Hasselhoff, his contribution to the song, titled "Guardian's Inferno," is "more like a rap."
He told Entertainment Tonight: "They brought me in to sing the theme song and it was heavy. I walked into the room and I said, 'You're with the big boys now.' And I just turned it on and I went, 'I can handle it.'"
Hasselhoff isn't the only surprise musician to contribute to the song, though. He said director James Gunn also lent his voice to the piece, singing the chorus. The actor also teased that the song may not be his only involvement in the movie, saying that there are "some surprises" that he'll talk about more after people have seen the film.
Hasselhoff also revealed how Gunn got him on board for the project, saying the director told him that when he was 8 years old, he was a big fan of Knight Rider. "'Since that day, I've always wanted to meet you and to kind of live by the laws of the Knight Rider,'" Hasselhoff said Gunn told him. Hasselhoff then offered high praise for Guardians, saying, "I"m telling you man, that this show is so much like the Knight Rider. But also more than that. They're such nice people. It was a lot of fun."
Guardians of the Galaxy Vol. 2 is due out May 5. While we wait, check out the hidden details you may have missed in the trailer.