Who Does CM Punk Play In Starz's Heels?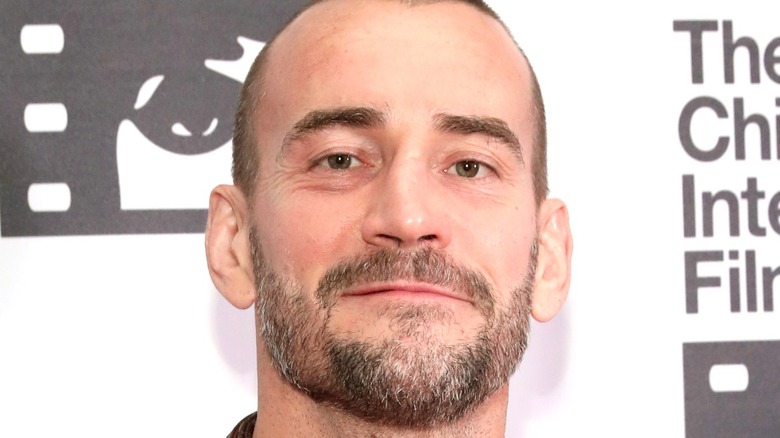 Robin Marchant/Getty Images for Queensbury Pictures / Dark Sky Films
It's inevitable that a show like "Heels," which focuses on the close-knit pro-wrestling community in a small Georgia town, would bring in some names from the real sports world to make pitch perfect guest star appearances. If you caught the third episode, "Cheap Heat," you may have noticed one of these cameos. CM Punk, who is still celebrating his triumphant August 20 return to All Elite Wrestling on "AEW: Rampage" (via Variety), made his high profile debut in the Starz series. Viewers knew for some time that this was going to happen, as he's been deeply involved in marketing the show for months.
"Heels" stars Stephen Amell as Jack Spade, a "heel" or villain, and Alexander Ludwig as his brother Ace, who starts off as a "face" or a good guy. They're part of a family-owned wrestling operation called Duffy Wrestling League, who clash over their late father Tom's (David James Elliott) legacy both on-screen and behind the scenes. It's uncertain if CM Punk will return for future episodes, but his fictional alter ego makes a big impression regardless.
CM Punk plays veteran wrestler Rick Rabies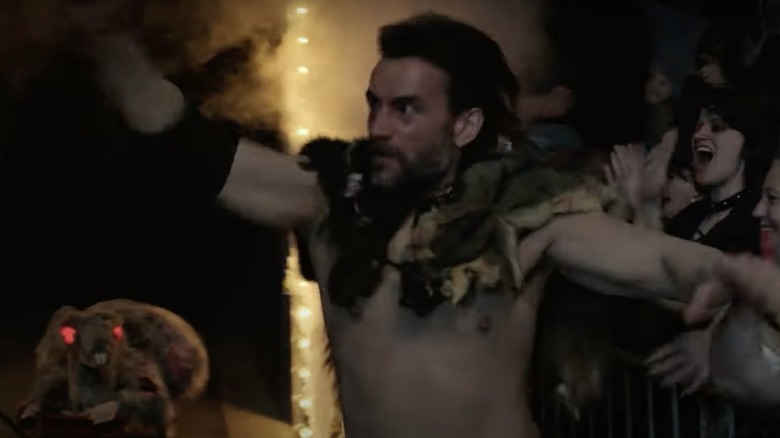 Starz
As a heel himself, CM Punk — whose real name is Phil Brooks — knows how to play a veteran wrestler. And Rick Rabies, his character on "Heels," is exactly that.
Rick and his valet Vicky Rabies (Bonnie Somerville) have roadkill-themed costumes and a possum drone. Rick, whom SB Nation's Cageside Seats compares to "how most of us imagine Mick Foley is off camera," is brought in by Jack Spade to put butts in the seats, but his inclusion rubs Ace the wrong way, as any event with Rick in it will overshadow his comeback. But Rick's performance helps Ace lean into the idea of becoming a heel himself, making Punk's role a potentially important catalyst for future happenings on the show. 
"I play a character that is, technically it's me in another life," Punk told Digital Spy back in April. "A very popular independent wrestler who, if you want people to show up to your show, you book him on this show. He's kind of been everywhere, done everything, he's a little bit older now and he's a character that everybody likes."
Punk's portrayal was inspired by real people he's known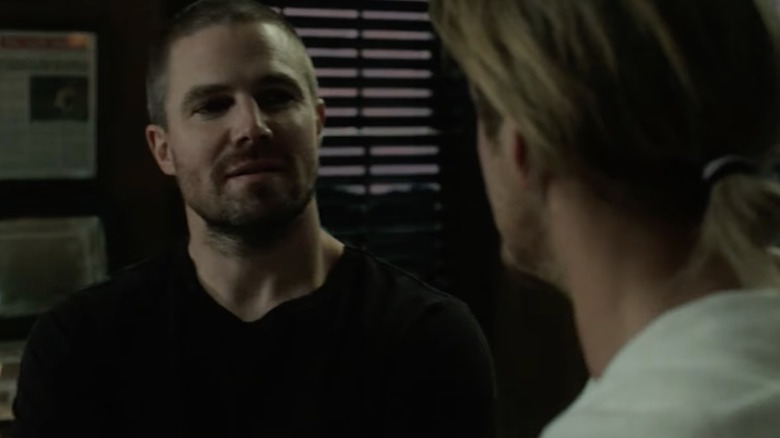 Starz
In August, Punk told Variety, "I've shared a locker room with a guy like Ricky Rabies — a perennial independent wrestling journeyman, maybe had a cup of coffee in the big leagues, who has a strong following. People will buy a ticket to go see Ricky Rabies. I got to kind of cherry pick and choose different attributes and personality traits from wrestlers that I have known over the years."
Punk offered more details during a promotional Q&A session (via Wrestling Inc.) Apparently, his portrayal was influenced by Terry Funk and Michael P.S. Hayes, with the main inspiration drawn from the late Tracy Smothers, the first big name he wrestled. "I learned how to work because of Tracy Smothers. I only wish he was here to see this ridiculous s**t*, because I think he'd love it," he said.
The actor, wrestler, and MMA artist was initially in the running to play the main character now portrayed by Amell before the show was shelved for a few years and then picked up at Starz (per Variety). Regardless, Punk made a large concession to play just the guest-starring role: he had to cover his tattoos. It took the makeup crew up to three hours to accomplish the feat each day, he revealed on Twitter. He later shared a timelapse video of the process on Instagram.