The Tragic Story Of Glenn Quinn From Roseanne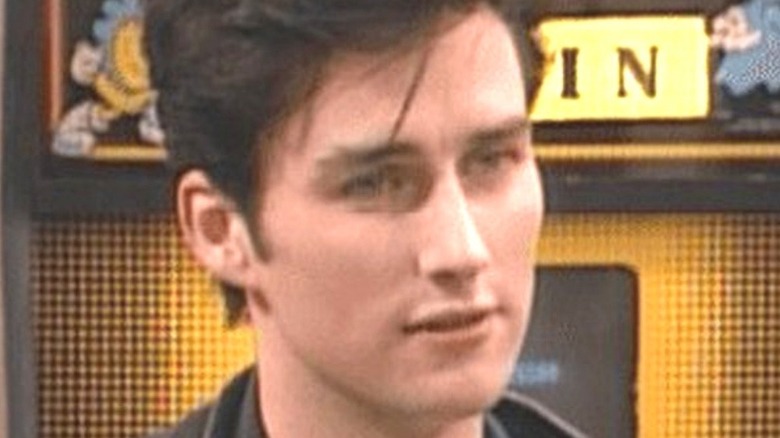 ABC
Glenn Quinn was an actor best known for his roles on the original "Roseanne" series and the "Buffy the Vampire Slayer" spinoff, "Angel," where he played half-human/half-demon Doyle.
On "Roseanne," the Irish-born actor played Mark Healy, the bad-boy boyfriend and eventual husband of Becky Conner (Lecy Goranson). Quinn's "Roseanne" character could have been a one-off role, but the actor made his debut on the third season of the ABC sitcom in 1990 and continued in it until the series finale in 1997, per IMDb. He went on to roles on "Angel" and "Fair City," but by the time "Roseanne" was rebooted in 2018, Quinn had passed away.
At the time, TV Line revealed that the role of Becky Conner's husband would not be recast for the revival series and that one of Roseanne Conner's (Roseanne Barr) grandchildren would be named Mark after his late uncle. Series star Michael Fishman (DJ Conner on the show) took to Facebook to write of Quinn, "As a show we never considered replacing his character... Glenn is irreplaceable." On the spinoff series "The Conners," fans learned that Mark Healy died in a motorcycle accident.
Glenn Quinn died in 2002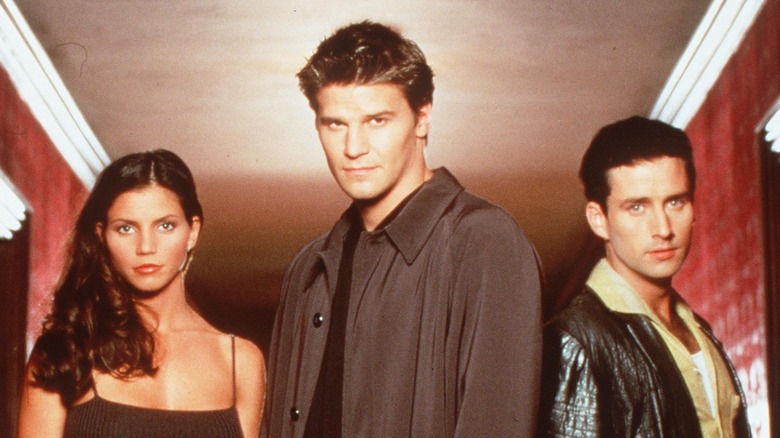 Getty Images/Getty Images
Glenn Quinn was just 32 years old when he was found dead at a friend's North Hollywood, California, apartment on December 3, 2002, according to the Los Angeles Times. The actor, who had long struggled with drug addiction, died from an accidental heroin overdose. Quinn's "Roseanne" co-star Michael Fishman told The Independent that he had never seen signs of drug use by Quinn during his years on "Roseanne" and that "any struggles he had started while working on 'Angel.'"
Quinn's sister Sonya confirmed the timeline, telling the outlet that her brother came home to Ireland in 1997 and it was during that time that "Glenn's struggles took over." "We as a family were very supportive in helping him," she added. "Though there were periods of sobriety, ultimately it consumed him."
Quinn's memory was honored on the "Roseanne" revival. Executive producer Bruce Helford told Pop Sugar that everyone on the cast and crew "had great affection for Glenn," and his character was mentioned throughout the series as his widow, Becky, endured her own struggles. A tribute to Quinn also played at the end of the final "Roseanne" episode in 2018, with a framed photo of Quinn shown in the Conner house and a dedication to the actor displayed onscreen, per Good Housekeeping. The late star's TV wife, Lecy Goranson, told Access Live that while shooting the ABC reboot "there were many times" the cast and crew felt Quinn's presence.
Glenn Quinn had a biological brother he never got to know
Glenn Quinn had a complicated family life. His father, Murty Quinn, was a singer and musician who toured with the musical group Miami Showband in the 1960s, per TV Overmind. When Quinn was a teen, the family left Ireland to immigrate to the United States. Quinn stumbled upon his acting career after hanging out with a cousin who worked on movie sets.
Glenn had two sisters, Sonya and Louisa, but he also had a brother, Ciaran, who lived in Dublin, Ireland. Sadly, Quinn never met his only brother because his sibling was put up for adoption as a baby, per The Independent. After Ciaran McQuaile Quinn went on a quest to find his birth family, he discovered he was related to the late actor. Quinn's brother said their biological mother, Bernadette, looked after her struggling son and that he'd been in rehab and "clean" for a while before his deadly relapse.
While he never met his actor brother, Ciaran said he was given some mementos from his past, including a drum set the "Roseanne" star used to play. "I wear his Claddagh ring," he said. "[Bernadette] has given me as much as she possibly can... I just would have loved to have gotten to know him."