Why The Internet Is Loving Aidy Bryant's New Old Navy Commercial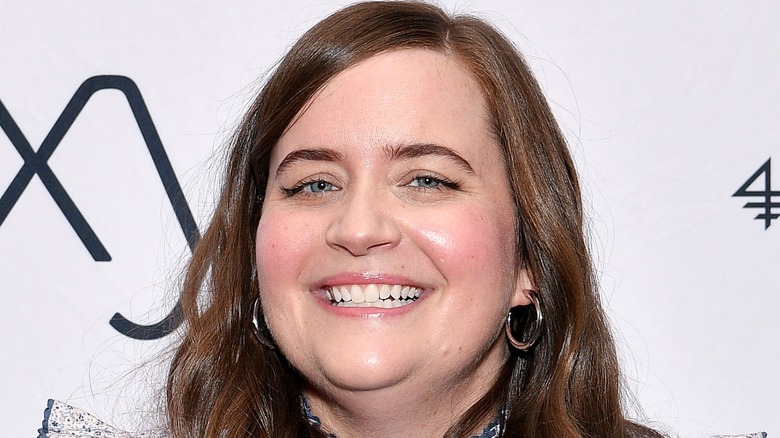 Dia Dipasupil/Getty Images
"Saturday Night Live" veteran Aidy Bryant is known for her confident and hilarious demeanor when playing characters like fairy-with-attitude Tonker Bell and doing impressions of real world/pop culture figures such as Sarah Huckabee Sanders, Megan Trainor, and Ted Cruz. With her plus-size frame, she's also an icon for body-positivity on her show "Shrill" on Hulu, which focuses on her character's experiences as a woman trying to "change her life without changing her body" (via IMDB). Bryant has spoken at length about body positivity in relation to her career in many interviews, which has garnered her a significant fanbase.
Now, she's in a new Old Navy ad that's getting plenty of kudos on the internet. Commercials for the brand's clothing have always been amusing and cheeky, and this 30-second spot for the new Bodequality campaign, which released online on Aug. 17, is no different. It also features Bryant doing a bit of dancing, as she and a number of other women — all of different sizes — shimmy and move to "I Am 100%" by Jarina De Marco. 
"I'm a dancer now," Bryant says at the end of the video, which was done in partnership with The Martin Agency. The ad has been making waves on the internet, and for good reason.
The ad is getting plenty of the right kind of attention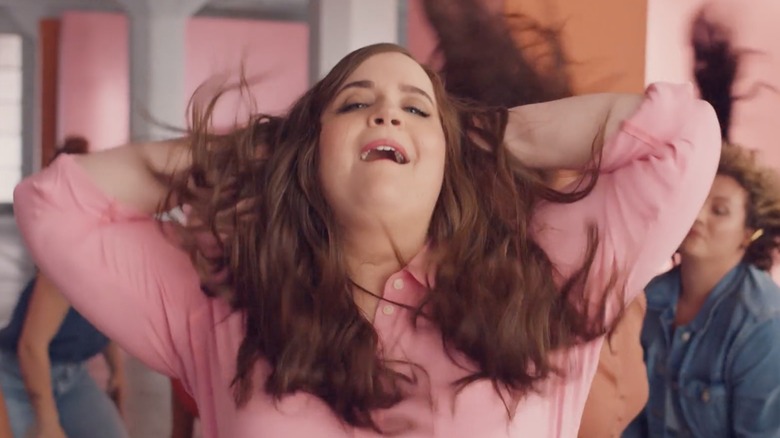 Old Navy/The Martin Agency
It's nice to see the internet on board with something this wholesome and, as Twitter user @AllieCaps termed it, "adorable" as Old Navy's Bodequality commercial. It's Bryant's first major campaign, and it seems to be going over pretty well. Twitter user @VeeFraser called the ad "my current favorite thing," echoing other similar statements. @thenancydrews said, "All ads should feature Aidy, always!!!" Even some users who don't appear to shop at Old Navy were won over by the commercial. "I'm shivering with excitement," said @dreamsinger9, while @eejayhutn said, "In the most anti-capitalist way possible the new Old Navy commercials with Aidy Bryant brings me SO MUCH JOY."
The praise seems to come from a combination of love for the comedian and anticipation regarding the new Bodequality campaign, which is giving more than just lip service to the idea that all body shapes and sizes are worthy of finding stylish clothes that fit. People are confessing to experiencing all the feels about the ad's level of inclusivity. As Kay Fittes (@highheelsuccess) noted, "This significant first is changing the landscape for women!"
Old Navy's Bodequality campaign aims to normalize different women's shapes and sizes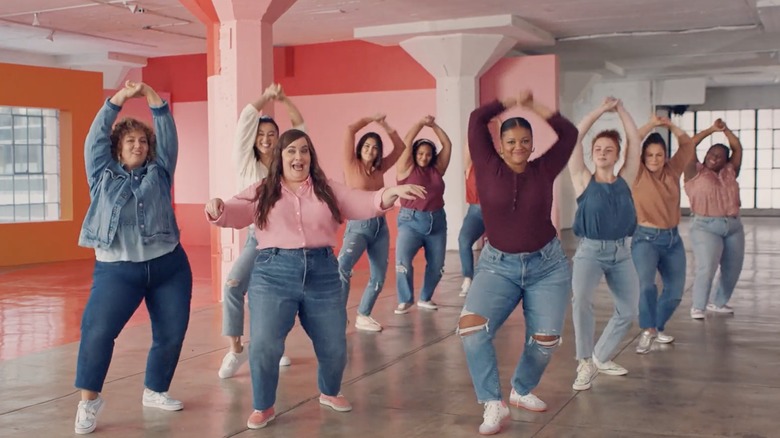 Old Navy/The Martin Group
Old Navy's Bodequality campaign aims to revolutionize the retail clothing market. "Beginning on August 20, Old Navy will redefine size inclusion, offering every one of its women's styles, in every size, with no price difference," the company's press release said. 
As part of the effort, all of Old Navy's over 1,200 stores will offer sizes 1-28 and XS-4X with no price difference and no special delineations. Mannequins will come in sizes 4, 12, and 18 and employees will be trained to offer an environment "where every shopper feels they belong," the brand said. Online, stores will offer sizes in 0-30 and models up to size 18. Old Navy said it has revamped its fit and sizing process to accommodate real women's bodies as well. 
The retailer has long been working to be more inclusive, offering plus sizes as early as 2004. Bryant's involvement comes from her enthusiasm for the changes Old Navy continues to make. "What we learned after talking to customers, and this has been years in the making, is that all women want to be treated equally, regardless of their size," Old Navy's Chief Marketing Officer, Jamie Gersch, told Adweek. "The reason she chose to work with us is because she feels so connected to the cause and couldn't believe that we were doing this."
Versions of the ad are now appearing on television, Instagram, and TikTok. You may also start to see images from the campaign on both digital and static billboards in places like New York and Los Angeles.