What Is The Song In The Old Navy 'Freedom' Commercial?
A company known for its catchy and memorable advertising campaigns, Old Navy celebrated summer in its newest musical ad, which features Grammy and Academy Award winner H.E.R. shredding on guitar and singing while sporting attire from the trend-setting clothing line. The R&B artist can be seen rocking out in the middle of a city street, accompanied by a group of dancers as nearby water hoses rain cooling mists over the scene. The 15-second commercial may be brief, yet it succeeds in conjuring feelings of joy and community, as well as memories of summertime fun.
H.E.R. emerged onto the popular music scene with the release of her hit debut EP, "H.E.R., Vol. 1," in 2016, followed by "H.E.R., Vol. 2" in 2017. The 2020 single "I Can't Breathe," the artist's powerful message in support of the Black Lives Matter movement, won a Grammy Award for Song of the Year in 2021. While H.E.R. has been celebrated for her soulful original songwriting, the song she sings in the Old Navy ad is actually not her own, but an updated take on a '90s classic.
Freedom! '90 was George Michael's farewell to Wham!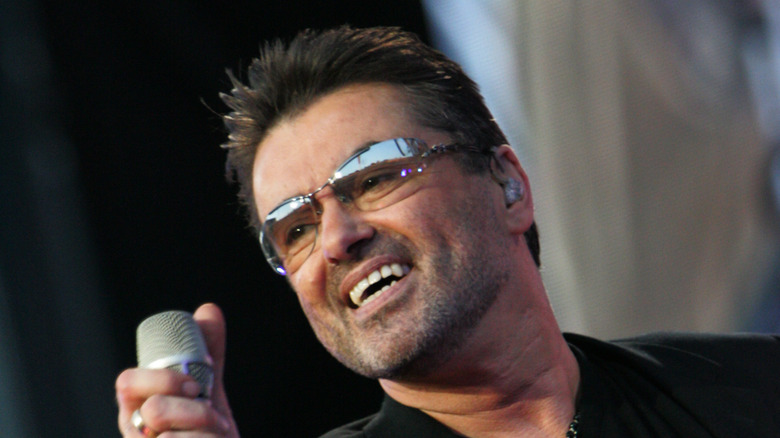 Shutterstock
The song that H.E.R. sings is called "Freedom! '90," although it is mostly referred to by many as "Freedom." It was originally written and performed by George Michael, the former lead singer of Wham!, who went on to have a very lucrative solo career in the late 1980s and early 1990s. "Freedom! '90" comes from Michael's album "Listen Without Prejudice Vol. 1," and was a huge hit for the singer/songwriter. Those who grew up in the '80s and '90s will probably remember the song's music video, which featured famous supermodels lip-syncing the song in place of Michael himself, who was barely visible in the video, according to Songfacts.
Although H.E.R.'s version of the tune is a fun, upbeat dance number, the inspiration for "Freedom! '90" was actually born out of resentment. For Michael, the song was an expression of his feelings about leaving Wham! to explore his own artistic ambitions. The lyrics are a statement about how his career with the band made Michael feel like he was pretending to be something he wasn't, and that it was time for him to move on. While the George Michael original is truly a classic, there's no denying that H.E.R.'s rendition for Old Navy definitely slaps.