Squirrel Girl, Other Characters Confirmed For New Warriors TV Series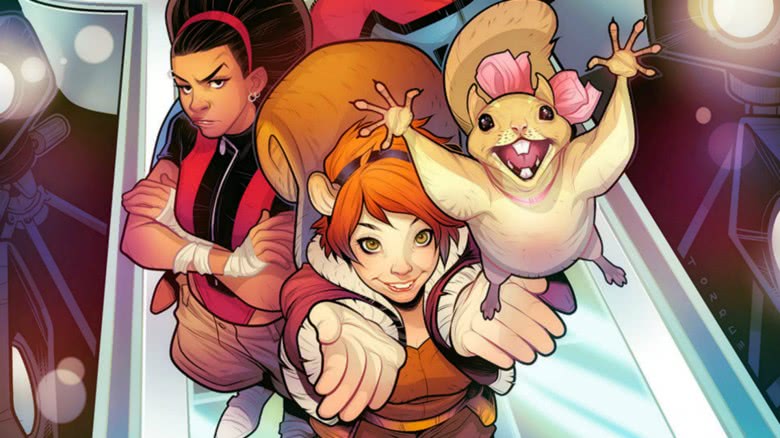 Marvel
Squirrel Girl will officially jump to life in Freeform's upcoming New Warriors series.
Marvel released details about the upcoming live-action comedy, and confirmed which beloved characters will take the spotlight in ten half-hour episodes scheduled to arrive in 2018.
The New Warriors were created by Tom DeFalco and Ron Frenz and first appeared in the Thor comic book series in 1989. They became so wildly popular that Marvel unleashed a series specifically about them a year later. Since then, the New Warriors lineup has shifted, and the TV series will be based on the innovative take by writers Zeb Wells and Skottie Young.
Here are the characters that will be in the Freeform series. Check out a group shot below.
Doreen Green (Squirrel Girl)
With the "powers of a squirrel" and the "powers of a girl," she is acrobatic, strong, and (most importantly) she can speak to squirrels. Doreen is a "totally empowered fangirl" and a "natural leader" who is confident and tough, but not too innocent. Her greatest quality is her optimistic point of view, and she's always joined by her pet squirrel Tippy Toe.
Craig Hollis (Mister Immortal)
The team "troublemaker and lothario," Craig is more cocky than confident and "charmingly grumpy." His main power is that he can't ever die (or so he says), but he figures he's got some time to figure it all out.
Dwayne Taylor (Night Thrasher)
Dwayne is a local celebrity "hero" with his own YouTube channel, but no real superpowers. He's "brilliant, strong, noble, and maybe a bit full of himself," but a shameless self-promoter and entrepreneur. He hides the fact that he comes from a really rich family because he's afraid it'll damage his street cred.
Robbie Baldwin (Speedball)
Robbie "grew up watching Quinjets take off from the Avengers Tower" and he can launch kinetic balls of energy. He's impulsive and immature, and he hasn't quite yet learned how to control his powers.
Zack Smith (Microbe)
Zack is a shy hypochondriac who can talk to germs, which makes him kind of telepathic. Germs can tell him where you've been, and it's "impossible to keep secrets around him." He's a "big sweet guy" who is growing into his own confidence.
Deborah Fields (Debrii)
Proud, funny, and "quick-witted," Deborah is confidently out as a lesbian, and she has seen profound loss in her personal life. She's known as a "low-level telekinetic" and a "trickster," and she's the most likely to speak her mind whenever team members get on her nerves.
There are no details about the cast just yet, but we know Kevin Biegel (Cougar Town) will serve as showrunner while Jeph Loeb and and Jim Chory (both of The Punisher and The Defenders) will executive produce.We'll let you know once we find out more. Until then, check out a few no-name Marvel characters that are better than the big guys.