When Calls The Heart Season 9 Release Date, Cast And Plot - What We Know So Far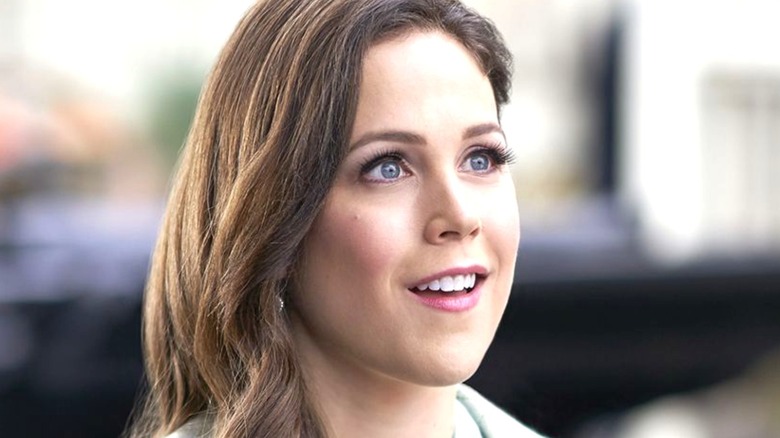 Hallmark Channel
"When Calls the Heart" is gentle, pleasing fare which is one part sweet romance and one part family historical drama, featuring a fish-out-of-water heroine and a bustling town filled with spunk and spirit. Think "Dr. Quinn: Medicine Woman" without the medicine.
Based on inspirational historical romance author Janette Oke's book of the same name, which spawned several sequel volumes, "When Calls the Heart" is a staple on the Hallmark Channel and one of its flagship original dramas. Featuring an ensemble cast of characters, the series is set in 1910, and follows neophyte teacher and former high society debutante Elizabeth Thatcher (Erin Krakow) as she tries to fit into life in a small Canadian mining town named Hope Valley. Bit by bit, Elizabeth adjusts to the lifestyle there and charms everyone she meets – except Royal North-West Mounted Police Constable Jack Thornton (Daniel Lissing), who has been assigned to watch over Elizabeth via influence applied by her rich daddy. 
The ambitious Jack is less than pleased with this development, setting up a love-hate relationship between the two of them that culminates in marriage which ends tragically when Jack dies offscreen in Season 5, leaving Elizabeth a widow with an infant son named after his father. This ultimately leads Elizabeth into a tumultuous and recently-resolved love triangle.
In case any of you Hearties were concerned about the show's future status, Hallmark recently renewed "When Calls the Heart" for a 9th season, via an announcement on the show's official website. When can you expect to see it, who will star in it, and what will it be about? Here's what we know so far.
When will When Calls The Heart Season 9 be released?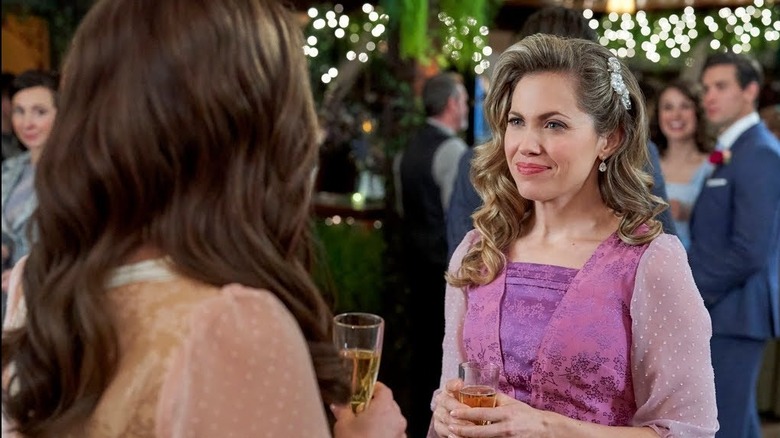 Hallmark Channel
In 2020, "When Calls the Heart" was renewed for its 8th season, which was announced through a video featuring Erin Krakow on Hallmark's website in the same fashion as the Season 9 announcement. The Season 8 announcement was posted in April of 2020, and the 8th season premiered on February 21, 2021. 
A similar timeframe may be presumably in the cards for Season 9. Because the announcement came on May 9, it's likely the 9th season will debut sometime in February or March of 2022. We can say for certain the show will be back next year versus this year because of the way Krakow's announcement is phrased. All of this will depend on whether or not COVID-19 strictures stay in place in the show's Vancouver shooting locale, which would complicate and delay production. Thus far, all seems to be smooth sailing for "When Calls the Heart" getting its 9th season out and on time.
Who will star in Season 9 of When Calls The Heart?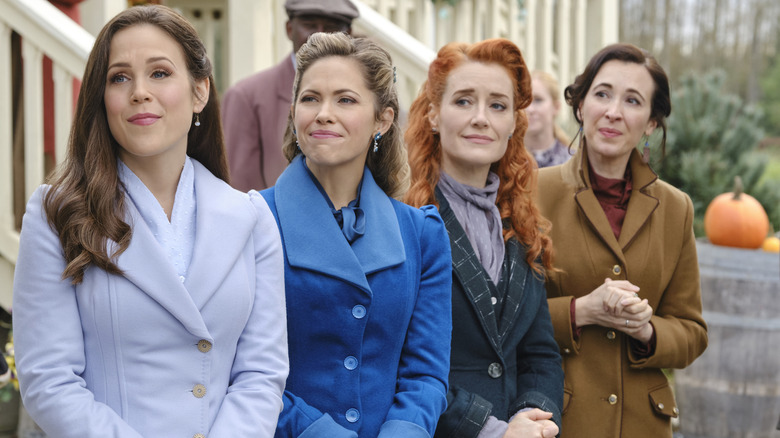 Hallmark Channel
As all Hearties know, Dr. Carson Shepherd left town at the end of Season 8. It's very up in the air as of press time whether or not Paul Greene will be back, but the show tends to rotate its supporting cast in and out of the show as plotlines serve. Elizabeth will naturally be back, and it's likely the rest of the show's regular cast - Jack Wagner as Bill Avery, Henry Gowen as portrayed by Martin Cummins, Pascale Hutton as Rosemary LeVeaux Coulter, Kavan Smith as Leland "Lee" Coulter,  Andrea Brooks as Faith Carter, Eva Bourne as Clara Stanton Flynn, and Aren Buchholz as Jesse Flynn - will all be back for the 9th season.
In season 8, Elizabeth found herself torn between saloon owner Lucas Bouchard (Chris McNally) and kind town newbie Nathan Grant (Kevin McGarry). At the end of the season she picked Bouchard, which definitely mean we'll see more of McNally in season 9.
The most interesting bit of casting scuttlebutt surrounds Abigail Stanton, who was written off the show in Season 6 after her portrayer Lori Loughlin went to prison in connection with her involvement in a college bribery scandal. Fans have been anxious for Loughlin to return to the show since she finished her term. 
The powers that be at "When Calls The Heart" seem to agree that Abigail's story isn't over. "Some of the fans have asked what will happen to Abigail's character, and shared their opinion that Hope Valley should be an example of forgiveness and grace. As Lori's friend, I could not agree more," the show's creator, Brian Bird, told From the Desk in 2019. Stay tuned to see what transpires.
What will Season 9 of When Calls The Heart be about?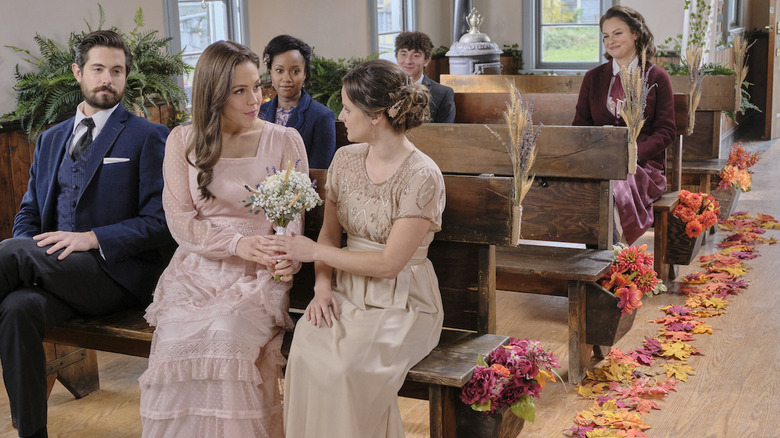 Hallmark Channel
You can definitely expect to see more of Elizabeth and Lucas' relationship as they enter an official courtship period. Viewers should prepare for some charming dates, and perhaps a bit of tension as they try to figure out how to navigate their romance. As to how a growing Jack Jr. will react to her mother having a steady boyfriend, that's up in the air.
Elizabeth selecting Lucas leaves Nathan a free agent, and with Faith now partnerless thanks to a break-up with Carson, the show might choose to test pairing this twosome together, which was strongly hinted at in the Season 8 finale. If Carson does return, that might make things quite emotionally sticky for Faith, and result in another love triangle — after all, he had planned to propose to her.
The show has many recurring players and their varying entanglements will you can assume you'll see more of Lee and Rosemary's relationship as Rosemary works to restart the town newspaper, as well as more of Jesse and Clara's struggle with their financial situation. Hickam and Fiona appear to be getting closer together as well. Expect complications, cross-cast relationships and oodles of romantic complications, as is the "When Calls The Heart" way.