Biggest Unanswered Questions In Candyman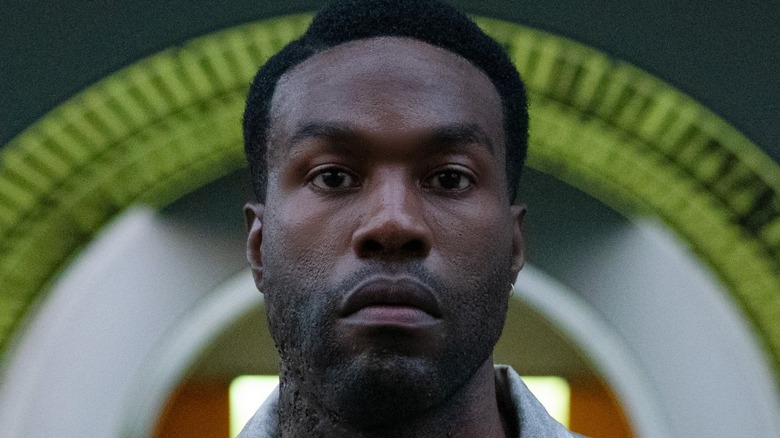 Universal Pictures/MGM
Spoiler warning: This article contains major plot details for the 2021 version of "Candyman."
Nearly 30 years after "Candyman" first haunted moviegoers in theaters, the hook-handed menace is back in what is being described as a "spiritual sequel" from Oscar-winning "Get Out" writer Jordan Peele and director Nia DaCosta.
In the 1992 film — directed by Bernard Rose and written by Rose and horror maestro Clive Barker — Chicago grad student Helen Lyle (Virginia Madsen) summons the vengeful spirit Candyman back to existence while researching a thesis on urban legends. The spirit is Daniel Robitaille (Tony Todd), the 19th century son of a slave who became a successful artist commissioned by wealthy white families to paint their portraits. However, when Daniel fathered a child with the daughter of one of those families, he was gravely injured by a lynch mob who smeared him with honeycomb — attracting a swarm of bees that stung him to death.
The 2021 version of "Candyman" examines the same tale, but with some new twists. It begins in the early 1970s in the Cabrini-Green housing projects, the same area where the terror in the original tale took place. Now, however, the neighborhood is all but non-existent because Cabrini-Green has been gentrified. Candyman in no longer Daniel, but Sherman Fields (Michael Hargrove), a hook-handed man who hands out candy to children in the neighborhood. Sherman is murdered in an altercation with police during an encounter with a young boy named Billy Burke (Rodney L Jones III) in an apartment building laundry room.
As an adult, Billy, now known as William Burke (Colman Domingo), recounts the legend to artist Anthony McCoy (Yahya Abdul-Mateen II), who uses it as his inspiration for an exhibition at the art gallery where his girlfriend Brianna Cartwright (Teyonah Parris) is the director. The exhibition tells the tragic tale of Candyman, and how he can be summoned by people who look in the mirror and say his name five times.
While fans of the original film know the deadly outcome of such actions, the new "Candyman" also comes with a fresh set of unanswered questions.
Why doesn't Virginia Madsen reprise her role?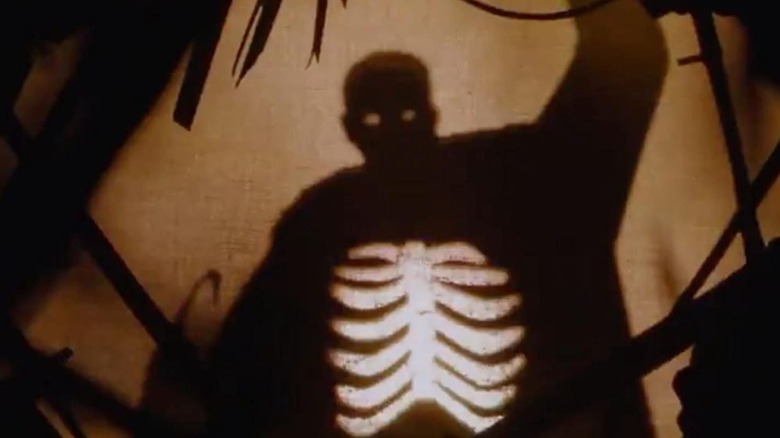 Universal Pictures/MGM
Since Helen died in the original "Candyman" movie, it's completely sensible that her character might be brought back in flashback scenes since the new version is technically a sequel. But instead of using footage from the original film or digitally de-aging Virginia Madsen to retell Helen's story, Nia DaCosta and Jordan Peele creatively bring her back in different forms instead of conventional flashback scenes. Helen's tale is first told through shadow puppetry, which DaCosta said at a press event for "Candyman" presented her a creative option not to rely on flashback scenes. For the most part, the director said, she "wanted this movie to stand on its own."
"From there, it just sort of became really less about flashbacks and more about how we depict people telling these stories, how we depict these legends, and also we depict these moments of violence throughout history," DaCosta said.
Madsen does eventually appear in the film, when Anthony sees an old image of her in a newspaper report detailing how she was implicated in murders in the Cabrini-Green neighborhood. Madsen's voice is also heard in tapes that Anthony gains access to in a library.
In a curious casting move, there's a tough, highbrow art critic assessing Anthony's exhibit, Finley Stephens (Rebecca Spence), who resembles a young Madsen. DaCosta said at the "Candyman" press event that Spence's resemblance to the original film's star was by mere happenstance and not design.
What role does the original Candyman play in the new film?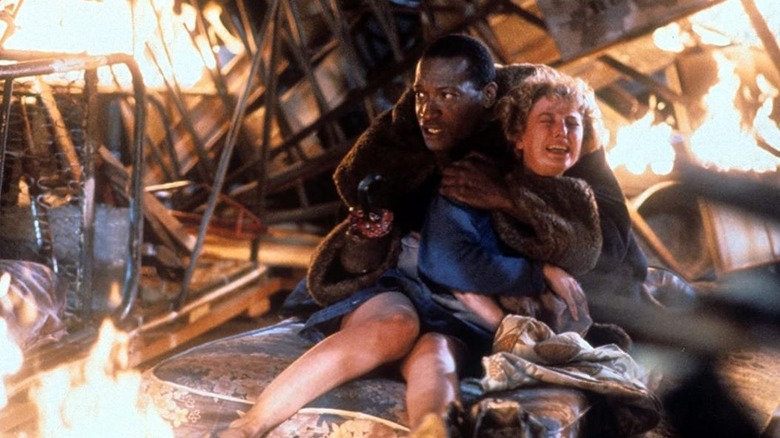 MGM
"Candyman" wouldn't be the same without Todd's involvement in the film in some capacity, and yes, he does turn up in the film in a very meaningful cameo appearance. However, since "Candyman" is a creation of old and new ideas, Peele and DaCosta went a different direction when it came to working in a major theme of the film that was clearly inspired by the current climate and social justice movements.
Instead of Todd's Daniel Robitaille being featured throughout the film, he is referred to by the adult Bobby as one of several to have suffered the same sort of racial injustice that befell Sherman Fields (Michael Hargrove), the iteration of the Candyman featured most prominently in this new version. That's not to say, however, that Fields is the only version of Candyman who appears in the new iteration of the tale.
Why does Anthony obsess over his Candyman exhibit?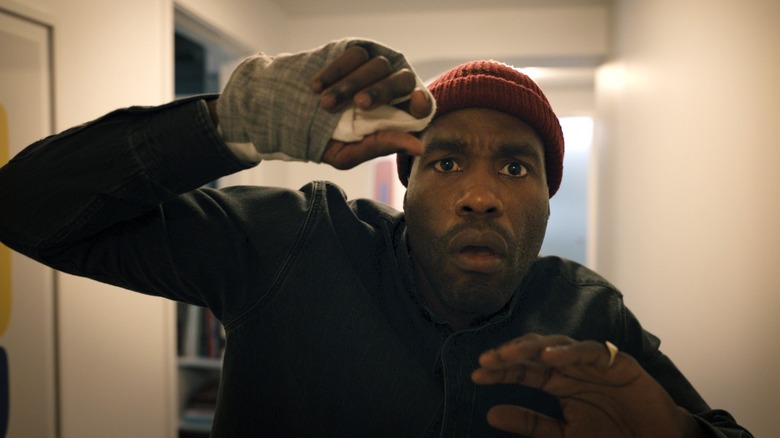 Universal Pictures/MGM
Anthony develops burn-like lesions on his right hand after the ghost of Candyman materializes and murders his first two victims. News outlets, naturally, detail the horrific incident, and a reporter on the scene divulges to her audience the title of the exhibit, "Say My Name." The reporter also dubs the painter "rising star Anthony McCoy" to surprise of the artist, who is watching the coverage on television.
At that point in the film, it appears Anthony is consumed by the newfound fame the tragedy has brought him, even though the murders are responsible for it. After the report he says, almost giddily, "say my name" as a way to embrace his notoriety. Longing for more fame, his morbid curiosity in the Candyman legend deepens, and he begins to do more research. And while Anthony suffers horrific hallucinations as a result, his obsession continues to inspire more images as he parlays his initial creation into a larger exhibit.
What Anthony doesn't realize is that he has fallen under the spell of the Candyman curse and is somehow tied to a tragic event involving the spirit decades prior, which is fully revealed later in the film. By that point, though, his fate his sealed and Anthony has entered the point of no return.
What's with the reversed logos?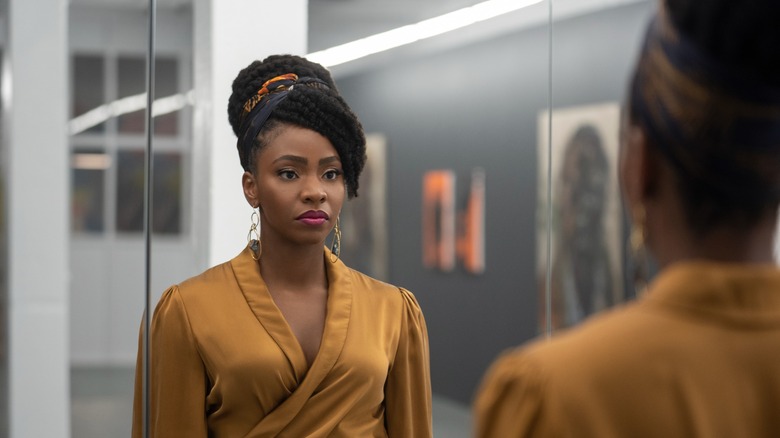 Universal Pictures/MGM
No, there isn't anything wrong with the projection. The backward logos for studios Universal Pictures and MGM, as well as production company Bron and Peele's production shingle, Monkeypaw Productions, at the beginning of the film were done on purpose, presumably in an homage to Candyman lore. After all, the spirit of the Candyman doesn't materialize in physical form, only in a reflection in the mirror. The studio and Peele are clearly making a visual reference to the legend by showing their logos backward, much like a reflection in a mirror.
Not surprisingly, mirrors appear everywhere in "Candyman." They are at Anthony's exhibit, which is the location where Candyman kills his first two victims, and an elevator Anthony takes in the library is made up entirely of mirrors. Brianna tempts fate by standing in front of a mirror yet doesn't give in to her impulses — but a group of high school girls laugh off the legend and say Candyman's name five times, and pay dearly for it.
Why is 'Say My Name' significant?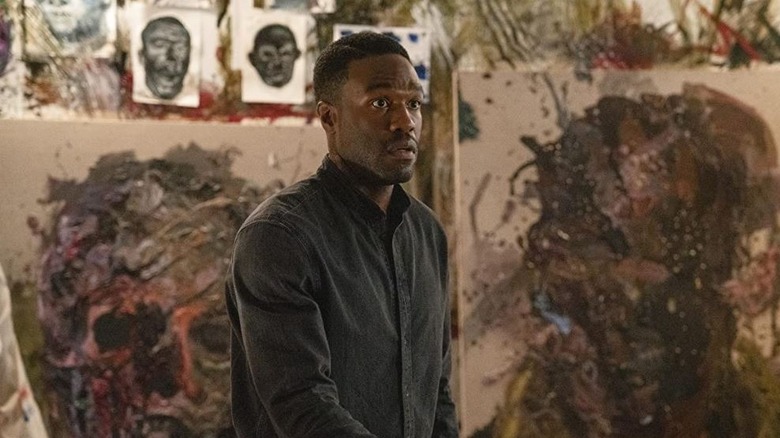 Universal Pictures/MGM
As fans well know by now, saying Candyman's name five times in a mirror is what's needed to summon the violent spirit. However, in the age of the social justice movement in the U.S. over the past few years following the high-profile deaths of Black men across the country during altercations with police, certain phrases now have greater meaning. Following the killing of George Floyd in Minneapolis, the issue of racial justice has seen its profile raised exponentially and reach all corners of the world, and exhorting people to say the names of the dead has become a prominent part of the public conversation.
In this way, "Say My Name" serves a dual purpose: it's the title of the Anthony's exhibit — daring patrons of his work to say Candyman five times to find out if the legend is indeed real — and a play on the real-life slogans "Say His Name," "Say Her Name," and "Say Their Names."
Will there be more Candyman films?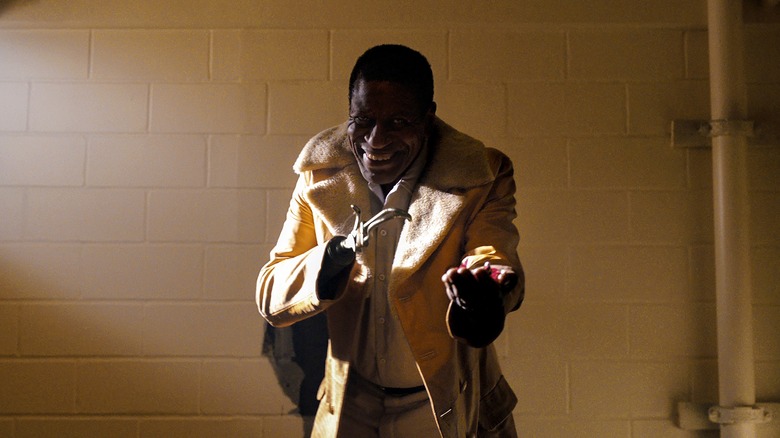 Universal Pictures/MGM
With a bloody third act that leads to the transformation of a key character into the new Candyman, Peele and DaCosta have left the door wide open for more "Candyman" films. Naturally, the production of a sequel for any film is dependent on the box office success of its predecessor, so the new "Candyman" will have to be a big enough hit with moviegoers at the box office and on home video to justify Universal and MGM's investment in a sequel.
The good news for Peele and DaCosta is that "Candyman" was made for around $25 million, a relatively small amount by Hollywood commercial production standards. Even with the COVID-19 pandemic still wreaking havoc on box office returns, the new "Candyman" shouldn't have any trouble quickly surpassing its production budget while the film is playing in theaters.
As the 1992 version of "Candyman" demonstrated, there is more room for additional tales about the character should Peele and DaCosta wish to move in that direction. The original film spawned two sequels: "Candyman: Farewell to the Flesh" in 1995, and "Candyman: Day of the Dead" in 1999.