Why Ashley From The Boys Looks So Familiar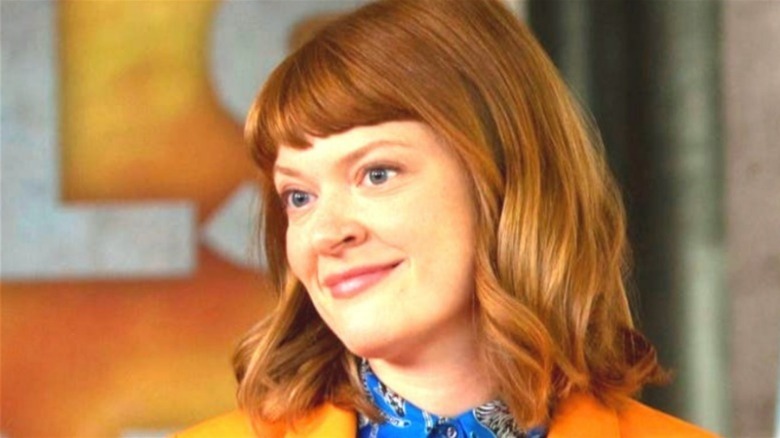 Amazon
The Marvel Cinematic Universe and DC Extended Universe may have brought back superheroes in a big way, but it's shows like "The Boys" that have introduced audiences to another side of these ostensibly brave and virtuous characters — the ugly side. The Amazon series, which currently has two seasons under its belt, has redefined what it could mean if humans with super abilities were put in a place of power, and frankly, it's terrifying. Even when the titular Boys attempt to fight back against the corruption of so-called "supes," the fight is made all the more difficult when the Seven are backed by a shadowy, multi-billion dollar corporation.
In a world where superheroes serve as the faces of corporations like Vought, it makes sense that the company would employ top-notch PR representatives to keep their assets' reputations intact. For a time, this was the job of Ashley Barrett, who seemed more interested in furthering her own career than making the members of the Seven look good — not that she was very good at her job, to begin with.
Many fans watching "The Boys" have noted that the actor who plays Ashley looks strangely familiar, but they can't quite place where they've seen her before. As it happens, that actor — Colby Minifie — has had quite a few roles over the years, and you've probably seen her in at least one of them. 
Minifie made appearances on the Law & Order franchise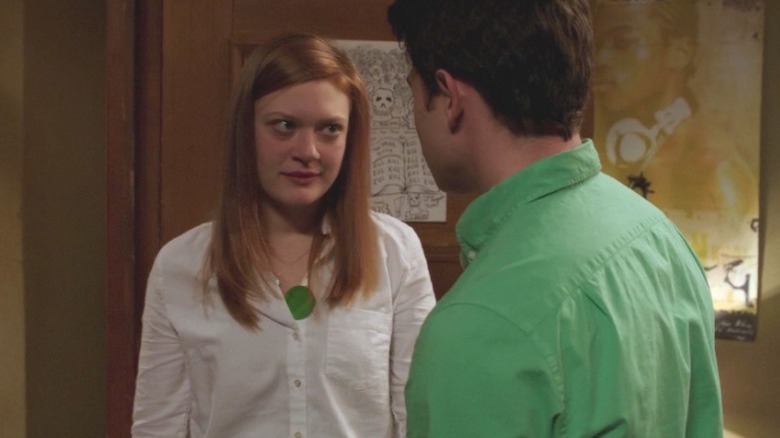 NBC
Colby Minifie got her start doing small roles on television, including guest spots in a number of well-known shows. One of her first acting gigs was playing a young woman named Sarah in Season 19, Episode 11 of "Law and Order," titled "Lucky Stiff." She then crossed over to another series in the franchise to take on a role in Season 14, Episode 20 of "Law and Order: SVU." In the episode "Girl Dishonored," Minifie plays a sorority student named Lindsay Bennett, who asks for help from Detective Olivia Benson (Mariska Hargitay) after she is gang-raped on a college campus — an incident that the university attempts to sweep under the rug. 
Minifie also had small roles on "Nurse Jackie" and "The Blacklist," and she played a young version of Jane Lynch's Sue Sylvester on an episode of the musical comedy "Glee." Unfortunately, the scene was deleted from the show, but you can check it out for yourself on YouTube.
Minifie plays an overprotective sister in Jessica Jones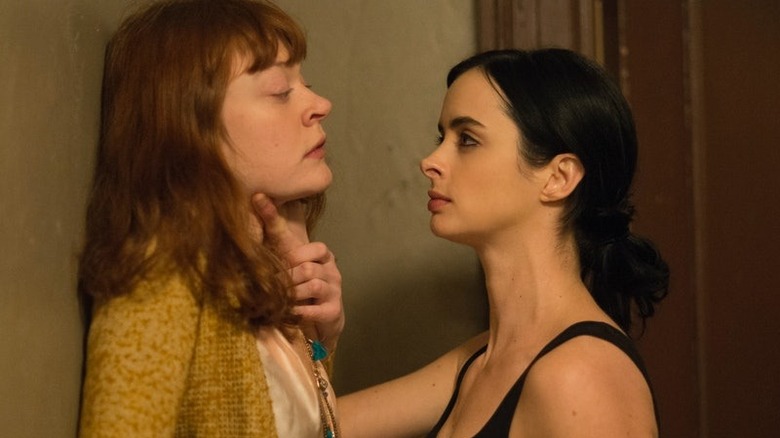 Netflix
The character that Colby Minifie portrays in "The Boys" actually has a bit in common with another role she's played — Robyn, the obnoxious neighbor of Jessica Jones (Krysten Ritter) in the Netflix series of the same name. It's tough to forget Minifie's introduction in Season 1, Episode 2 of "Jessica Jones," when the super-powered PI finally has had enough of her noisy neighbors and bangs on their front door. She is greeted by a young man in his tighty-whiteys, Ruben (Kieran Mulcare), along with his overbearing sister, Robyn.
It's clear from the beginning that Robyn can't stand Jessica, and Robyn is no picnic herself. But when Robyn and her brother fall victim to the villain Kilgrave (David Tennant), Robyn's grief over the loss of Ruben finally softens her more unpleasant aspects. Like Ashley in "The Boys," Minifie's character in "Jessica Jones" may have started out as unlikeable, but over time, she managed to earn the sympathy of the audience. 
She had a supporting role in another 'marvelous' Amazon series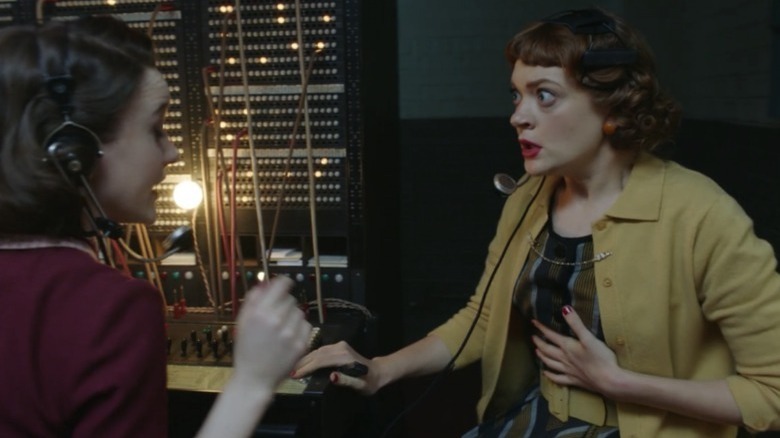 Amazon Studios
Another hit original for Amazon, "The Marvelous Mrs. Maisel," is a period dramedy about a woman trying to make it into the male-dominated world of stand-up comedy in the late 1950s and 1960s, all while struggling to keep her family and her love life intact. With a stellar cast delivering whip-smart dialogue, it's no wonder that the series has been the recipient of so many award nominations from the Golden Globes, Emmys, and Screen Actors Guild, and others.
Colby Minifie plays Ginger, a switchboard operator who works alongside Miriam "Midge" Maisel (Rachel Brosnahan) when the latter is demoted from her position at the makeup counter at the B. Altman department store. Fans of the show may recall the opening scene in Season 2's first episode, "Simone," when Midge is assisting the other operators while gliding from one spot to another in her roller chair. In between nonstop calls, Midge even finds the time to help another woman through a panic attack, instructing her to put her head between her knees — yes, that's Minifie. She also appears in several episodes of the second season as one of Midge's supportive friends and co-workers.
Minifie played a murderous gang leader in Fear the Walking Dead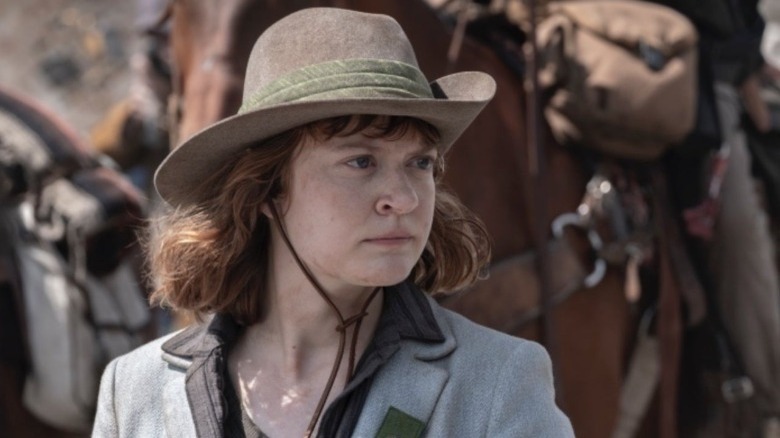 AMC
After the huge success of AMC's "The Walking Dead," the network quickly went to work on creating a series of spinoffs for the post-apocalyptic zombie horror franchise. One of them was a prequel series, "Fear the Walking Dead," which centers around a group of characters created by Robert Kirkman, the creator of "The Walking Dead" comics and an executive producer for the show.
Season 5 of "Fear the Walking Dead" introduces a group known as the Pioneers, a gang of fearsome survivors that forces the members of the caravan to split into groups and join their various settlements. Colby Minfie plays Virginia, the merciless leader of the Pioneers. She isn't afraid to use fear and intimidation to ensure the cooperation of her followers. Virginia served as a formidable antagonist throughout Season 5 and into Season 6 and was responsible for the deaths of several characters. After Virginia is captured by Morgan (Lennie James) and his group, he attempts to show mercy on her by freeing her and her daughter, Dakota (Zoe Colletti). However, Virginia meets her end when she is shot and killed by June Dorie (Jenna Elfman) as vengeance for the death of June's husband, John (Garret Dillahunt).