What Candyman's Reviews Could Mean For The Marvels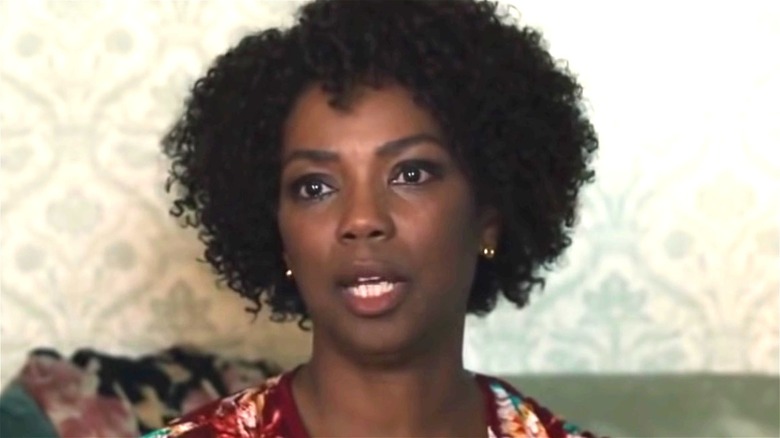 Universal Pictures
In 2020, Variety revealed that the director of "Captain Marvel" sequel "The Marvels," part of Phase Four in the Marvel Cinematic Universe, would be Nia DaCosta — the fourth woman and first Black woman to direct an MCU movie. She's also the youngest to have that honor, at age 31. As an up-and-coming name in Hollywood, though, she doesn't have too many credits to her name yet. 
That means industry insiders will be pretty closely scrutinizing the film "Candyman," which releases Aug. 27 in theaters — not just for its own merits, but to find clues as to DaCosta's directing style and how that might affect the storytelling and the overall prospects of "The Marvels." They might also look at how well she works with actress Teyonah Parris, who is a protagonist in "Candyman" and also stars as Monica Rambeau in "The Marvels."
After 2018's "Little Woods," filmmaker Jordan Peele apparently hand-picked DaCosta to direct his retelling of the 1992 "Candyman," which is meant to be a direct sequel to that original movie (via ScreenRant). That shows confidence in her abilities, but hopefully, the reception of the new film will give fans even more information. Let's face it — people will likely flock to "The Marvels" regardless of who directs it, but good reviews for "Candyman" might rev up the hype machine even harder as 2022 gets closer. 
The reviews are good, and they give DaCosta plenty of credit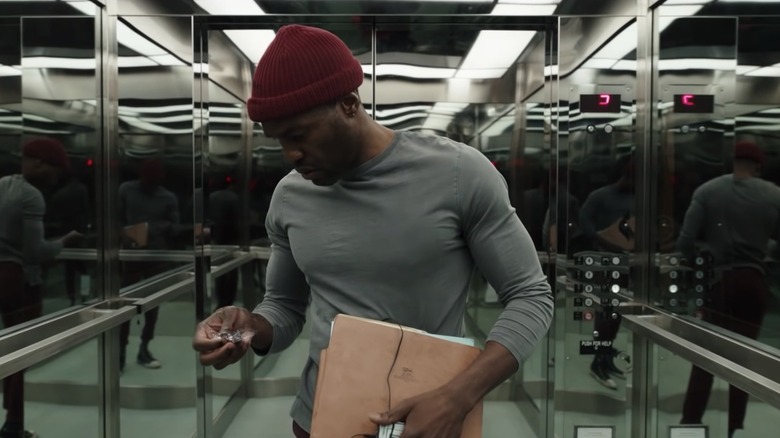 Universal Pictures
It hasn't opened yet officially, but "Candyman" currently has a 95% Tomatometer score on the review-aggregating site Rotten Tomatoes. There are a few naysayers in the bunch, but for the most part, reviewers are laudatory. And they not only mention DaCosta's role, they also express a certain amount of optimism regarding her future projects. 
Comicbook.com said, "For decades, the franchise and its mythology has been a wealth of untapped potential, with DaCosta and her 'Candyman' finally elevating the figure to his full and horrifying glory, proving how it's not always the legend itself but the one telling the stories that determines how to strike fear into the hearts of audiences."
The New Statesman said, referencing DaCosta, "'Candyman' is quite a showreel for her talents, making brilliant use of inversion and reflection throughout. Together, Peele and DaCosta have made a definitive Black Lives Matter horror." And A Nightmare on Film Street said that the movie created "one of the most impressive expansions of an established character in recent memory." The U.K.'s Evening Standard called the movie "one of the most original and savagely satirical films of the year," saying, "What DaCosta pulls off is an act of homage that expands and updates the story." Additionally, Paul's Trip to the Movies noted, "Nia DaCosta has a strong film on her hands that showcases her strengths not only as a filmmaker but as a storyteller." 
The Wrap calls out the film's "searing impact," while The Lamplight Review says it has "a delicate blend of style and substance." Basically, DaCosta's making her mark with "Candyman."
Reviews are expressing excitement for The Marvels, too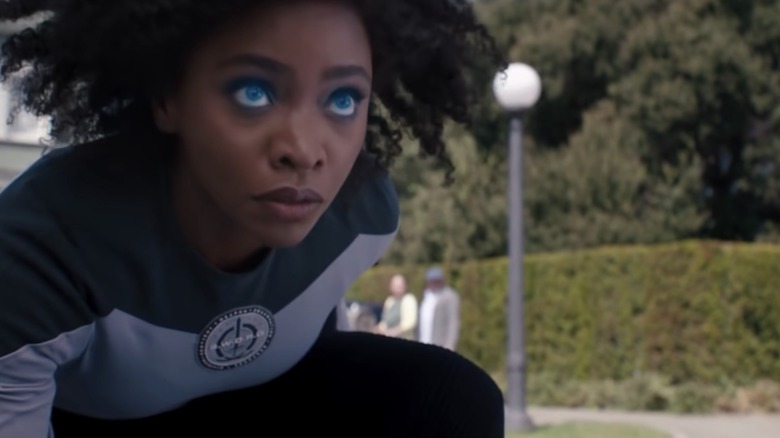 Marvel Studios/Disney+
Some reviews even outright say that they're looking forward to "The Marvels" because they now have a better idea of what to expect from DaCosta's work. The Armchair Auteur said, "I hope everyone puts some respect on Nia DaCosta's name, because I now want to see anything she does next. I will watch 'The Marvels,' obviously, I will watch her doing the MCU thing 'cause I'm curious to see how that goes for her ... she's a woman to watch out for right now." Now that's encouraging!
Reviewer Austin Burke said, "Nia DaCosta is our director here and she's actually taking on the sequel to 'Captain Marvel' next year. And there's a lot to be excited about from the way that she portrays certain things on screen so that was super exciting." At the end of his Youtube review he called "Candyman" a prime example of how you rejuvenate a franchise," which definitely bodes well for a 31st movie in the MCU.
The "Captain Marvel" sequel "The Marvels" is set for a November 11, 2022 release date, so there's plenty of time to get excited — or to feel otherwise — once the general public has weighed in on "Candyman." However, if fans like it as much as the critics seem to right now, 'The Marvels" stock may go up pretty quickly.