The Uncharted Movie Just Debuted A Huge Surprise At CinemaCon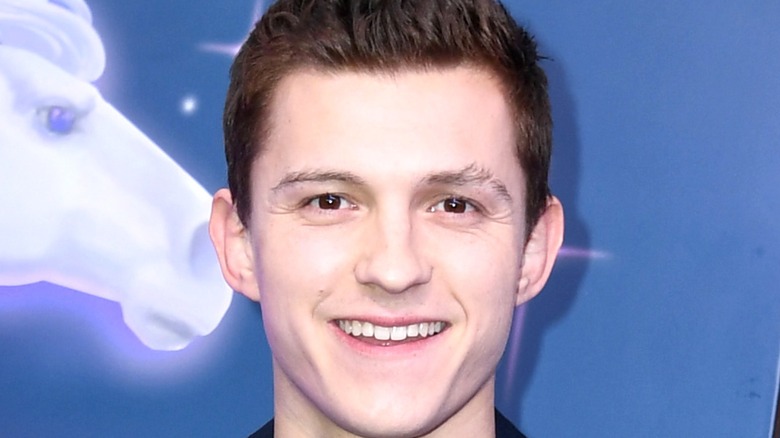 Gareth Cattermole/Getty Images for Disney
Tom Holland's about to have a very good year. The "Spider-Man: No Way Home" trailer just dropped to tease one of the most epic installments of the Marvel Cinematic Universe yet. It appears as though Holland's Peter Parker will battle against the forces of Doc Ock (Alfred Molina), Green Goblin (Willem Dafoe), and Electro (Jamie Foxx), and people will undoubtedly pack into theaters this December to check out all of the action.
Two months after Spidey swings back into theaters, Holland's other franchise gets off the ground — "Uncharted." Based on the video game series of the same name, Holland will go spelunking as Nathan Drake, searching for some kind of valuable treasure, as tends to be his M.O. in the games. That film is currently slated to drop on February 18, 2022, proving that Holland is quickly becoming one of the preeminent action stars of our day.
With just under six months until the movie comes out, fans should expect a trailer any day now. It actually may come sooner than you think, seeing how exclusive footage recently debuted at CinemaCon.
Uncharted footage shows Tom Holland falling out of a plane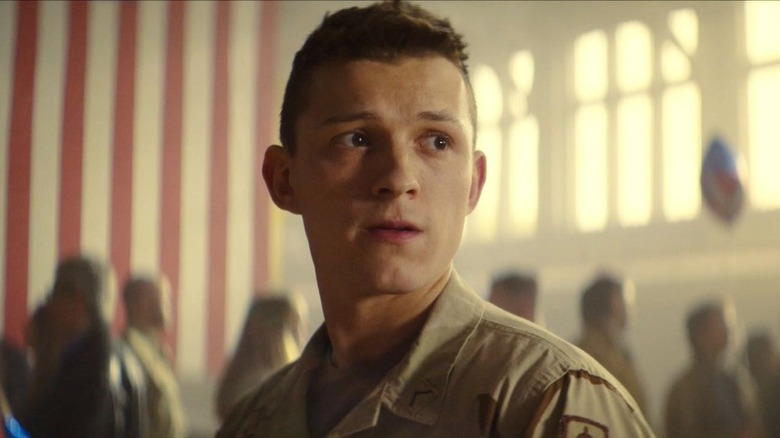 Apple TV+
CinemaCon emphasizes gathering all of the major movie theater owners around the country to one place to showcase all of the great films they can anticipate receiving in the coming year. Naturally, "Uncharted" will be one of the first major blockbusters of 2022, and to commemorate the fact it's finally getting released after a rocky production cycle, which saw several directors join and subsequently drop out, new footage came out to tease the action-adventure flick.
According to Screen Rant, the scenes depicted teased some major action sequences, including one where Holland's Nathan Drake falls out of an airplane. As if that wasn't perilous enough, some cargo also falls out, but it's unclear what exactly is inside. Another scene shows Nathan Drake going into a cave, so by the sound of it, the film has stuck closely to the plot patterns of the various "Uncharted" games. 
One exciting detail from the footage is the reveal of Mark Wahlberg's Victor "Sully" Sullivan. Apparently, he has the most significant line of the reel by saying, "I'm offering you a chance to find/discover things you've only read about." Of course, it's hard to judge footage based on a brief description alone, but hopefully, it won't be too much longer until Sony releases the trailer. With all the hype surrounding Holland in "Spider-Man: No Way Home," one would assume Sony would want to ride the train while the going's good.