Brand New Cherry Flavor Season 2 - What We Know So Far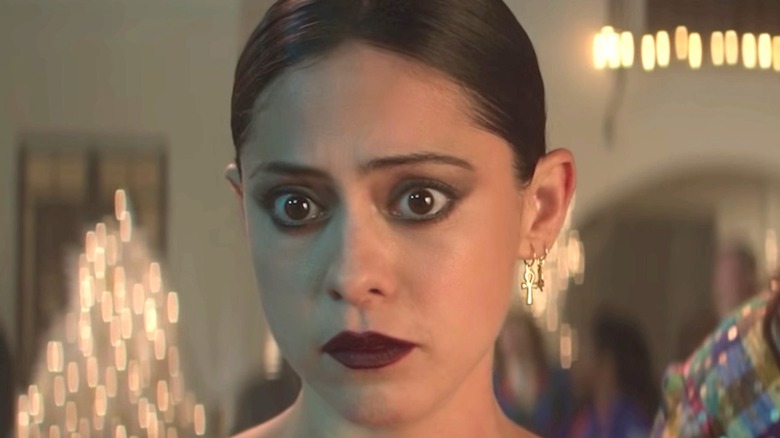 Netflix
There's nothing better than a good scare. Fans of "Brand New Cherry Flavor," a horrifying neo-noir limited series that debuted this August on Netflix, would agree with that sentiment. They've fallen for the show's spooky atmosphere and tense plotting and happily sank their teeth into its meaty revenge narrative. 
The first season is set in the 1990s, and is all about young director Lisa Nova (Rosa Salazar), who pulls up stakes and moves to Los Angeles to make a name for herself in the film industry on the strength of her short horror film, "Lucy's Eye." Her talent earns her the attention of director Lou Burke (Eric Lange), who flatters her with plans to develop the film into a full-length movie. When she rejects his sexual advances, he pushes her out of the project. Hell-bent on revenge, Lisa approaches the enigmatic magician Boro (Catherine Keener). Boro and Lisa go about cursing Lou, but as Lisa is consumed by her quest for vengeance, some pretty gnarly side effects set in as fresh truths emerge. 
Will "Brand New Cherry Flavor" land a second season at Netflix? According to an interview series creator Nick Antosca gave to ScreenRant, the show was always supposed to have a limited run, but the door remains open for a second season. "We planned it as a contained story. Never say never if all the stars align, but we felt we wanted to take this journey with this character. So, we took elements of what Todd [Grimson, the author of the novel the show is based on] created to tell a contained story."
With that said, let's go ahead and avoid speaking the word "never" as we peek into the show's possible future. Here's what we know so far:
Who will star in the second season of Brand New Cherry Flavor?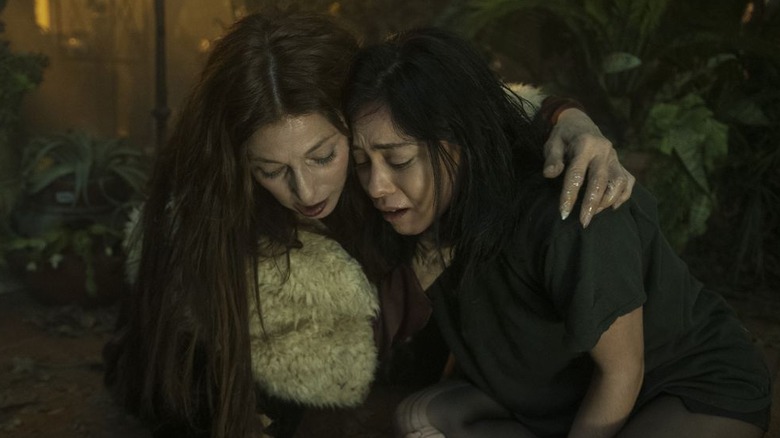 Netflix
The rest of this article contains spoilers for Season 1 of "Brand New Cherry Flavor."
The body count for Season 1 of "Brand New Cherry Flavor" is pretty high; many characters die, but its four principal figures — Lisa, Lou, Boro, and actress Mary Gray (Siena Werber) — all survive. There are plenty of dangling plotlines that remain unsolved at the conclusion of the season's final episode, tantalizing the viewer with what might be if a second batch were to get the green light.
But would any of the actors wish to return to continue the story? According to an interview with Collider, both Keener and Salazar seemed game for another dip into the show's universe, expressing enjoyment for the "wild" and unusual process of filming the first. Salazar declared her admiration for Lisa and Keener described the process of playing Boro as "fun."  While nothing's set in stone for either actress, one imagines both might be willing to climb aboard again.
What might the plot of a Season 2 look like?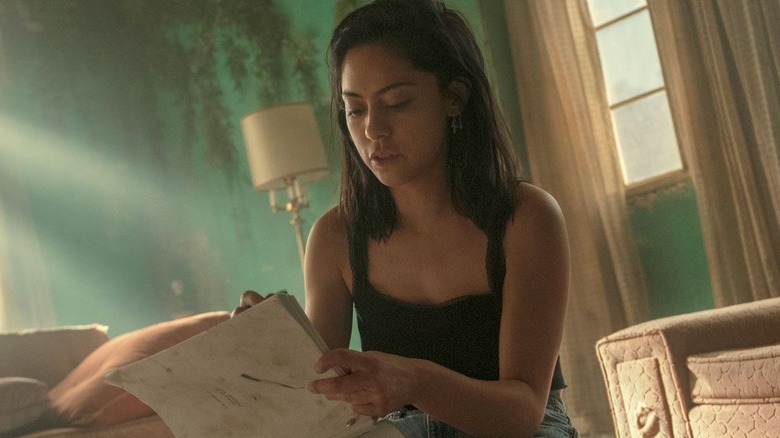 Netflix
Back to those tantalizingly unsolved plot threads. At the end of "Brand New Cherry Flavor," Lisa rejects an offer to make the full-length version of "Lucy's Eye" and flies to Brazil, where she has roots. The show never explains how Lisa's life is so charmed (and yet cursed) in its first season and the appearance of her mother's spirit as a guiding force at the end of her journey hints that there's ancestral magic afoot.
We learn six episodes into the series that Boro is a spirit who has been jumping from body to body for over 900 years after entering into a bargain with a magical jaguar to gain political power, upon which he reneged when the payment the jaguar wanted for its services was to eat Boro's wife. The jaguar killed Boro's wife anyway, and nearly mauled Boro to death; he jumped to a fresh body to preserve his spirit. When Boro was unable to jump into Lisa's body he jumped into Mary's — and Mary was already mad at Lisa after an incident that occurred during the filming of the "Lucy's Eye" short, which ended with Mary wrenching her own eye from her skull and eating it.
Lou, meanwhile, has been blinded via a brain-eating worm Lisa planted in a batch of fake drugs which he subsequently snorted. He is wounded but alive — and is still able to seek his revenge.
Would Lisa figure out who she is in Brazil? Would Boro keep trying to get into Lisa's body by any means necessary? Would Lou keep chasing Lisa? These are all possibilities for future plotlines should "Brand New Cherry Flavor" not go the anthology route upon being renewed.