Rian Johnson Won't Confirm Or Deny Royal Cameo In Star Wars: The Last Jedi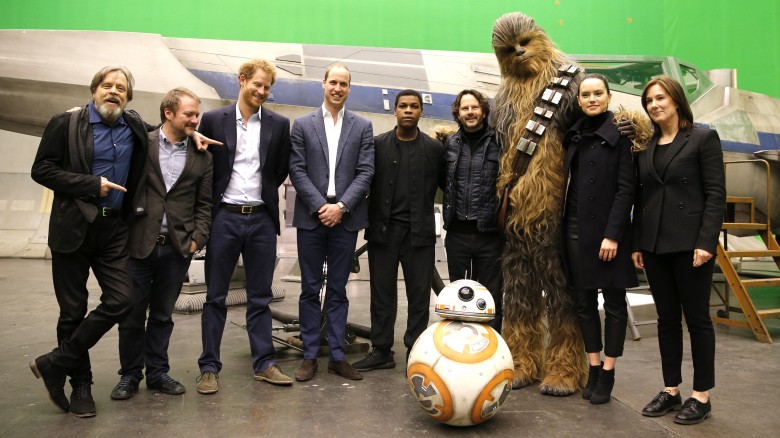 Getty Images
A question has been circulating for quite a while now about whether or not Britain's royal family, who made a well documented stop by the set of Star Wars: The Last Jedi in April 2016, would make a cameo appearance in the upcoming film. During an interview with Yahoo! Movies UK, director Rian Johnson, wouldn't confirm that Princes Harry and William would suit up for the movie. But he didn't shut down the rumors either.
"I have no idea what you're talking about," he told Yahoo! when asked about the cameo, apparently with a big smile on his face. "I have no clue." He then acted like he was getting a message through a nonexistent earpiece, saying, "The last voice you heard..." before adding, "I can neither confirm nor deny."
The Force Awakens includes quite a few notable cameos, with James Bond himself Daniel Craig, composer Michael Giacchino, and Radiohead producer Nigel Godrich all suiting up as Stormtroopers and Star Wars superfan Kevin Smith voicing a Stormtrooper. Simon Pegg also disguised himself as the alien creep Unkar Plutt at the beginning of the film.
Star Wars: The Last Jedi will likely feature quite a few celebrity cameos as well, and with the royal family already stopping by the set, it wouldn't be all that surprising to see or hear the Brits in the final film. (This would be the first acting credit for both princes, according to their IMDb pages.)
We won't know about the princes' possible appearance for sure until The Last Jedi, which recently launched its first teaser, hits theaters on Dec. 15. In the meantime, learn why the movie will blow you away.