George Lucas Admits His Dog Inspired Chewbacca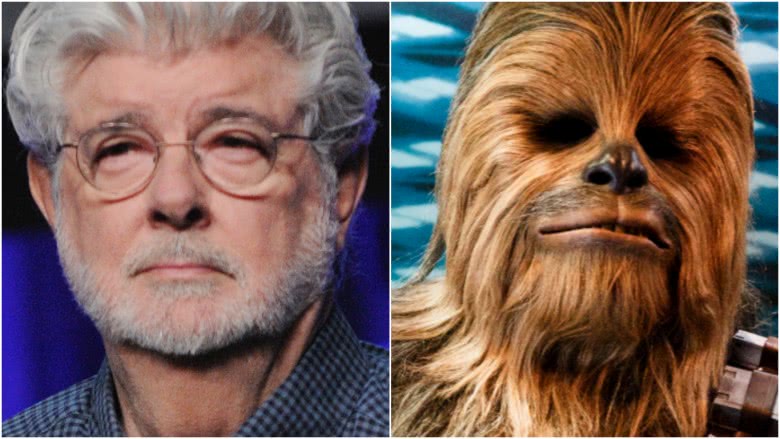 Getty Images
Well, you know what they say: inspiration comes in unexpected forms.
Among all the fun and fanfare of Star Wars Celebration in Orlando, Star Wars creator George Lucas dished offered up a few details about how Chewbacca came to be. Confirming a highly buzzed-about story, Lucas revealed that Han Solo's furry companion was, in fact, inspired by his own dog.
"The stories are all true," Lucas said. "I had a large dog named Indiana. A Malamute, an Alaskan Malamute, and he would ride around in the car, in the front seat. Not driving. I loved that image."
Lucas continued on, explaining that Alaskan Malamutes are hardly the kind of dogs that can curl up on your lap. Their hulking size and sweet hearts crafted the perfect basis for Chewie. "When he sat in the car, he was bigger than I was," Lucas remembered. "That's where I said, 'That would be a fun character for Star Wars.'"
Not only does Chewie have a link to Lucas' dog, he's also shares a connection with Indiana Jones. In The Last Crusade, fans learn from Henry Jones Sr. (Sean Connery) that his son (Harrison Ford) took on the alias of "Indiana" after his pet dog, one that just so happens to be a Malamute, too. It appears both characters were inspired by Indiana Lucas. It's all quite adorable, really.
Additionally, Lucas delved into his early vision for the Wookiees, and how he made Chewie a lead character. "Originally, the Wookiees were what the Ewoks became, which is they weren't technical at all, they were primitive," Lucas said. "But then, as I moved along, I realized I had to cut the Wookiees out of the end of the movie. I decided to save one and make him the co-pilot. That's really how we ended up with his starring role."
Though it may seem silly on the surface, a dog inspiring Chewbacca's creation makes a lot of sense. After all, Han Solo's bellowing buddy is just as loyal and expressive as man's best friend could ever be.
Fans can catch more announcements, reveals, and interviews during Star Wars Celebration all weekend long. Perhaps the most exciting reveal was the premiere of the first teaser trailer for The Last Jedi.