George Lucas Says Star Wars Is 'A Film For 12-Year-Olds'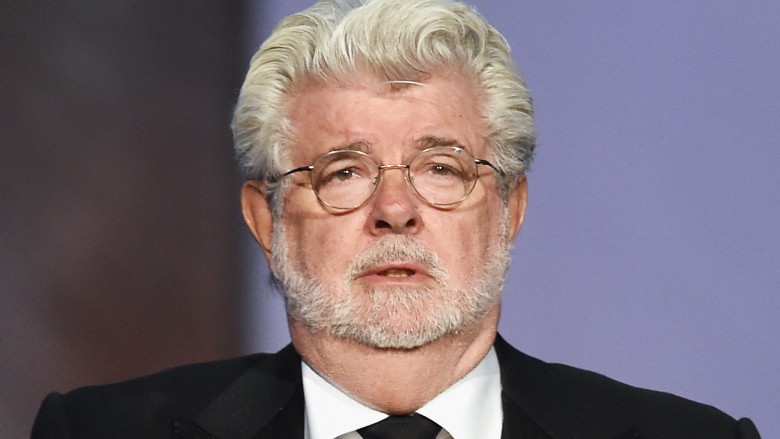 Getty Images
In that case, we're all pre-teens.
Star Wars creator George Lucas made a surprise appearance at Star Wars Celebration in Orlando, taking the stage during the "40 Years of Star Wars" panel. There, he spoke with actor Warwick Davis, who also moderated the discussion about all things Star Wars.
But perhaps the most intriguing tidbit was the comment Lucas made about how he envisions the Star Wars audience. Lucas explained that the series is, essentially, for children. As he puts it, even the very first installment of the series, 1977's A New Hope, is "a film for 12-year-olds."
He also discussed what the Star Wars franchise believes in and the values it stands for, none of which include harsh comments from critics. Lucas scolded those who are overly critical of the movies, particularly the prequel trilogy that has taken a ton of heat in the past. He said that instead of focusing on the negative, audiences should pay attention to "friendships, honesty, trust, doing the right thing... living on the light side, avoiding the dark side."
On an brighter note, Lucas explained that watching young children enjoy Star Wars reminds him why he created the sci-fi universe in the first place. He reminisced about an especially poignant moment he experienced while shooting one of the prequels in Spain. Lucas looked out upon "thousands" of Star Wars fans who were eager to meet him. Most of them were "tiny kids," as he recalled.
"They were all reaching their hands out, and they had no idea what was happening, but all they wanted to do was touch my hand," Lucas said. "That's all I've ever wanted, and it reminds me why I continue to do it."
Star Wars Celebration runs until Sunday, April 16. Watch along with us in the official live stream. While we wait between awesome announcements and interesting interviews, check out the biggest easter eggs in The Force Awakens.