Arrow Will Delve Further Into Oliver And Felicity's Breakup Later This Season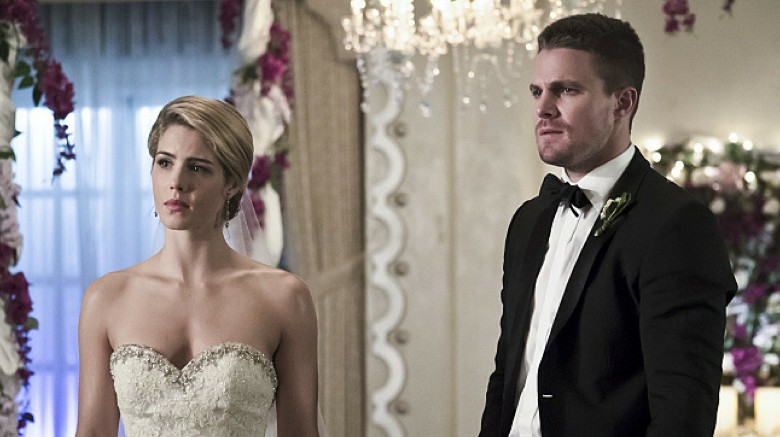 Arrow will finally deal with the consequences of Oliver and Felicity's season four breakup when the CW superhero show returns from its brief hiatus. Executive producer Marc Guggenheim told TVLine that the April 26 return will feature "Team Arrow vs. Team Felicity," while the next episode titled "Underneath," will feature an in-depth look at the state of Oliver and Felicity's relationship now.
Fans had their "Olicity" hopes dashed in season 4 when Felicity dumped Oliver after finding out he had a son he didn't tell her about. Since then, the two have continued to have a working relationship, albeit a fraught one, and their breakup has stayed mostly under the radar. "They never really had a full-on discussion or exploration of why that breakup happened," said Guggenheim, adding that the discussion that finally happens is spurred by an event in the 19th episode of season 5, but still comes out of "all the other episodes" that led up to it. "Felicity just sort of reached her breaking point and walked out the door."
It should definitely be interesting, if a bit late, to see Arrow finally deal with the ramifications of Oliver and Felicity's breakup. With the episode coming towards the end of a very emotionally intense season for everyone involved, it could also potentially mean some sort of reunion or at least a hint of hope for the future of the couple. However, at this point, the two getting back together may just be wishful thinking.
"Underneath" will air on May 3 on The CW. While we wait, see how the cast should really look based on the comics.