Melissa Rauch To Voice Harley Quinn In Animated Batman Movie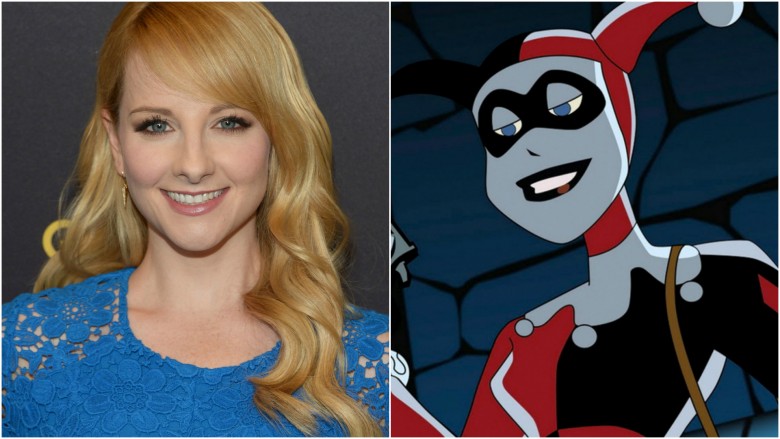 Getty Images/Warner Bros.
Bam! Kapow! Bazinga!
Melissa Rauch, better known as Dr. Bernadette Rostenkowsi-Wolowitz on The Big Bang Theory, will provide the voice for Harley Quinn in the animated Batman And Harley Quinn. Empire reports that Rauch will join Kevin Conroy's Batman in the movie produced by Bruce Timm, creator of Batman: The Animated Series.
The new film will reportedly have the same visual style as that '90s cartoon, which means Harley will probably look a lot like she does above. Conroy also played the Caped Crusader in the original series and last year's Batman: The Killing Joke.
The plot features a reluctant teaming of Batman, Nightwing (Loren Lester), and Harley Quinn as they try to stop a global catastrophe caused by Poison Ivy (Paget Brewster) and the Plant-Master.
"I love that Harley is a badass and, beyond that, that she uses her humor as another weapon in her arsenal," Rauch said. "She knows just how to diffuse a situation with her humor, and how to incite a situation with her sarcasm. It's a dream role."
Rauch said, to find her version of the iconic character's voice, she revisited the New Jersey accent she's worked so hard to conceal. "I knew Harley had a higher pitched tone, and a bit of a New York accent, and I come from a New Jersey family where everyone could be former gun molls. So I wanted to give a nod to my background without being as shrill. In all honesty, I used to speak exactly like that: my acting school professors really worked the accent out of me. So it was fun to find those tones and accent again." Days of Our Lives actress Arleen Sorkin provided the voice for Harley in the original series.
Lester, who also played Nightwing on Batman: The Animated Series, said the movie will be a more adult version of the classic show. "So many fans have asked when there will be another Batman: The Animated Series, and this film really captures that sensibility and essence that people loved about the original series," he said. "The difference is we're not restricted by the networks for this film, so we can take the story and characters in more mature areas, and explore more about them as three-dimensional human beings with human feelings and human desires that we often couldn't explore in the series."
Other members of the cast include John DiMaggio, Eric Bauza, Rob Paulsen, Robin Atkin Downes, Mindy Sterling, and Trevor Devall.
Look for Batman and Harley Quinn this summer as a digital download or on Blu-ray and DVD. Meanwhile, check out the most terrible things Batman has ever done.