Dark Nights: Metal Reunites Greg Capullo, Scott Snyder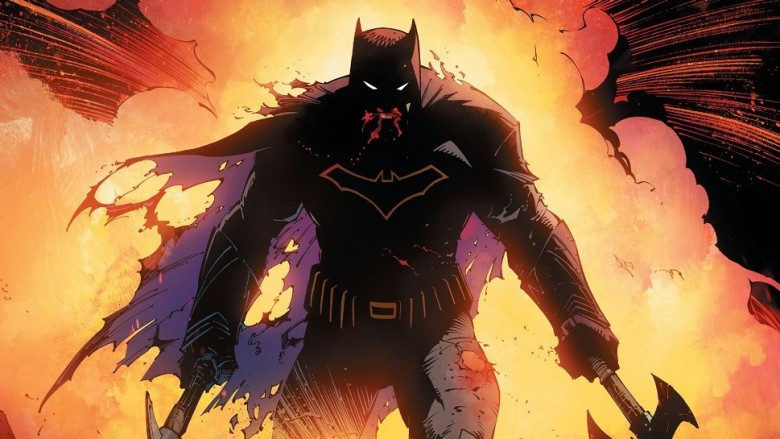 DC Entertainment
DC's injecting some heavy metal into its comic book lineup, and bringing back a well-loved pairing in the process.
During Fan Expo Dallas on April 2 (via Nerdist), DC Comics announced that Greg Capullo and Scott Snyder are teaming up to create the all-new Batman storyline, Dark Nights: Metal. Working alongside inker Jonathan Glapion and colorist FCO Plascencia, the duo will join forces for the first time since their best-selling 50-issue New 52 Batman run ended in April 2016. According to Snyder, Dark Nights: Metal isn't just "bigger than Batman," it's "the definitive project" of his and Capullo's career.
The upcoming story is slated to debut in August, following shortly after the release of two previously announced Dark Days issues: The Forge and The Casting, from Detective Comics writer James Tynion IV, DC Entertainment publisher Jim Lee, and Snyder himself. Specifics on Metal's premise are still under wraps, but Snyder did dish up a few hints as to what fans can expect from the new series.
"I've been planning Metal for as long as I've been writing Batman," Snyder explained. "But this is bigger than Batman. Greg and I started dropping clues during Court of Owls, we continued through our Joker stories and we placed our biggest hints in the run that culminated with Batman #50. And now we're back to tell a story that breaks everything apart. This will be the definitive project of our careers. Metal takes us in an entirely new direction. Greg and I will dig beneath the surface of all the stories we've told to find a place of terror and twisted nightmares."
Despite the aforementioned scares, Metal won't be a complete fright-fest. Snyder mentioned that the story will be over-the-top and, most importantly, fun. "Metal will be celebratory, huge, and crazy. I've said it before: I am going for out-of-control dinosaurs and lasers," he stated. Additionally, "metal" in the comic's title takes root in various arenas of pop culture. According to Snyder, metal "has a lot of meanings in the story," including "the Nth metal" and "the spirit of heavy metal."
Snyder perhaps best summed up Dark Nights: Metal with this comparison: "If Batman is a kiddie pool, we're about to go swimming in the ocean."
Dark Nights: Metal is set to release in August, but no official debut date as been announced. While we wait for more details, read up on the most disturbing moments in DC Comics history.