DC Announces Gritty Dark Days Comic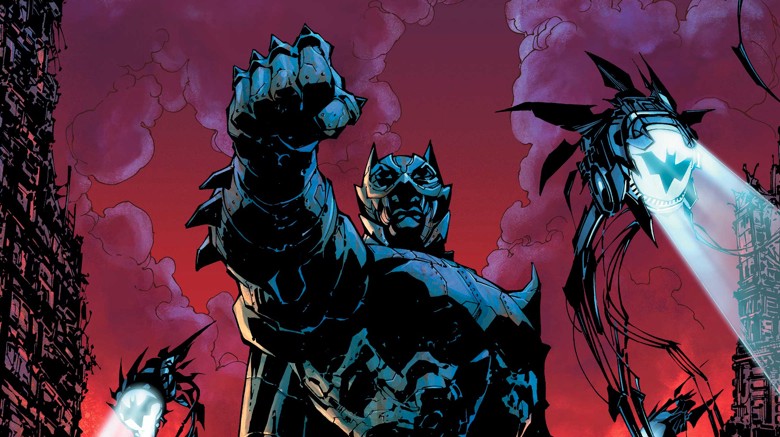 DC Entertainment
It's dark days again for the DC Comics universe, as it's been announced that a collaboration comic storyline called Dark Days is headed this way soon.
Scott Snyder, the best-selling writer who has worked on the Batman series, is set to lead the charge of a talented pack of comic creators to develop and release two exclusive DC Comics issues. Joining Snyder is Jim Lee, co-publisher at DC Entertainment, who will help bring to life a deep, elusive truth hidden beneath the core of the company's comic book universe.
Dark Days will debut this summer, and will be split into two separate issues. The first, Dark Days: The Forge, launches in June; followed by Dark Days: The Casting, in July. Both releases will feature writing from James Tynion IV, whom fans likely recognize from his work with Detective Comics. Additionally, in the art department, Lee is joined by Andy Kubert and John Romita Jr.
In a statement given to The Hollywood Reporter, Snyder spilled some background information on the upcoming comic storyline, and discussed his personal connection to it. "Dark Days posits a mystery that traces all the way back to when I started on Batman," he said. "I've hinted at them over the years with easter eggs and clues. This is a mystery that literally begins at the dawn of man and spans generations of heroes and villains and ultimately leads to huge revelations about the past, present, and future of the cosmology of DC."
Reportedly, the plot was hinted at in issue of Detective Comics during Tynion's run, which included a "prelude giving a rundown of Batman's placement of agents throughout the DC universe." This seems to tie into the cover art for Dark Days: The Forge (pictured above). Perhaps fans will be seeing more of the Dark Knight in Dark Days.
No additional details on the Dark Days issues have been given just yet, so while we wait, check out some other DC Comics goodies by reading up on the terrible characters the company will never reboot.