The American Gods Opening Credits Are Here To Give You Nightmares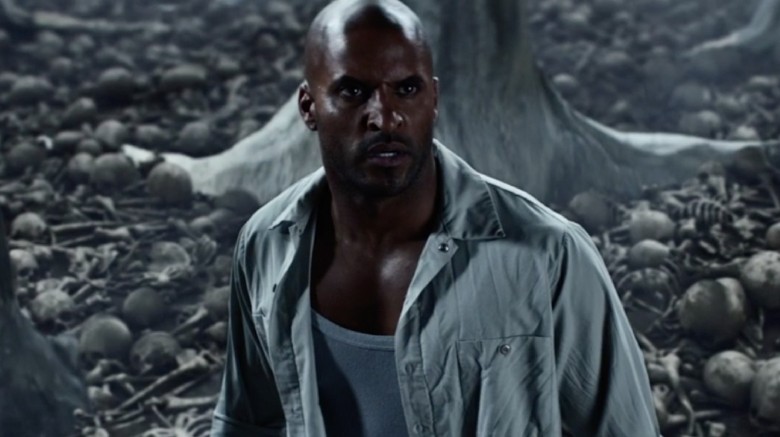 The opening credits for Starz's American Gods adaptation are beyond trippy. The glowy sequence, released Thursday, a month ahead of the series' April 30 premiere, contains old school statues and imagery mixed with new, technological innovations like technology and medicine and fits perfectly with the themes of the upcoming series.
Based on the 2001 Neil Gaiman novel of the same name, the show follows Ricky Whittle's Shadow Moon, a recently released prison convict who finds himself working with a mysterious man named Mr. Wednesday (Ian McShane), who he later finds out is actually the Greek god Odin. Shadow becomes entangled in a war between the ancient gods and the gods of new American obsessions like media, celebrity, and technology. The cast also includes Emily Browning as Shadow's ex-wife Laura; Peter Stormare as Czernobog, the god of evil; Orlando Jones as Mr. Nancy, aka the African trickster god Anansi; Pablo Schreiber as the leprechaun Mad Sweeney; Gillian Anderson as the new god Media; and Crispin Glover as the villainous Mr. World. Kristen Chenoweth, Bruce Langley, Yetide Badaki, Jonathan Tucker, Cloris Leachman, Chris Obi, Demore Barnes, Corbin Bernsen, and Mousa Kraish will also appear. Gaiman, who also wrote Stardust, Coraline, and the Sandman comics, will also executive produce the series, which comes from Hannibal and Pushing Daisies showrunner Bryan Fuller.
"Is it strange to want action figures from a main title sequence?" said Fuller and executive producer Michael Green in a statement, via TVLine. "Crucified astronauts, neon cowboys and S&M centaurs, we bow to Elastic and their spectacular vision. A totem of godly visions we didn't know we needed to worship until they showed us the light with this clarion call to the American Gods."
You can watch the sequence below, or click here to see the show's trailer. While we wait for American Gods to premiere, see why we think the show will change your life in 2017.