American Gods: Bryan Fuller Unveils New Character Posters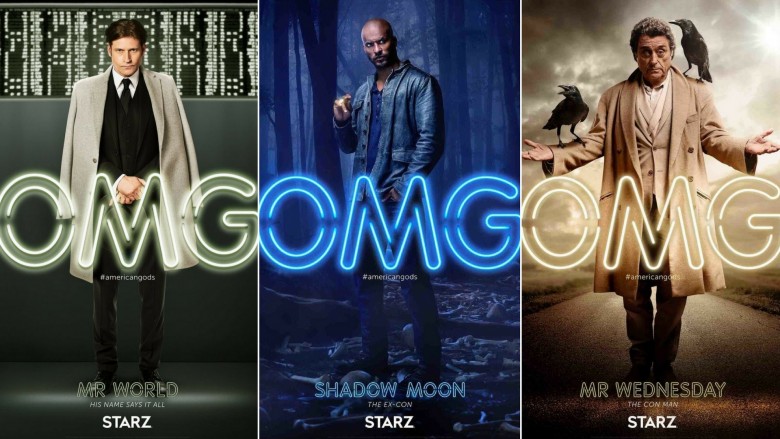 The gods are almost upon us. American Gods showrunner Bryan Fuller released new character posters for the upcoming series on his Twitter Monday morning, showing each of the cast members staring face on at the camera with "OMG" emblazoned across the center and their names and roles at the bottom. The posters mostly show characters we've already seen before, including Shadow Moon (Ricky Whittle), Mr. Wednesday (Ian McShane), and Easter (Kristen Chenoweth). However, the biggest insight into the series they provide comes in the best look yet at Mr. World (Crispin Glover), whose poster is accompanied by the caption "His name says it all."
Based on the 2001 Neil Gaiman novel of the same name, the show follows Whittle's Shadow, a recently released prison convict who finds himself working with a mysterious man named Mr. Wednesday, who he later finds out is actually the Greek god Odin. Shadow becomes entangled in a war between the ancient gods and the gods of new American obsessions like media, celebrity, and technology. The cast also includes Emily Browning as Shadow's ex-wife Laura; Peter Stormare as Czernobog, the god of evil; Orlando Jones as Mr. Nancy, aka the African trickster god Anansi; Pablo Schreiber as the leprechaun Mad Sweeney; and Gillian Anderson as the new god Media. Bruce Langley, Yetide Badaki, Jonathan Tucker, Cloris Leachman, Chris Obi, Demore Barnes, Corbin Bernsen, and Mousa Kraish will also appear. Gaiman, who also wrote Stardust, Coraline, and the Sandman comics, will also executive produce the series.
American Gods, a show that we think will absolutely blow everyone away, is due out on April 30. In the meantime, check out the new posters below and watch the trailer.



#OMG #IanMcShane @MrRickyWhittle @YetideBadaki #EmilyBrowning @AmericanGodsSTZ @andmichaelgreen @neilhimself pic.twitter.com/hB1ESoHxcO


— Bryan Fuller (@BryanFuller) March 27, 2017



#OMG @TheOrlandoJones @schreiber_pablo @BruceJLangley @KChenoweth pic.twitter.com/JCYAwtUr4X


— Bryan Fuller (@BryanFuller) March 27, 2017



#OMG @PeterStromare @CrispinGlover @AmericanGodsSTZ @andmichaelgreen @neilhimself pic.twitter.com/AjJxZ6c6jD


— Bryan Fuller (@BryanFuller) March 27, 2017