Mission: Impossible 6 Will Be Filmed In IMAX 3D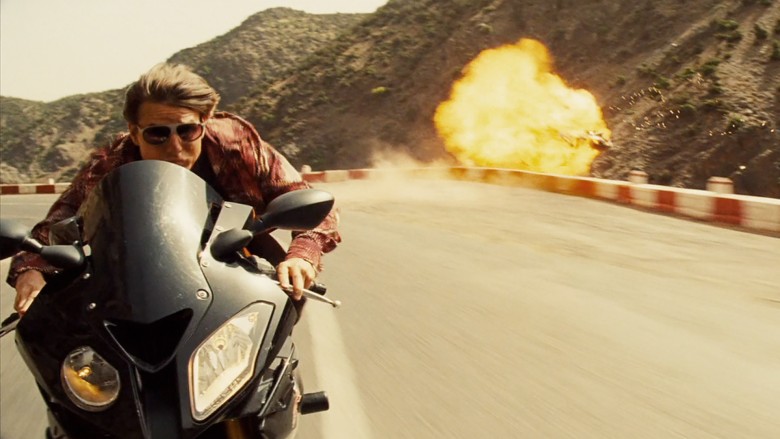 When it comes to performing crazy stunts, Tom Cruise is the closest thing that America has to Jackie Chan. We recently found out that the actor took a whole year to train for some insane feat in the upcoming Mission: Impossible 6, and now we've learned that when Cruise puts his life on the line again for our amusement, we'll be able to watch the scene unfold in amazing IMAX.
According to ScreenRant, Paramount recently revealed that Mission: Impossible 6 would be getting the IMAX treatment, although the studio didn't specify whether director Christopher McQuarrie would shoot the entire movie like this or only particular scenes. Of course, this isn't the first time IMF Agent Ethan Hunt has partnered up with IMAX. Brad Bird got that tradition started back when he directed Ghost Protocol. Around 30 minutes of the movie were shot with IMAX cameras, including the legendary Burj Khalifa sequence. "The cameras are big, and they're noisy," Bird told Hero Complex. "But the image quality—you can't get that any other way... you really feel it when it's in IMAX."
True, shooting blockbusters in IMAX is pretty much par for the course these days, and that's largely thanks to Christopher Nolan. According to The Guardian, The Dark Knight was "the first Hollywood feature to include substantial segments shot directly on to IMAX stock." And the Marvel Cinematic Universe recently made history when it was announced that the upcoming Avengers movies will be the first films exclusively shot with IMAX cameras. In fact, pretty much everything from Sully to Disney's new Beauty and the Beast have gone down the same cinematic path, but that doesn't make this Mission: Impossible news any less exciting. After all, when Tom Cruise finally performs his craziest stunt yet, we definitely want to see it in all the glory that IMAX can afford.
In the meantime, while we're waiting for the film to hit theaters, be sure to check out all the ways that Mission: Impossible 6 will be better than you think.