Marvel Comics Yet Again Teases Wolverine/Hulk Hybrid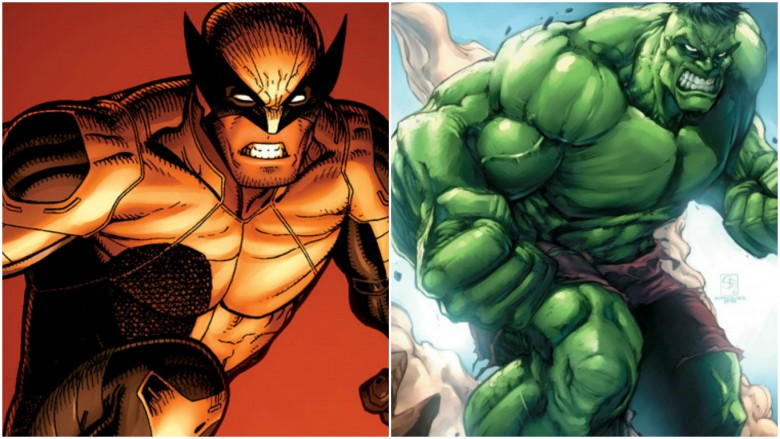 Marvel Entertainment
It appears that for Marvel Comics, two really is better than one. The superhero-centered company has again teased a mega mash-up creature that blends Wolverine's aggressive physical strength and adamtanium-clawed fists with the Incredible Hulk's bulky stature.
In February, Marvel Comics editor-in-chief Axel Alonso posted to his Twitter account an image of an enormous creature that had attributes of both Marvel heroes. Roughly Hulk's size and color and with signature Wolverine hands, the hybrid creation remained in a tank labeled "Batch-H."
Alonso has followed up with another tease, again tweeting a photo related to the creature. This time, the picture shows a scientist examining an X-ray of the Wolverine/Hulk-blended body. It was accompanied with a slightly ominous caption: "The Blueprint." Giant muscles and sharp claws can clearly be seen, enough to hype fans up about the hybrid.
Check out both images below:



Under Construction pic.twitter.com/0emlA0GKHw


— axel alonso (@axelalonsomarv) February 24, 2017



The Blueprint pic.twitter.com/XG4rm3Oyq1


— axel alonso (@axelalonsomarv) March 28, 2017
The mash-up creature is set to appear as part of the Greg Pak-penned crossover between
The
Totally Awesome Hulk
and the refreshed ResurrXion comic series
Weapon X
. Entitled
Weapons of Mutant Destruction
, the collaboration story will be released in June.
Pak himself dished up a few details on what fans can expect from the Wolverine/Hulk-focused crossover comic, but he remained hush-hush about the character itself. "You know, we'll see what Batch H is all about," said Pak in an interview with ComicBook.com. "It looks pretty amazing, doesn't it?"
He did, however, explain the premise behind Weapons of Mutant Destruction. "We've got our heroes and villains, who are hunting down the new Weapon X, and end up teaming up with Amadeus Cho, the Totally Awesome Hulk. That in itself is fun because you've got very different dynamics here where the Hulk is this young cocky dude who thinks he knows everything and the Weapon X team is this hardened group of mercenaries and killers and criminals basically. There are some fun contrasts there but they've teamed up because they found out that Weapon X is hunting the Hulk. The Weapon X Program has a very specific mission in mind and it involves the Hulk, and so now our heroes and the Hulk are teaming up to try to thwart it."
While we wait to see the high-powered hybrid creature hit the streets in Weapons of Mutant Destruction, check out how these other Marvel icons should really look.