Game Of Thrones Almost Gave Stannis Baratheon A Different Ending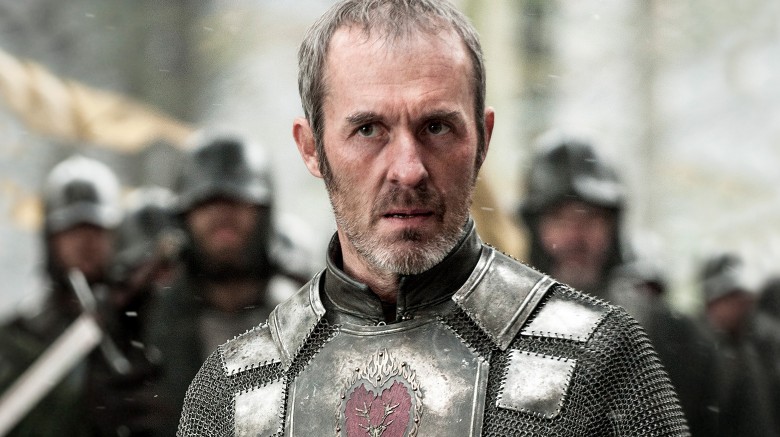 HBO
Contains spoilers for Game of Thrones Stannis Baratheon was a man of few words during his time on Game of Thrones, but an alternate version of his death scene reveals that he almost said a few more.
At the end of Season 5, Stannis (Stephen Dillane) met his match in Brienne of Tarth (Gwendoline Christie). Realizing he'd been dedicated to a cause that would likely not pan out (thanks a lot, Lady Melisandre) and after sacrificing everything to secure the Iron Throne, he conceded defeat and was "put down" by Brienne.
However, a script blurb from that episode, "Mother's Mercy," shows something totally new. In the excerpt, which seems almost from a parallel universe, Stannis expresses regret for murdering his brother Renly (Gethin Anthony), and for throwing his young daughter, Shireen, to the flames as a means to gain an edge in the fight for the crown.
Read the excerpt (via Watchers on the Wall) below:
"BRIENNE: In the name of Renly of the House Baratheon, first of his name, rightful King of the Andals and the First Men, Lord of the Seven Kingdoms and protector of the realm, I, Brienne of Tarth, sentence you to die.
[Stannis nods. He's ready.]
BRIENNE: Do you have any last words?
[Stannis considers.]
STANNIS: Do you believe in the life to come?
[Brienne nods]
STANNIS: I don't. But if I'm wrong, and you're right... tell Renly I'm sorry when you get there. I don't imagine I'll see him wherever I'm going. (beat) And my daughter. Tell her... tell her...
['Sorry' doesn't even begin to cover what he feels about Shireen. The thought of it brings tears to his eyes, and he's not going to die weeping in front of a woman he doesn't know. Stannis stares up at her.]
STANNIS: Go on, do your duty.
[Brienne raises her sword and brings it down with a mighty swing.]"
Though Game of Thrones fans know how things truly panned out, it's quite interesting to see another side to the power-hungry Stannis. Regardless, Stannis will probably remain dead in Game of Thrones Season 7, which drops on July 16. Until then, read up on some actors who turned down roles on the show.