Spider-Man Hangs Out On The Avengers Tower In New Homecoming Poster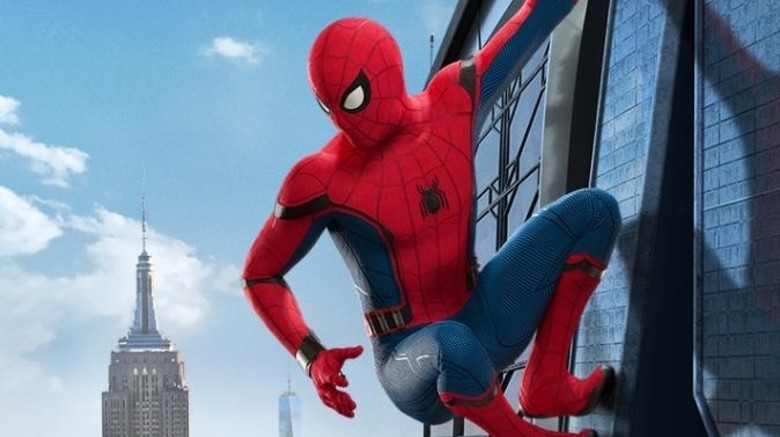 Sony Pictures
The web-slinging superhero takes a breather in the newest poster for Spider-Man: Homecoming, one that follows another reveal showing Peter Parker (Tom Holland) getting a little rest near the Hudson River.
Posted on Twitter by Marvel (and Sony Pictures UK), the latest look at the upcoming flick features Spider-Man clinging to the side of the Avengers tower. The photo was accompanied by a tongue-in-cheek comment that gives a nod to Peter Parker's high-school studies and to the bad guy-busting band of vigilantes. "Straight-A super hero," the caption says.
The newest Spider-Man: Homecoming poster seems to get to the bones of the film's story: Parker is caught up in the monotony of life as a young student, and daydreams about saving New York City alongside the Avengers. Directed by Jon Watts, Homecoming will immediately follow the events of 2016's Captain America: Civil War, and will see Tony Stark (Robert Downey Jr.) prepping Parker to one day (but not just yet) join the team. And despite Stark's warnings otherwise, Parker dives in to face off against his biggest enemy yet: the wicked, winged Vulture (Michael Keaton).
Rounding out the star-studded Homecoming cast are Marisa Tomei as Aunt May, Michael Chernus as Tinkerer, Bookeem Woodbine as Shocker, as well as Donald Glover, Jon Favreau, Logan Marshall Green, Laura Harrier, Tony Revolori, Hannibal Buress, Tyne Daly, and Jacob Batalon.
While we wait to see Spider-Man: Homecoming in theaters on July 7, check out the latest film poster below and be sure to read up on the worst things that ever happened to good ol' Spidey.