Arrow's Stephen Amell Says Prometheus Is Like Oliver's Therapist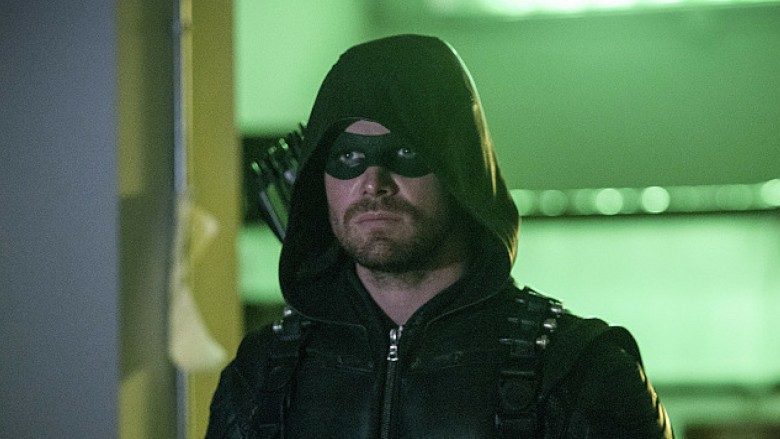 Prometheus and Oliver have a very different kind of hero/villain relationship this season on Arrow. According to star Stephen Amell, the big bad has almost become Oliver's therapist as the cat-and-mouse game between the two has gone on.
"What Prometheus does to Oliver is really unlike anything that we've ever seen happen to him," Amell told Collider. "He's a sociopath and he's doing horrible things to him but, in his mind, he's doing it in the pursuit of the greater good, which is really scary. It's really scary when there's a villain whose end goal might not be killing you."
Oliver's encounter with Prometheus will leave him permanently changed, according to Amell. It will also reverberate in the rest of his life, including in his relationship with Felicity (Emily Bett Rickards), who has been dealing with her own troubles as she gets more and more involved with the hacker group Helix. "She, above anyone else, is the person that he's going to go to, if he has something to confide or work through," said Amell. "The fact that she's going through something like that, maybe that's going to cause him to open up."
Prometheus will likely be defeated by the end of the season, as is usually the way with these types of shows, and Amell has a bit of an idea how Oliver is going to pull it off. The actor says that Oliver's tendency to go it alone has been something which Prometheus has exploited over the course of the season, but, once he gets the gang behind him, Prometheus will be thrown off his game. "The fact that Oliver now has a team might be the one thing that Chase can't plan for," Amell teases.
Arrow airs Wednesdays on The CW. If you're a fan of the show, find out how the cast should really look and read up on some of the show's biggest plot holes.