Arrow's Executive Producer Explains Prometheus Reveal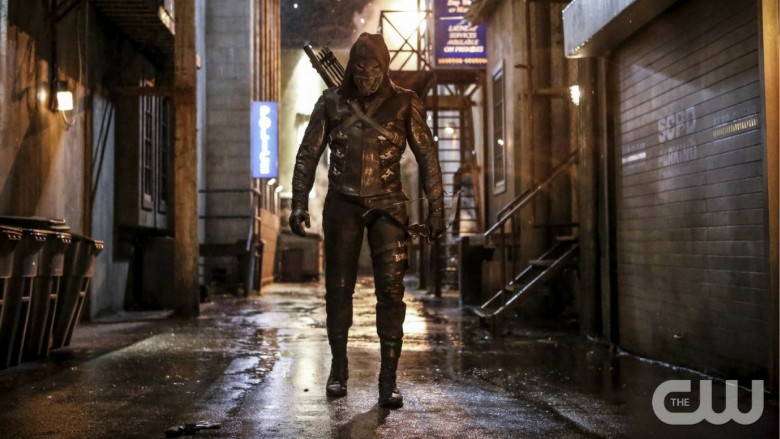 Major spoiler alert for Wednesday night's episode of Arrow.
The real identity of Prometheus was revealed on Arrow Wednesday night and boy, was it a doozy. In the episode, Oliver's new arch enemy was revealed to actually be Star City District Attorney Adrian Chase (Josh Segarra).
Fans of the comics assumed that Chase was behind a mask, but they didn't think it was Prometheus'. In the comics, Chase disguises himself as Vigilante, something which even Segarra thought would be true on the show.
"I got to Vancouver thinking I was playing Vigilante," he told reporters in a press call (via Variety). "I was reading Vigilante comics and reading about Chase, and I got to work and I was talking to Marc [Guggenheim] like, 'I'm really doing my research, I'm really being studious about this Vigilante guy,' and he was like 'What do you mean? That's not who you're playing.'"
Executive producer Wendy Mericle says that the Vigilante mislead was designed to keep the surprise hidden. "We thought it would be a really fun twist to do what we've always done on the show, which is to take the comic book mythology and turn it on its head," she said.
The episode ended with Chase supposedly kidnapping Oliver's past love Susan Williams, which Mericle says is all part of his plan to continue to "torture" the masked hero. "He's going after people Oliver cares about," she said. "We've seen villains do that in the past, but this year Adrian does it in a way that's a little more specific. He has no drive to kill Oliver, it's purely based on torture. It's all part-and-parcel to break Oliver down psychologically."
Segarra teased that Susan may just be one piece of Prometheus' bigger plan. "There's a means-to-an-end for each move that he makes," he said. "He's moving pieces. I think that Susan is a very important piece to that puzzle. And Susan may feel betrayed by Oliver, so it's interesting to see how Chase will navigate those waters— how he can get to his next move."
The next step in the Prometheus saga will be his identity being revealed to Oliver and his team, but Mericle teases that we will have to wait for that to happen. "One of the fun things that we've done is to allow us to live with that reveal for awhile, and to see the characters not knowing and still continuing to interact with Adrian Chase at City Hall and elsewhere," she said.
Arrow returns next Wednesday, March 8, at 8 p.m. on The CW. Meanwhile, see how the cast of Arrow should really look and read up on some of the show's biggest plot holes.