Here's The First Look At Emily Blunt As Mary Poppins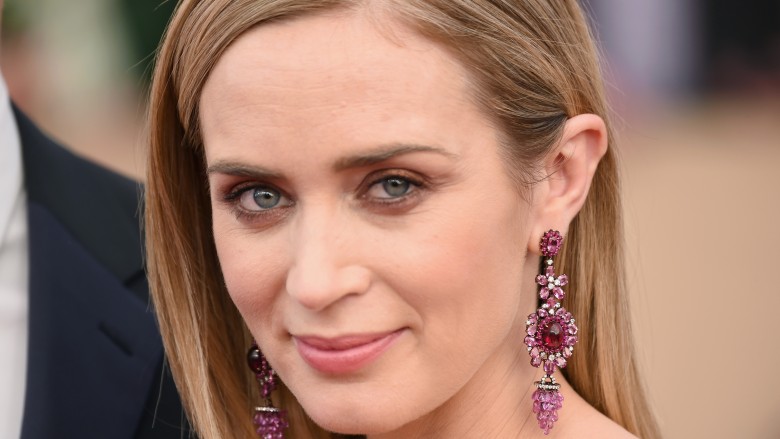 Getty Images
Most of us automatically associate the living acting legend Dame Julie Andrews with the magical nanny Mary Poppins, but someone new is here to teach us what good a spoonful of sugar can do. Disney just released the very first look at Emily Blunt in the upcoming Mary Poppins sequel, Mary Poppins Returns—and it's pretty "supercalifragilisticexpialidocious."
The follow-up to the beloved 1964 movie musical, Mary Poppins Returns tacks on English actor Blunt has the titular wonder-woman, and the first glimpse of her in the role is dazzling. Donning a blush feather-adorned hat, a jewel-toned coat, and conservative heels, Blunt's Mary resembles some elements of Andrews's. In the photo, she even appears to be standing near Cherry Tree Lane, the famed street from the original film.
However, there is a discernible difference to be noted in this teaser image: the carpet bag. Rather than the ornate floral one Andrews carried, Blunt's is far more modern, opting for a cross-hatch pattern in brighter colors. Something tells us that its contents likely won't change all that much, though. Another variation can be spotted in Blunt's lack of an umbrella, but perhaps she's hiding it in her newly-updated bag.
Get a glimpse at the picture (via The Hollywood Reporter) below, and check it out in all its magical glory here.Mary Poppins Returns is set to hit theaters on December 25, 2018. The movie is currently filming in London, and will star Hamilton's Lin-Manuel Miranda as Jack, a street lamplighter, and Meryl Streep as Mary's oddball cousin, Topsy.
Since there's still over a year's worth of waiting left to do, why not read up on how Mary Poppins might actually be a witch.