Bob Odenkirk Teases More Breaking Bad Characters On Better Call Saul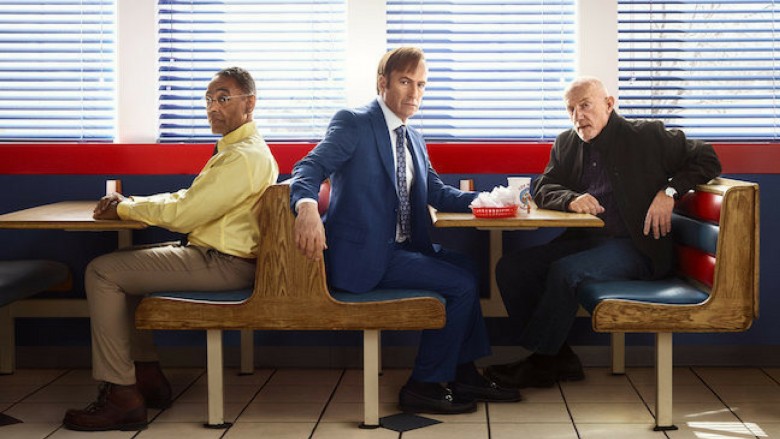 Gus Fring isn't the only Breaking Bad character who will be stopping by Better Call Saul. Series star Bob Odenkirk said in an interview with The Huffington Post that other characters from the show's parent series are going to start popping up as the prequel edges closer to the original show's start date.
"Giancarlo [Esposito, who plays Gus] is an incredibly sweet, generous actor, and incredibly gifted, amazing actor, so it's wonderful to have him around, and it's wonderful to get the story closer to the world of Breaking Bad, and it's not just Giancarlo," he said. "There are other characters from that show that are starting to appear, so that is super exciting, and it raises our stakes, and it raises our game at Saul."
There are a number of characters who could cross over in a few different ways, including Dean Norris' Hank, Betsy Brandt's Marie, or even Aaron Paul's Jesse Pinkman. (It is, of course, possible that Bryan Cranston's Walter White could eventually make an appearance, but we think they would have a hard time keeping that one under wraps if it was already set up.) Whoever it ends up being, Odenkirk promises that the season will be worth watching, saying that he is envious of the fans who get to watch the surprises play out. "I guess as it comes closer to Breaking Bad, it's gonna happen more and more," he teased.
Odenkirk's enthusiasm about seeing Breaking Bad characters cross over is a stark departure from some of his previous comments, in which he said that people should stop referencing Breaking Bad and focus on what Better Call Saul was doing on its own. However, he says that, now that Saul has established its own unique tone, future seasons could potentially begin to move towards some Breaking Bad-esque moral dilemmas, focusing on "the balance of violence and higher stakes." These higher stakes could be a big part of what turns Jimmy McGill into Saul Goodman, something which Odenkirk promises will happen in an unexpected way. For Odenkirk, the difference between the two is that Saul is "emotionally callous," while Jimmy has "soft spots in his heart and a lot of hope." However, he ominously teased that the show's story will "beat the hope out of him" (something which Breaking Bad veterans like Gus could definitely play a part in).
Better Call Saul season three premieres on April 10 at 10 p.m. on AMC, while the first (we think) Breaking Bad appearance of the season will occur on the next week's episode, when Esposito shows up as Gus. In the meantime, see what Esposito had to say about his return and read up on all of the ways that Better Call Saul can connect to Breaking Bad.