Here's Where You Can Watch John Wick 2
Lionsgate
The original "John Wick" defied expectations and was a sleeper hit at the box office (Box Office Mojo), once again relaunching the career of star Keanu Reeves and setting up a trend of hyper-professional action films with major stars. With the benefit of hindsight, of course "John Wick" did well: the film boasted a great cast, anchored by an always committed Reeves, unusual action, and a plot which featured an underworld that caters exclusively to assassins.
Armed with a bigger budget and more pedigree, "John Wick: Chapter Two" had Keanu reprising his role and naturally up against even greater odds this time. Wick begins the film ready for peace and to enjoy his retirement, now with an adorable pit-bull puppy by his side, but is called back into action thanks to an old debt. But when he's betrayed, John finds himself on the run and with a $7 million bounty on his head. Mayhem (of course) ensues.
The movie doubled the gross of the original film, making $171 million overall while receiving critical acclaim (Rotten Tomatoes). But where can you see the film now that it's years out of theaters?
You can stream John Wick: Chapter 2 via Peacock and Fubi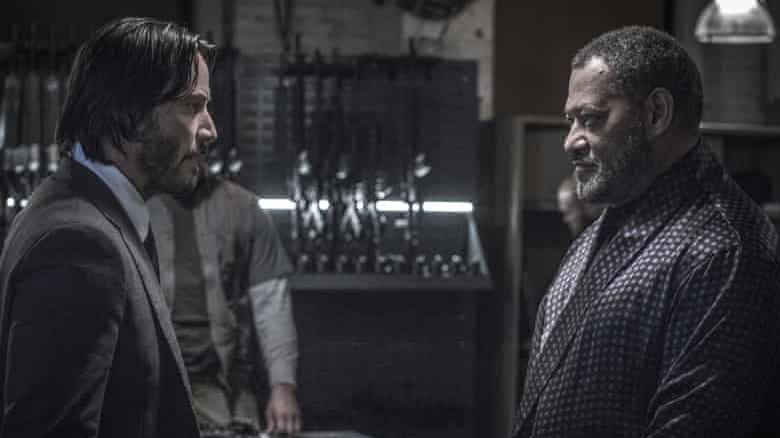 Lionsgate
You can currently stream "John Wick: Chapter 2" through a number of services. "John Wick: Chapter 2" is currently available on Peacock, both on the subscription tier without ads and on the free version with ads.
Otherwise, if you have a subscription to the service, you can watch it on Fubo TV. Similarly, if you have a subscription to DirecTV, "John Wick: Chapter 2" is available there. The film is also streaming on subscription services Sling TV and Spectrum On Demand. Finally, if you have a subscription to NBCUniversal, you can watch the movie on the USA network's service.
Meanwhile, if you'd prefer to rent or buy a digital copy, almost all of the digital services, including iTunes, Amazon, and Vudu, have the film available to rent for $3.99. AMC On Demand does have it available for $3.00. If you want to buy a copy for your digital library, most services have "John Wick: Chapter 2" for $7.99. Microsoft and Alamo Drafthouse have a copy of the film for $12.99.
And of course, the film is always available to purchase physically via DVD and Blu-Ray.