What Really Happened To Slade On Love Island?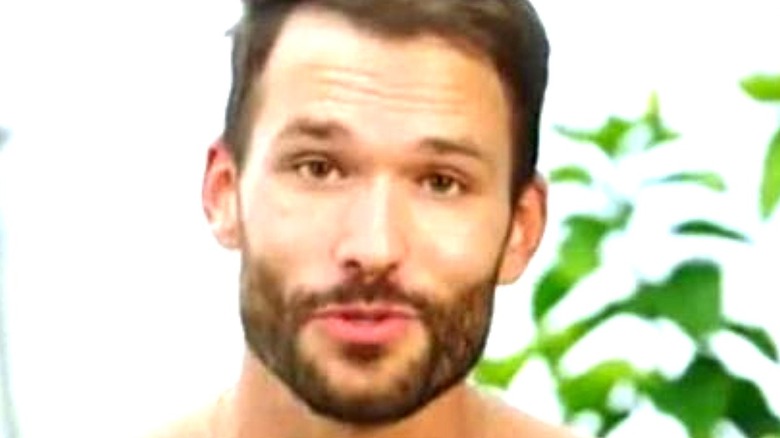 Like so many other TV shows, the U.S. version of "Love Island" (known as "Love Island USA" outside of America) is a British import of the same name. Much like its predecessor, it's a reality dating show filmed on a tropical island. It features beautiful singles trying to find love while at the same time competing for a $100,000 cash prize. And one particular contestant from Season 3 — Slade Parker — made a big impression on the show's audience.
Parker, who was described by MEA WorldWide as a "Georgia hunk" looking to woo "an outdoorsy girl," had a strong showing at first. Fans of the show approved of him on social media, and the fact that his presence essentially started a love triangle between him, Olivia, and Javonny had viewers practically salivating over the drama. Then, suddenly, Slade had to leave the show. But why? Various news outlets have been reporting on the issue, but the answer to this question isn't a very satisfying one.
Slade's excuse for leaving is vague and mysterious
Almost all of the news outlets that have been reporting on Slade's sudden and unexpected departure, Monsters & Critics included, have described a vague and nebulous "family emergency" as the reason for Slade's premature exit. Could this just be a convenient excuse? This is pure speculation at this point, but it seems like there might have been things going on behind the scenes which led producers to go in a different direction.
When Distractify reported on the situation, they quoted a tweet from a fan of the show that read: "If Olivia picks Slade over Javonny I will never watch this season again because I don't wanna see Javonny go." Given Javonny's seemingly equal — or perhaps larger — fan base among viewers, did producers squeeze Slade out in order to protect the fan-favorite (and their ratings)? Until Slade himself pipes up and gets into more specifics about his "family emergency" — or until someone from behind the scenes spills the beans on what really happened — fans may never really know why Slade had to leave the show early. But if you want to find out who wins at the end of Season 3, you'll have to tune in to CBS on Sundays at 9 p.m. EST or stream episodes on Paramount+.