Kevin Feige Just Opened Up About The Casting Process For The Fantastic Four Movie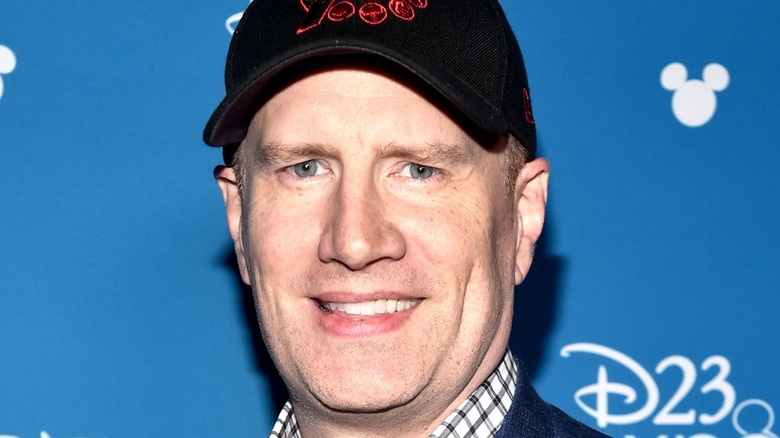 Alberto E. Rodriguez/Getty Images for Disney
The COVID-19 pandemic changed all of our plans — including Marvel Studios. However, the delay has just made eager fans even more excited to see Marvel's newest projects. The year 2021 has delivered so far, with four Disney+ series and the long-awaited "Black Widow," with "Shang-Chi and the Legend of the Ten Rings," "Eternals," and "Spider-Man: No Way Home" on their way. However, Marvel devotees have been awaiting one property since long before the pandemic. The Fantastic Four are no strangers to film adaptations, though critics and audiences alike have been disappointed by what they've seen (via Rotten Tomatoes). Yet now, thanks to Disney's acquisition of 21st Century Fox, that gang of heroes will now officially join the Marvel Cinematic Universe, and fans couldn't be more thrilled.
Details are still unknown for the upcoming "Fantastic Four" film, which is likely to hit theaters late 2023, though that hasn't stopped fans from speculating. Marvel Studios president Kevin Feige recently opened up about the movie's casting process, finally giving audiences some insight on what's to come.
Fantastic Four will feature of mix of well-known actors and newcomers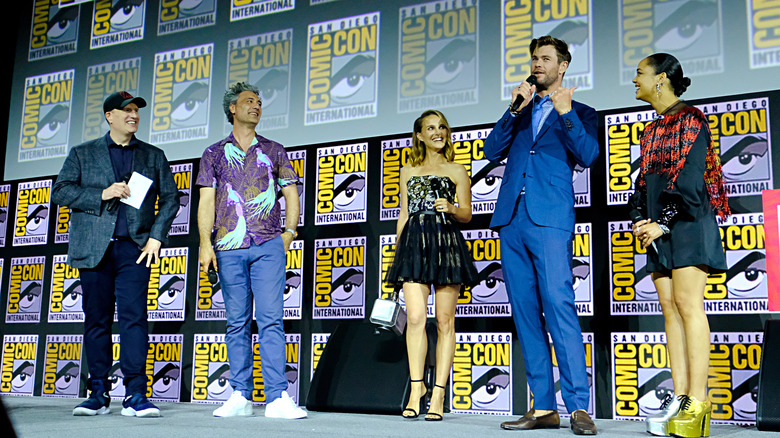 Alberto E. Rodriguez/Getty Images
Speaking with ComicBook.com, Kevin Feige revealed the studio's casting strategy for the upcoming Fantastic Four project, sharing that the casting team will be looking for both veteran actors and newcomers alike. Feige called the casting process "a beautiful combination of both [new and well-known actors]," adding that, "it really is about the search for the best actor for the job whether that actor is known to the world yet or not." Chris Hemsworth and Tom Hiddleston were far from household names when cast in the first "Thor" film, and are now two of the biggest stars in the world. Tom Holland was largely unknown, too, before he suited up as our favorite web-slinger in 2016. However, Marvel also enlists the talents of big names for their films, including Benedict Cumberbatch as Doctor Strange, Anthony Hopkins as Odin, Christian Bale as Gor the God Butcher, and Natalie Portman as Jane Foster.
Fans will still have to wait for any news, though. When asked at the "Black Widow" premiere when the "Fantastic Four" cast would be announced, Feige told ET Online "I don't think it's soon," (as reported by ComicBook.com). Marvel Studios has been hard at work to make up for time lost to the pandemic, and we'll be eagerly awaiting any "Fantastic Four" news that comes our way.