Laid Back Camp Season 3 - What We Know So Far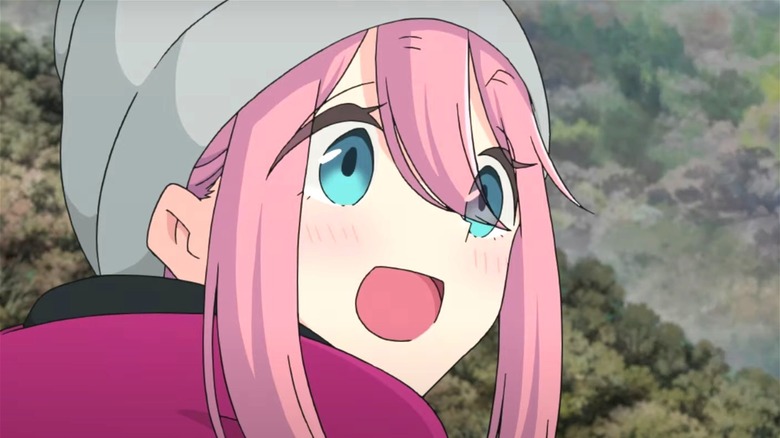 C-Station
For many, anime is an escape from the everyday monotony of life. It's a way to relax after a day's hard work, or a hobby that fills the empty space of the weekend. Of course, not everyone loves anime. Some people prefer to enjoy the great outdoors when they have a bit of free time. But, on the rare occasion that leaving the house is a no-go (say, in a worldwide pandemic, for instance) there's anime for them, too. Enter "Laid Back Camp," an anime series specifically catered to those who can appreciate the tranquility of a night spent at the campground.
Based on the manga of the same name by author and illustrator Afro, "Laid Back Camp" is a slice-of-life series animated by C-Station and focusing on the camping adventures of two very different girls and their mutual friends. As part of the slice-of-life genre, there's no life-threatening conflict and no real danger. It's just a calming series about people and the myriad ways they can enjoy themselves in nature. It's pure, heartwarming fun.
Unfortunately, this is the kind of fun that does stop, at least for the time being. The show wrapped up its second season back in April, 2021, but has yet to announce a third season. Now, fans are wondering if their favorite group of campers will ever pitch their tents again. Luckily, "Laid Back Camp" still has something else brewing for its fans. Here's what we know so far.
When will Laid Back Camp Season 3 release?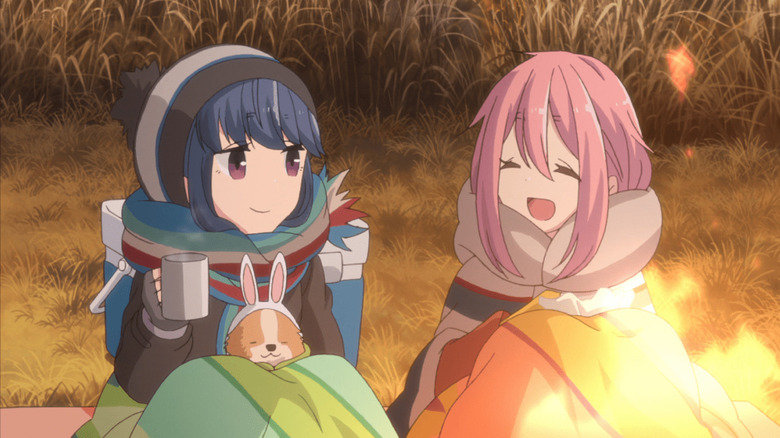 C-Station
For fans worried that "Laid Back Camp" will never return with a full season should rest assured that the show isn't dead yet. It's entirely normal for anime to take some time between wrapping up one season and announcing another. It technically is still possible that Season 2 will be the show's last, but it's far too early to assume this until "Laid Back Camp's " creators say otherwise.
It's worth mentioning that there was a rather large gap between Seasons 1 and 2 of "Laid Back Camp." The first season actually premiered in 2018, with a short spinoff series called "ROOM CAMP" following suit two years later. Season 2 did not premiere until January 2021, around three years after the first season had already aired. With that in mind, "Laid Back Camp" fans can rest easy knowing that a long waiting period doesn't necessarily mean the anime is over.
In the meantime, "Laid Back Camp" has something else in store for its fans. Though the show's creators announced it back in 2018, there is a "Laid Back Camp" movie on the horizon. Not much is known about the film, but according to Anime News Network, it is slated for a 2022 release.
Who will be in the cast for Laid Back Camp Season 3?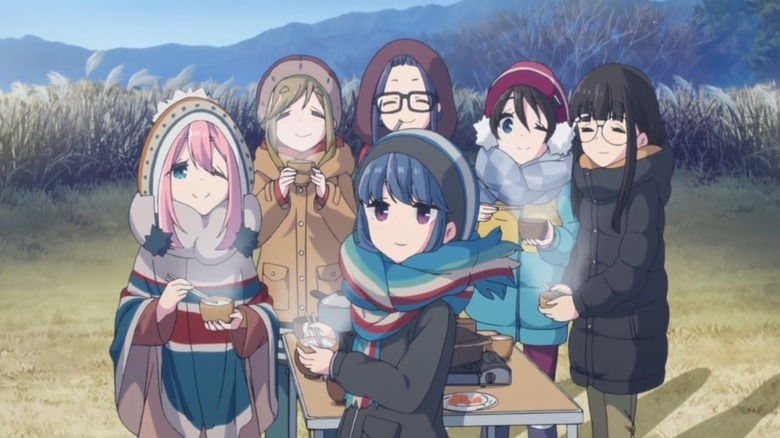 C-Station
Though fans don't know very much about "Laid Back Camp" Season 3 or the upcoming movie, it's a fair assumption that most of the show's major characters will make a return for both projects. Likewise, fans can expect their favorite voice actors for the show to resume their respective roles. The only casting mysteries in this situation would be the addition of new characters, none of which (if there are any at all) have been revealed by C-Station.
Therefore, fans can look forward to seeing the regular "Laid Back Camp" return to the campground when the movie releases. The show's two main characters, Rin Shima and Nadeshiko Kagamihara, are absolute shoo-ins. The two are voiced by Nao Touyama and Yumiri Hanamori, respectively (via Myanimelist). Likewise, at least one of these leading ladies isn't known for camping by her lonesome. As a result, their mutual friends are also likely to make reprisals. As such, fellow campers Ena Saitou, Chiaki Oogaki, and Aoi Inuyama can all be expected to return. They are voiced by Rie Takahashi, Sayuri Hara, and Aki Toyosaki.
What is the plot of Laid Back Camp Season 3?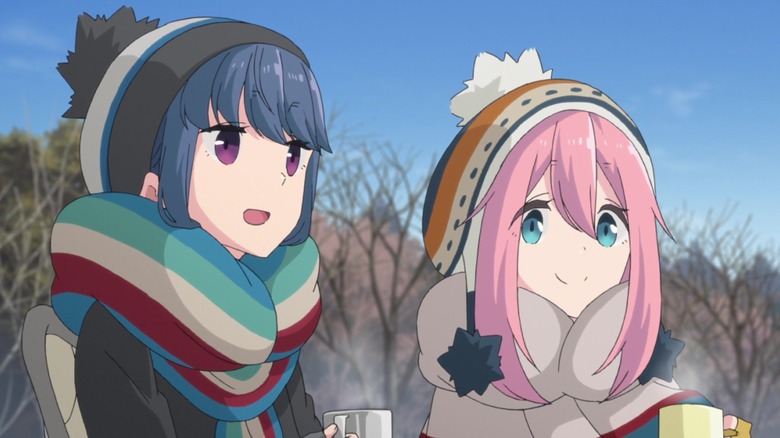 C-Station
The thing about slice-of-life anime is that overarching plots, if there are any, are secondary to the day-to-day lives of the show's primary characters. In that respect, it's almost accurate to say "Laid Back Camp" doesn't have much of a plot at all. It is as it presents itself: a relaxing, comforting show about friends spending time (both alone and together) in the Japanese wilderness.
Instead, much of the variety of the show is based on each episode's specific plot, as well as the various camping locales chosen by its characters. Seeing them go about their campground business under different circumstances each episode provides a sense of fulfillment and progression that other anime would achieve via more traditional story structures.
Things will be slightly different when it comes to the movie, however. Since it is a full film, chances are that it will have some sort of consistent narrative throughout. Unfortunately, the staff at C-Station has been anything but forthcoming about the upcoming film's story. It may simply be something fans will have to wait until the film's 2022 release date to find out.