The Moment Hotch Becomes A Better Father In Criminal Minds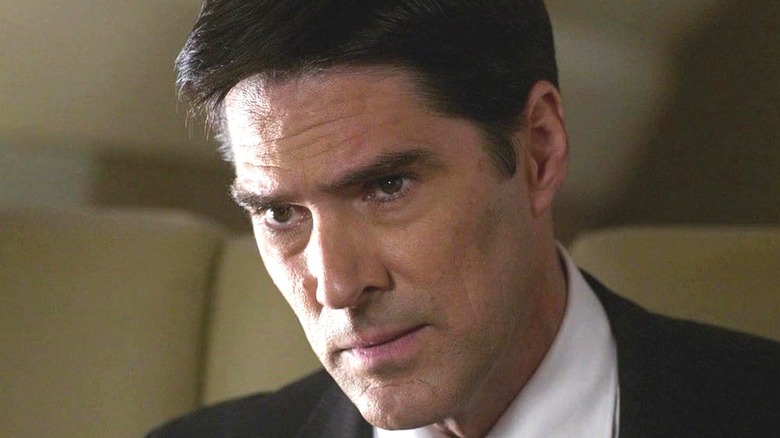 CBS
During its impressive 15-season run on CBS, "Criminal Minds" told over 300 tales of the wicked and deranged. Of course, the power and appeal of the series didn't rest solely on the unknown subject (unsub) of the week. Without its compelling cast of main characters, it's likely "Criminal Minds" would have ended long before Season 15. Viewers tuned in each week to see Hotch, Garcia, J.J., Reid, and the rest of the Behavioral Analysis Unit solve crimes, but they also tuned in to experience those characters' struggles and triumphs.
Though not every episode included details of the BAU's personal lives, "Criminal Minds" did give each main character multiple opportunities in the spotlight. Viewers sympathized with J.J. Jareau's (A.J. Cook) struggle to balance family life and career. They watched as Derek Morgan (Shemar Moore) confronted the trauma of his youth. And they ached when Aaron Hotchner's (Thomas Gibson) life came crashing down around him.
Tragedy forced Hotch to step up as a father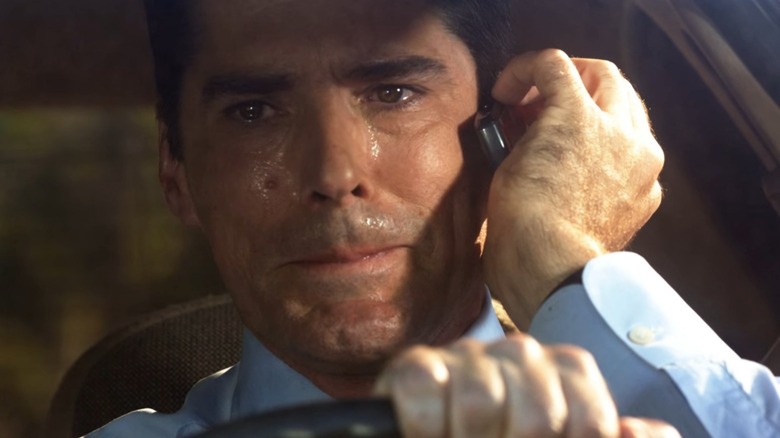 CBS
When audiences first met Hotch, he was happily married to Haley Brooks (Meredith Monroe), and the two had recently celebrated the birth of their son, Jack. Over the course of the first couple of seasons, viewers gain more insight into Hotch's deteriorating marriage. At the heart of their disagreement is Hotch's frequent absences due to the requirements of his job. Midway through Season 3, after the couple was unable to resolve their differences, the two divorced. For the next two seasons, Hotch was more of a part-time father, seeing Jack sporadically whenever the job allowed.
Then, in Season 5, Hotch's personal and professional lives crossed paths with devastating results. The BAU learned that serial killer George Foyet (C. Thomas Howell) was targeting Haley and Jack, forcing mother and son to enter protective custody. Foyet managed to contact Haley and tricked her into bringing Jack back to the home she once shared with Hotch. In one of the most gut-wrenching scenes in the entire series, Hotch speaks with his son and ex-wife on the phone, knowing Foyet has them hostage. Using a code he'd developed with Jack, Hotch tells him to hide and wait for help. Haley, aware that Foyet will kill her to hurt Hotch, tells her ex to look after their son, to teach him love. As Hotch listens, Foyet shoots and kills Haley.
Hotch eventually gave up everything for his son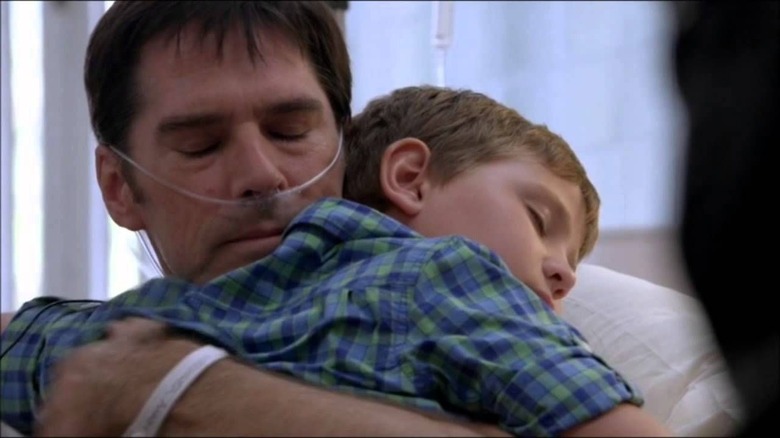 CBS
The murder of Haley forced Hotch to become a much more present figure in his son's life. The next several seasons show that Hotch embraced his role as a father, prioritizing Jack over the FBI on multiple occasions. Hotch's parenting evolution continued in Season 12 when Jack once again became the target of a killer the BAU was hunting. To keep Jack safe, Hotch resigns from the FBI, and he and his son enter the witness protection program. Though the killer is eventually caught and the two are able to leave witness protection, Hotch decides against returning to the BAU and instead chooses to remain a full-time father.
Though he began as a workaholic parent who couldn't commit the necessary time to his family, Hotch became the family man his wife always hoped he'd become. Unfortunately, it took her murder for him to understand that family comes before career.