The Episode Of Modern Family You Didn't Know Bryan Cranston Directed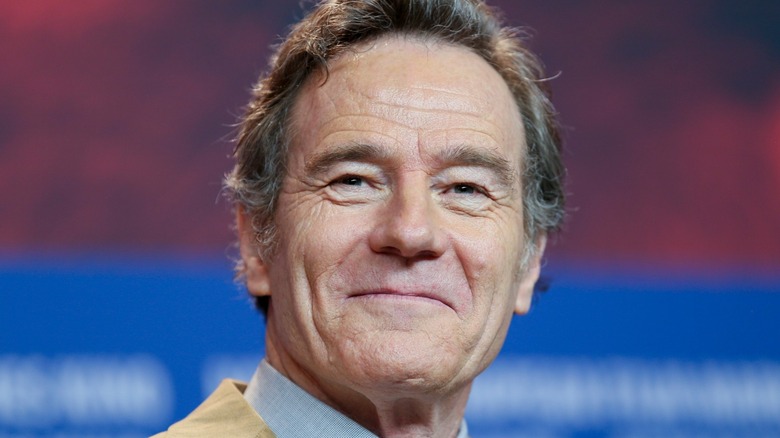 Denis Makarenko/Shutterstock
Bryan Cranston's performances on "Malcolm in the Middle" and "Breaking Bad" made him a legend of both comedic and dramatic small-screen acting, and his performance in Dalton Trumbo biopic "Trumbo" made him an Academy Award nominee (via IMDb). But not everyone knows that the California-born actor also has a second calling as a director.
In fact, even before he was on "Malcolm in the Middle," he made his debut as a writer-director with the 1999 indie drama film "Last Chance." After that, he directed several "Malcolm" episodes, a handful more "Breaking Bad" installments — a not-rare occurrence for the stars of long-running shows — and the series finale of his Showtime limited series "Your Honor." But Cranston has also stayed committed enough to the art of directing that his TV credits in that department extend beyond shows he himself starred in. For instance, in 2012, he helmed the "Work Bus" episode of "The Office." And in the same year, he had a turn in the director's chair of "Modern Family" that was successful enough to prompt a return two seasons later.
Bryan Cranston directed Season 3's "Election Day" and Season 5's "The Old Man & the Tree"
Even though Bryan Cranston had his hands presumably full with the final batch of "Breaking Bad" episodes between 2012 and 2013, he still made time in that period to direct two episodes of "Modern Family" — a show which he never appeared on as an actor.
The first of those episodes, "Election Day," came during the show's "golden years," back when it was still wowing critics and winning back-to-back Emmy Awards. It was the conclusion of the Season 3 arc that saw Claire (Julie Bowen) running for city council, and, in typical "Modern Family" fashion, the episode sent the Dunphys-Pritchetts on various concurrent adventures as everyone did their best to bolster Claire's campaign.
Bryan Cranston's deft touch in dealing with the episode's multiple plot strands proved that he had just what it took to handle "Modern Family's" zippy farcical rhythms. So it was no surprise when he was brought back to direct Season 5's Christmas episode, "The Old Man & the Tree." Arriving during a decline in the show's critical estimation, the episode — which once again split up the "Modern Family" cast into several busy groups — received widespread acclaim, with The A.V. Club's Joshua Alston calling it "the nimblest, most elegantly structured episode all year, and easily the best Christmas show 'Modern Family' has ever done." It would appear that Walter White may know a thing or two about comedic chemistry, too.