This Is How Much Julia Roberts Really Made For Notting Hill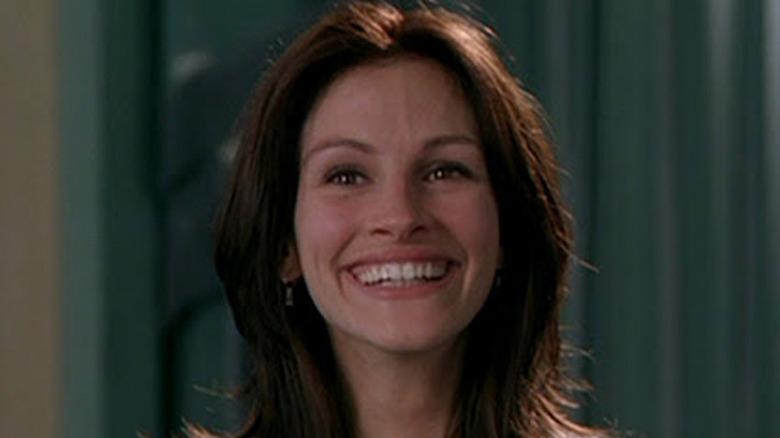 Universal Pictures
"Notting Hill" tells the story of a uber-famous movie star who falls for a nobody schlub. It's "Roman Holiday" for the modern royalty, celebrities. According to Variety, Julia Roberts was the "one and only" choice to play the ultra-in-demand movie star Anna Scott. She was able to draw on her personal experience of being the ultra-in-demand movie star Julia Roberts.
Speaking to HuffPost Live, Hugh Bonneville ("Paddington," "Downton Abbey") recalled Roberts ad libbing a line in the dinner party scene. Bonneville's character, Bernie, asks Anna how much she makes per movie. The original line was $10 million. "When we did rehearsals in the script, it said $10 million. In rehearsal she changed it to 12, and then suddenly she changed it to 15," he said. "And I said, after we finished, 'Out of interest, why did you change it?' She said, 'I'm kind of tired of lowballing!'" That $15 million figure is widely reported as how much Roberts was paid to make "Notting Hill." Certainly impressive. But it wasn't the height of her earning power.
Roberts broke a pay ceiling for female actors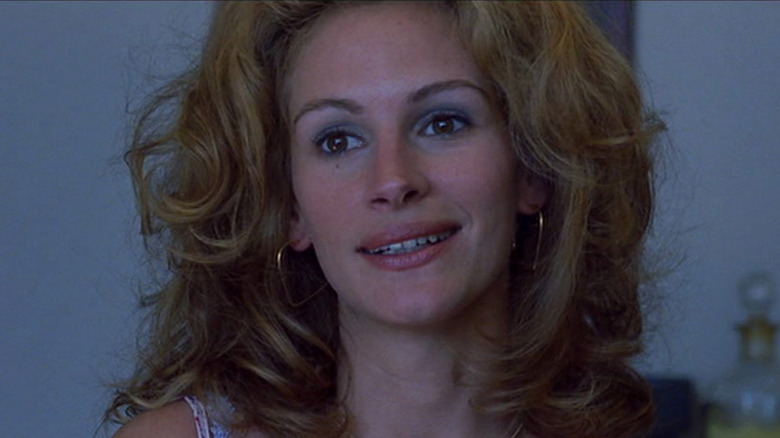 Universal Pictures
For her next movie after "Notting Hill," "Erin Brockovich," Julia Roberts scored a $20 million paycheck. As History points out, $20 million paychecks became the target for movie stars in the late '90s. Mel Gibson, Tom Hanks, Tom Cruise, and Sylvester Stallone had all made that bank before. Roberts was the first woman to do so.
Universal didn't want to shell out that kind of money for a woman. But (per History) her agent, Elaine Goldsmith-Thomas, went to bat for Roberts against the studio's hypocrisy: "With five movies that grossed more than $100 million, Goldsmith-Thomas argued, Roberts was well worth the same paycheck as male stars such as Leonardo DiCaprio or Adam Sandler, each of whom had commanded $20 million after scoring only one hit of that magnitude."
The paycheck paid off for Universal. "Erin Brockovich" made $125 million at the domestic box office, and won Roberts a Best Actress Oscar. A lesson to us all: stop lowballing your worth.