How Kathryn Hahn Really Feels About The Relationship Between Agatha And Wanda In WandaVision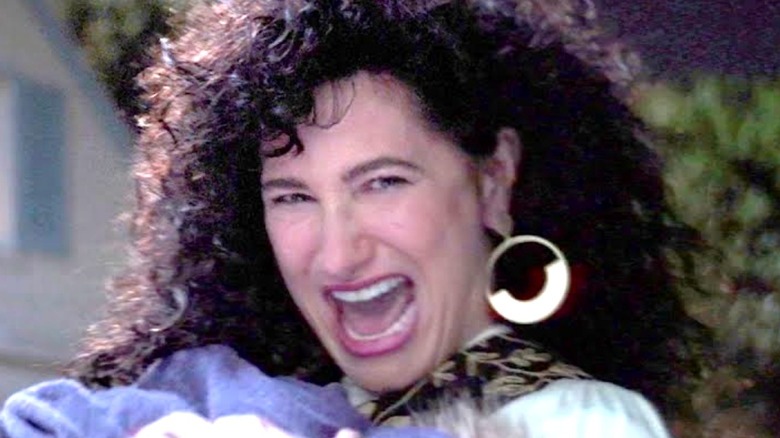 Marvel Studios/Disney+
According to "WandaVision" star Kathryn Hahn, the relationship her character, a villainous witch named Agatha Harkness, shares with Elizabeth Olsen's Wanda Maximoff is much more complex that it looks. She expounded upon this in a recent interview with The AV Club, revealing some serious insight into an MCU dynamic that audiences have been chewing on since the show wrapped in March 2021.
Marvel Studios has made considerable waves ahead of this year's Emmys ceremony. Its first two MCU Disney+ shows, "WandaVision" and "The Falcon and the Winter Soldier," have earned multiple nominations in a variety of categories. Where "WandaVision" is concerned, stars Hahn, Elizabeth Olsen, and Paul Bettany have all received nominations for their performances. The "WandaVision" acting nominations are particularly historic for Marvel, as the studio has only been recognized in technical categories prior to this year. Hahn's "WandaVision" interview is part of the pre-Emmys wave of press a wide variety of nominated actors and creators are participating in ahead of the September ceremony. 
Although Hahn has already talked at length about her work on "WandaVision," the comments she made to The AV Club offer new perspective on Wanda and Agatha, two of the most mysterious characters in the MCU.
Kathryn Hahn loves the layers in Agatha and Wanda's relationship on WandaVision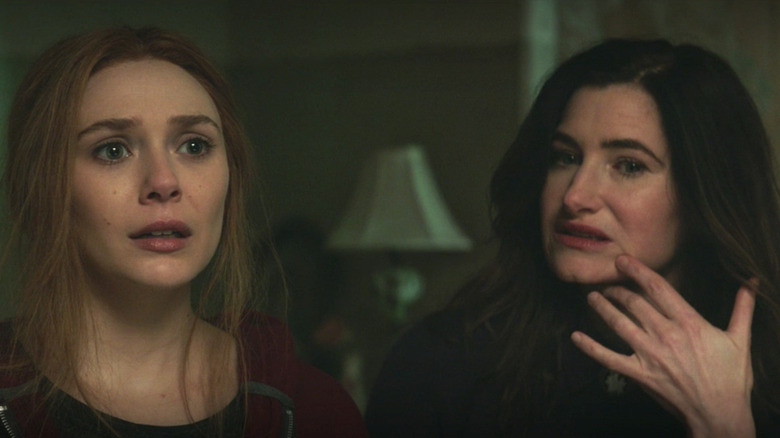 Marvel Studios/Disney+
There's much more than meets the eye when it comes to Agatha and Wanda's onscreen relationship, according to Hahn — and that's a good thing. The Emmy-nominated actor likened the witches' bond to the one at the center of the not-so-accurate 1984 biopic "Amadeus." "We talked about the Amadeus/Salieri relationship," Hahn told The AV Club. "[Agatha] was this older witch looking at this young, beautiful, innately, profoundly, perfectly natural God-given talented witch. Magic just came to her; she just had it. And it was something that I [as Agatha] had been studying for centuries to achieve — this chaos magic that she just had and I could never achieve. That was something that we really leaned on."
According to Hahn, this complexity was an especially attractive aspect of playing Agatha. Hahn also offered insight into the process by which she and Olsen came together to figure out how best to portray Agatha and Wanda's unique dynamic. "It was really important to us to try to investigate," Hahn revealed. "This wasn't a typical antagonist-protagonist relationship. They could be friends, they could be mentors, they could be mother-daughter. It could be so many different things all at once; I didn't just have to be a villain the whole time. There was many, many different layers to this relationship all at once."
By sharing this context regarding Agatha and Wanda's relationship, Hahn has offered "WandaVision" fans a chance to more deeply appreciate what she and Olsen put onscreen. She may have also made "WandaVision" an even bigger Emmys competitor by adding new shades of complexity to these already intricate performances.