Netflix's Inside Job - What We Know So Far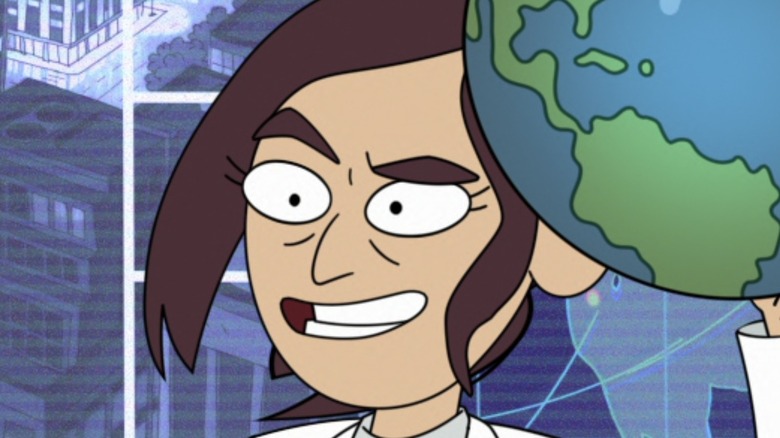 Netflix
Conspiracy theories have never taken up more space at the fulcrum of world politics and culture than they do now. But their presence in the collective American imagination dates back decades, if not centuries; if we were to jot down every intricate conspiracy anyone has ever sworn by, we'd end up with a diagram of secret social, scientific, and supernatural machinations so convoluted that it would scan more like a picture of a bizarre alternate world than a feasible extension of our own.
This makes excellent fodder for fantasy, of course, and writer-animator Shion Takeuchi ("Gravity Falls," "Regular Show") is finally jumping at a storytelling opportunity that has been hiding in plain sight all along (cue "The X-Files" theme music) with "Inside Job." The Netflix original animated comedy takes place in a world where not only are most of the conspiracies you've heard of real, but they're all overseen by a shadow team of goofball bureaucrats. If you find that premise to be as hilarious as we do, here's everything you need to know about "Inside Job."
When will Inside Job be released?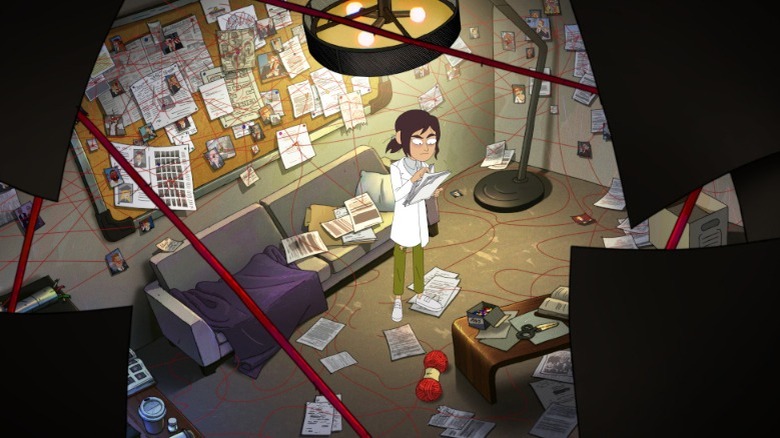 Netflix
"Inside Job" began to brew after Shion Takeuchi, fresh off the success of her collaboration as a staff writer on "Disenchantment," inked an overall deal with Netflix in September 2018 (via Deadline). A few months later, in April 2019, the conspiracy comedy was announced as her first creation under this deal, with a 20-episode order and "Gravity Falls" creator Alex Hirsch as co-executive producer (via Deadline).
Animation takes a long time, so it wasn't until earlier this year, at the 2021 Annecy International Film Festival, that Netflix gave the public a proper preview of its newest animated series (via Variety). As of right now, there's still no footage of "Inside Job" available — we're hoping for a trailer soon — but Entertainment Weekly was able to get an exclusive first look at the show, complete with screencaps and, finally, an official release date: "Inside Job" hits Netflix on October 22, 2021.
Who will be in the voice cast of Inside Job?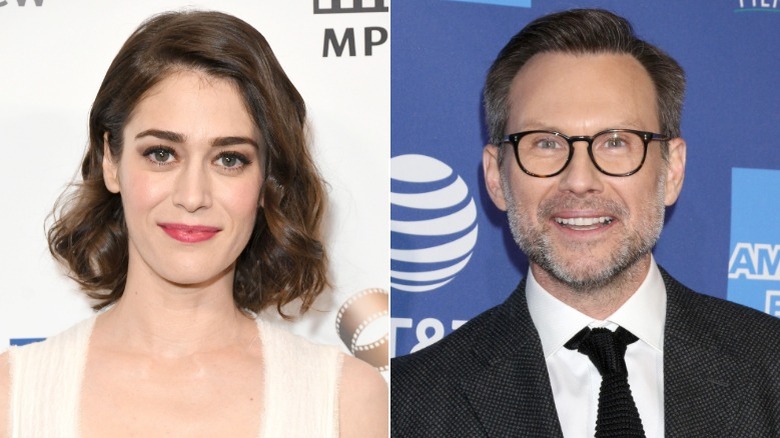 Shutterstock, Shutterstock
In the announcement made during Netflix's Adult Animation Studio Focus panel at the Annecy Animation Festival, most of the focus was on the star-studded voice cast of "Inside Jobs," per Variety.
Lizzy Caplan, who has shone in both live-action ("Mean Girls," "Masters of Sex") and animation (with guest spots on "American Dad!" and "The Simpsons" among others), is voicing the main character: Cognito Inc. officer Reagan Ridley. Reagan is described as a "somewhat misanthropic" tech genius who nonetheless "wants to help humanity, make a difference in the world and bring order to the chaos."
Her "unhinged" father Rand is played by Christian Slater — by now a veteran of voice acting, with multi-episode stints on shows like "Robot Chicken," "Archer," and "Milo Murphy's Law." The main cast is rounded out by Clark Duke ("Sex Drive," "Hot Tub Time Machine"), who's voicing Brett Hand, Reagan's partner.
The supporting cast of "Inside Job" is also packed, with Andrew Daly ("Review") as J.R. Scheimpough, Bobby Lee ("MADtv") as Dr. Andre, Tisha Campbell ("Empire," "Harley Quinn") as Gigi, and voice acting legend John DiMaggio as Glenn Dolphman, via IMDb. Finally, EW reports that Brett Gelman ("Stranger Things," "Fleabag") is playing Magic Myc, "a psychic subterranean mushroom creature from a hive mind deep within Hollow Earth."
What will Inside Job be about?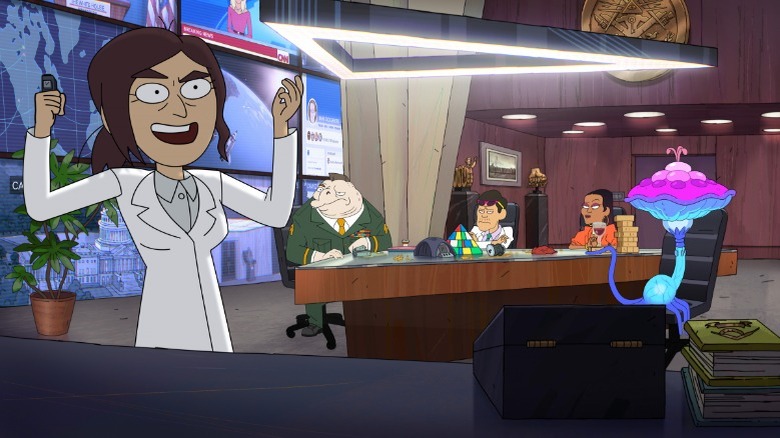 Netflix
While we wait for a trailer, we can start getting excited about "Inside Job" on the basis of the basic plot revealed so far by Takeuchi and Hirsch. Variety reports that the show will bat in a similar ballpark to "Gravity Falls," playing "in the supernatural fringes of our world and feature creatures, narratives and visuals ripped right from the conspiracy tabloid headlines of supermarket checkout lanes."
Taking place at shadow company Cognito Inc., which micromanages conspiracy plots ranging "from convoluted coverups to secret societies to masked orgy etiquette," per EW, "Inside Job" will take the form of a workplace comedy. Reagan is a wide-eyed idealist who wants to make the world a better place through her work, and who dreams of getting a promotion to that end. As she and Brett work to "uncover the infinite secrets of the world hidden in the shadows," Reagan's optimism is thwarted by the constant need to manage her father and her irresponsible coworkers.
For those fearing the show might skirt too close to the increasingly perilous conspiracism of our political landscape, the creators have words of reassurance. "Inside Job" will focus on more "classic" and fantastical theories, spun in unique, fun, non-serious ways, as opposed to actual hot-button material. "There needs to be an asterisk in this day and age because there are lots of things we'd never like to promote being true ... We never say that what you heard on the internet somewhere is exactly how the theory was perpetrated," Takeuchi clarified to Variety, while Hirsch cited the "kitschiness and playfulness" of "The X-Files" as a reference point.