The Funniest Scene In Stranger Things That Was A Total Accident
Netflix
Over the course of its three seasons, popular Netflix sci-fi series "Stranger Things" has had more than its fair share of memorable moments. From the van flip in its first season to one character's tragic sacrifice in its Season 3 finale, the series has always had a knack for crafting truly unforgettable scenes. When it comes to special "Stranger Things" scenes though, there aren't many that are as well-remembered by the show's fans as when Nancy (Natalia Dyer) and Jonathan (Charlie Heaton) finally got together in "Stranger Things" Season 2.
The show set up a strong connection between the two characters throughout its first season, but didn't actually bring them together romantically until a little over halfway into the second. The Netflix series' sophomore season sent Nancy and Jonathan on a trip together that saw them crossing paths with Brett Gelman's paranoid Murray Bauman. It was during their time with Murray that Nancy and Jonathan finally kicked off a romantic relationship that, for all intents and purposes, was still going strong at the end of "Stranger Things" Season 3.
However, Nancy and Jonathan's time with Murray didn't just feature their long-awaited coupling — it also resulted in one of the funniest scenes in the entire series, which itself was only made better by one improvised moment.
The unscripted moment that made one Stranger Things scene even funnier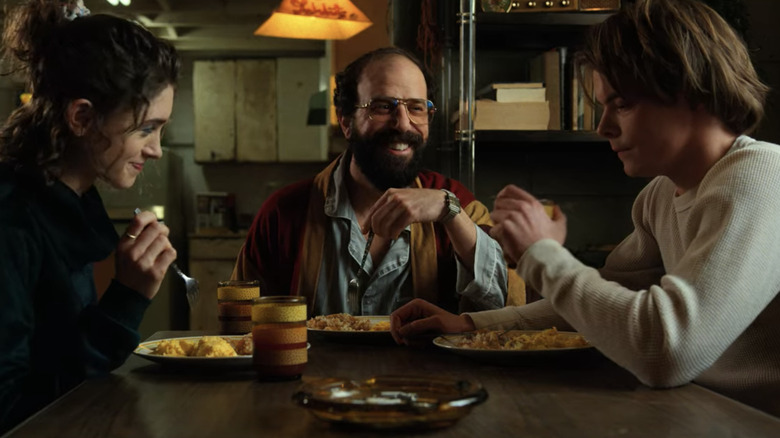 Netflix
As memorable as Nancy and Jonathan's first kiss in "Stranger Things" Season 2 is, the moment is almost upstaged by their very next scene together. The scene in question, an awkward breakfast between Murray, Nancy, and Jonathan, builds off of Nancy and Jonathan's hook up in the most hilarious and unexpected way possible. It centers around Murray making a hilarious reference to Nancy and Jonathan's night together — much to their shared horror — all while the two try desperately to avoid making eye contact with either each other or Murray.
What makes the scene particularly memorable is the moment that immediately follows Murray's innuendo. As Nancy and Jonathan continue to silently eat their food, the scene sees Murray pick up a piece of scrambled egg with his fork only to drop it back onto his plate. Staying in character as Murray, Brett Gelman simply says, "Oops," and continues to knowingly stare down both Natalia Dyer and Charlie Heaton. It's a small but hilarious moment, and keen-eyed viewers will likely notice Natalia Dyer struggling — and ultimately failing — to keep a straight face throughout the remainder of the shot.
It turns out that Murray's dropped scrambled egg moment was totally unscripted too (via Screen Rant). Gelman wasn't actually meant to miss his mouth with the egg, and the scene was originally meant to end with Murray's unintended innuendo. Instead, Gelman dropped the piece of scrambled egg and kept the scene going — turning it into one of the funniest moments of any "Stranger Things" episode to date.