The Real Reason This Xena Spinoff Never Happened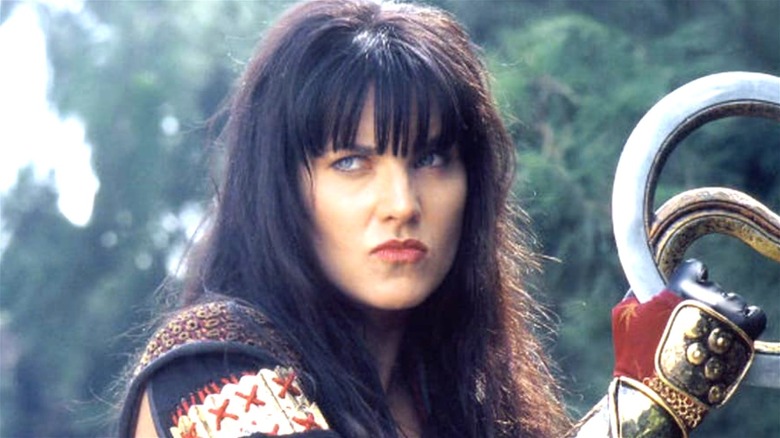 Renaissance Pictures
It might be easy to forget that "Xena: Warrior Princess" is a spinoff. Originally appearing as a secondary character in "Hercules: The Legendary Journeys," Xena launched her own show and blew past its parent show in popularity, eventually becoming a wild ratings success. Believe it or not, this spin-off was set to spawn another show set in the same universe while incorporating modern elements. 
Season 5 of "Xena: Warrior Princess" featured one very odd episode. And that's saying something, considering that "Xena" Season 5 mostly focused on an evil baby and Xena's slaughter of all the Olympian gods. But "Lifeblood," Episode 16, stands out because it includes a time-traveling Selma Blair.
"Lifeblood" recycled footage from the two-hour unaired pilot "Amazon High," starring Blair, which would have been a spinoff from "Xena." Blair played Cyane, a modern girl of 1998, who by way of a magic dagger is transported into caveman (and more importantly, cavewoman) times, centuries before even the story of "Xena" takes place.  
In "Amazon High," Cyane is considered the chosen one in a tribe of female warriors. Cyane butts heads with Samsara (played by "Xena" regular Danielle Cormack) and becomes friends with Olan (Monica McSwain), a girl who can communicate with animals. She's then captured by a tribe of cannibals led by Kor (Karl Urban). Cyane later befriends Kor, domesticates horses, and names her new tribe of warrior women "Amazons." 
So why didn't "Amazon High" work out? The show's main writer, Rob Tapert, had a pretty impressive hit rate. Tapert created "Xena," then moved on to other syndicate shows like "Cleopatra 2525" and "Young Hercules." "Amazon High" seemed like a sure thing, right?
Tapert scrapped Amazon High in favor of a futuristic show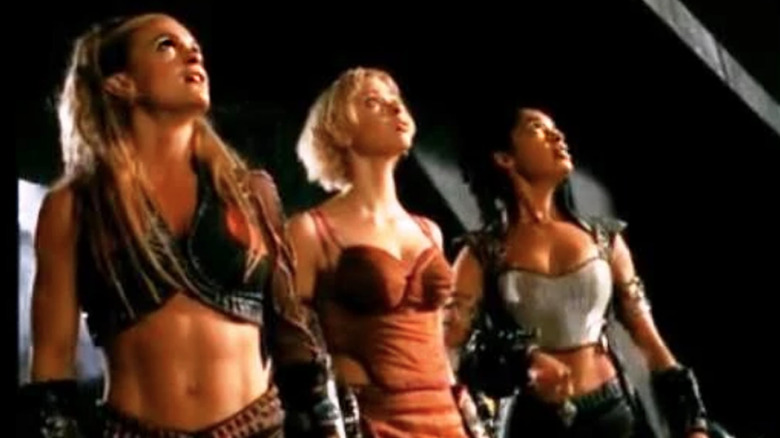 Renaissance Pictures
Syndicated shows were big business in the early '90s. "Baywatch" proved that such shows could be financially profitable. And according to the LA Times, "Xena" and its predecessor "Hercules" actually outperformed "Baywatch" at one point. It would make sense to try and get another show out of the swords and sandals franchise. 
The problem for Tapert was that the success of "Xena" and "Hercules" spawned a lot of imitators. "What happened was, we sold ['Amazon High'] at [the National Association of Television Program Executives conference]," Tapert told an "Evil Dead" fansite, Book of the Dead. "Everybody was pleased with what they bought. And I was standing at a monitor ... watching 'The Lost World' promo, and I said, 'You know what, we've been ripped off so many times ... we have to do something fresh.'"
Around this time, there were similar shows on the air about Sinbad, Conan the Barbarian, and Tarzan. "The 'Baywatch' people are doing Sinbad, and of course there are a bunch of other rip-offs on the way," Tapert said in the LA Times in 1996. "I mean, what are we going to do: 'Young Moses, Freedom Fighter'?"
Tapert took the general "'90s woman time travels to a more savage time" plot and pushed it forward, creating "Cleopatra 2525." That show was about a modern exotic dancer traveling forward in time and fighting the robots that have taken over the earth. It was an early breakout role for "Firefly" star Gina Torres. While we'll never know how things would have turned out for "Amazon High," Tapert may have had the right idea about needless imitators flooding the market with copycat shows.