PAW Patrol: The Movie Review: Let The Kids Play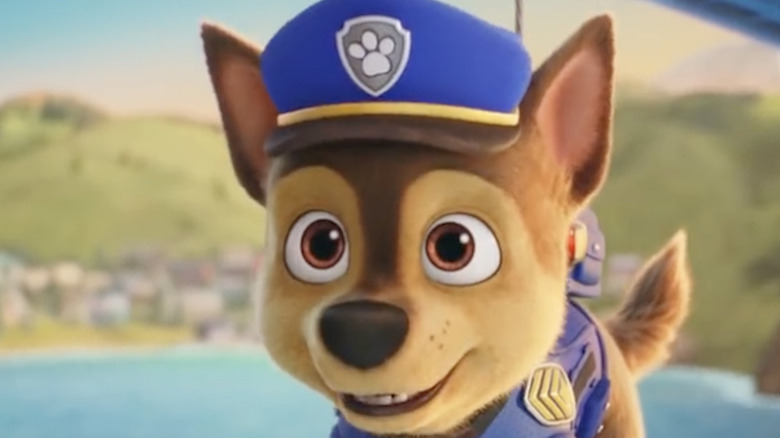 Paramount Pictures
If the little people in your life love "PAW Patrol" (and these days, what kid age 2-7 doesn't?), they will adore "PAW Patrol: The Movie." Simultaneously released in theaters and on the streaming platform Paramount+, the film takes most of the trappings they'll recognize from the TV show and makes everything a bit bigger — which is a key part of the plot. The big city raises the stakes, new souped-up equipment seems instantly toy-worthy, and the Kim Kardashian pup isn't nearly as irritating as you'd expect, leading to a breezy 86 minutes of ruff-ruff rescues.
The film starts out just as regular viewers would expect, with Ryder (voiced by several different actors since the show's 2013 debut, currently 16-year-old Will Brisbin) and his team of high-tech, tummy-rub-loving rescue puppies saving an imperiled resident of their longtime home Adventure Bay. There's Chase (Iain Armitage), the German Shepard police dog; Marshall (Kingsley Marshall), the endearingly clumsy Dalmatian firefighter; Skye (Lilly Bartlam), a helicopter-piloting Cockapoo who specializes in aerial rescues; Rocky (Callum Shoniker), a Schnauzer/Scottish Terrier mix who specializes in ... well ... recycling; Zuma (Shayle Simons), a chocolate Lab who gets the call when water rescues need execution and, finally, Rubble (Keegan Hedley) the bulldog, a chunky fan favorite with an affinity for construction vehicles.
As anybody who is just past changing diapers is well aware, the arch-enemy of the PAW Patrol is Mayor Humdinger (Ron Pardo), a reckless, impulsive mustache-twirler with a love of cats and a dislike towards day-saving dogs. When Humdinger turns up in nearby Adventure City and gets himself elected (clearly, the residents have not carefully versed themselves in his platform, because it is centered around poorly-built, unnecessary rollercoasters for public transportation), a city-savvy dachshund named Liberty (Kardashian) puts out the call for help — and as Ryder says, no job is too big, no pup is too small.
Arriving in Adventure City, all the PAW Patrollers get upgrades. For starters, the pups are introduced to a new, bigger headquarters, complete with an advanced treat dispenser and an enormous ramp that allows them to stop downtown traffic and take off with a boost. On top of that, each pup gets a new, more amplified version of their usual vehicle. As for Ryder, well, his faux-hawk has never seemed so robust.
As for drama, there is a B-story that has Chase recounting his origins and the resulting trauma. It seems that Chase was abandoned on the streets of Adventure City when he was young, and spent some time unhoused before Ryder rescued him. As a result, the police dog is hesitant to return to the city — and once he is there, he develops a serious case of performance anxiety, which then causes him to lash out at Ryder and even at one point run away.
An additional subplot (the C-story?) has new friend Liberty eager to help Ryder and the pups, but a bit sad over her status as an "honorary" member of the PAW Patrol. She spends most of the movie trying to keep up in her vehicle of necessity: an old red wagon with a busted wheel. If you can't see where this is headed, well, let's just hope you're in the target age range of this movie.
Today, I'm going to teach you how to give the Miranda Rights ...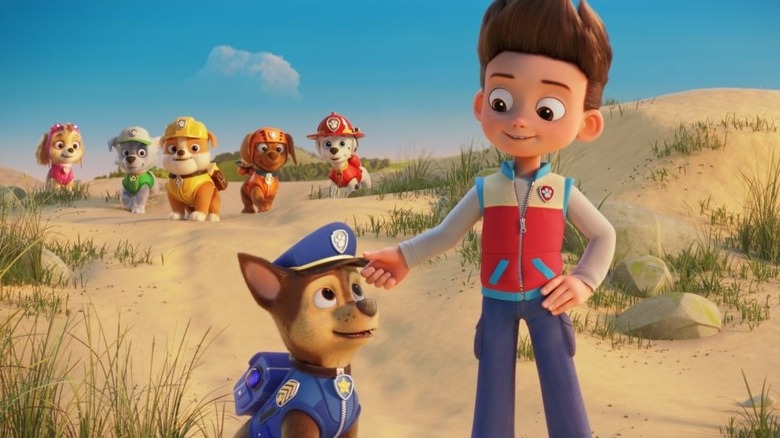 Paramount Pictures
Like most successful child franchises (even the ones that seem dumb), there is a brilliance in their construction. With "PAW Patrol," you have an early harnessing of that intrinsic human fascination with rescue services (which has made successes out of everything from "Emergency!" to "Baywatch" to "9-1-1" — not to mention everything from cop dramas to true crime podcasts), paired with a pop culture tradition of heroic dogs that stretches all the way back to Lassie and Rin-Tin-Tin, through "Old Yeller" and "Eight Below" and all the way through various incarnations of "The Call of the Wild." This is mixed with three words kids love, even if they might not understand them: repetition, repetition, repetition.
Kids have little to no control over their daily lives; imagine if someone else was constantly telling you where to go, what to eat, how to dress, when it was time to leave or stay, often with little to no advance notice of the itinerary. This is why kids love to re-watch the same things again and again, or watch things that have touchstones that serve as familiar guideposts to get them through. So yeah, it might drive you nuts that they sing the "PAW Patrol" theme song several times in the movie, or that each dog has their own catchphrase that is spoken even when it sometimes only peripherally relates to the conversation, or that Rider seems to waste key emergency-response time assembling and briefing his dogs while lives are at risk. But this is what your kids will find comforting, and this is one reason why "PAW Patrol" on the big screen is like visiting with a friend.
This also leads us to something kids might be disappointed in. Because the PAW Patrol is off to Adventure City, they leave many familiar faces behind. Panicky Mayor Goodway is only glimpsed briefly, as is her beloved Chickaletta — both favorites among children, and in nearly every episode. We also don't see much of the oft-imperiled Cap'n Turbot, supporting denizens like Francois, Mr. Porter or Farmer Al and Farner Yumi — and added-later-to-the-cast PAW Patrol members including Everest and Tracker. The majority of these characters can only be seen in the bookends of the movie, waving goodbye to the heroes and then welcoming them home at the end.
Hashtag Humdinger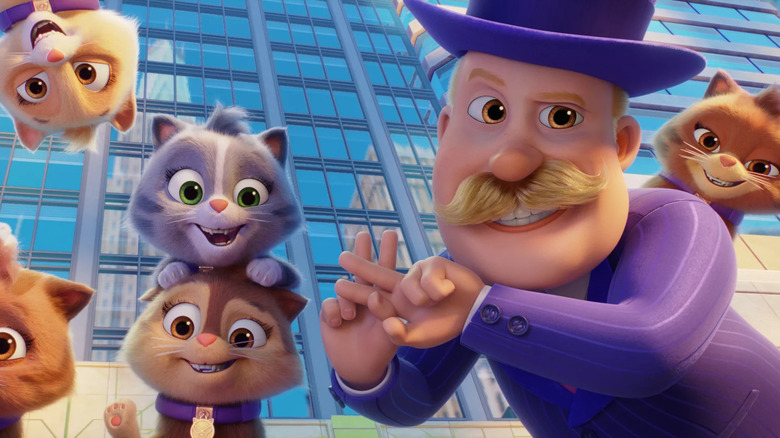 Paramount Pictures
In between, however, are enough cartoon hijinks to make for a fun, popcorn-throwing matinee. Mayor Humdinger is the most inept elected official since [insert name of your least favorite politician here], setting off an onslaught of fireworks to celebrate his inaugural, building himself an office in a giant purple hat on top of the tallest building in the world, and committing other brazen acts that can only end with a call to the PAW Patrol. The character comes across like Frank Morgan in "The Wizard of Oz" meets Michael Scott, a mix of bumbling ineptitude and endless confidence that his next plan will work brilliantly.
There are a lot of big names whose voices pop up in small cameos — presumably because they have kids in their lives and want them to finally watch something they're in. Keep your ears peeled and you can hear everybody from Dax Shepard to Tyler Perry and Randall Park. Jimmy Kimmel received the best role, however — cast as Marty Muckraker (news anchor of the Adventure City News Network), he lines up exclusive interviews with Mayor Humdinger and reports live from the center of a storm, losing his toupee. No matter how old you are, you need to check your pulse if you don't crack a smile when that hairpiece resurfaces on Rubble's head.
Unfortunately, not even Marty Muckraker asks the important questions on the minds of parents who've absorbed all 193 episodes of "PAW Patrol," often while scarfing down Goldfish crackers and sipping on a juice box alongside the target audience. Where are Ryder's parents? Who put this 10-year-old in charge of all emergency services for a town that is constantly in peril, yet doesn't have the common sense to reallocate their funds to proper police, fire and EMT services? How are these dogs flying helicopters and deploying harpoons and nets without opposable thumbs? And why doesn't a single person in "PAW Patrol: The Movie" do the "Pup Pup Boogie"?
Questions like these — and the source of Ryder's seemingly bottomless budget, which feels second only to that of Bruce Wayne — might have to wait until the sequel. In the meantime, if the little person in your life sings along to the "PAW Patrol" theme song and has the lunchbox to match, you know what to do.
Oh, and if you're a parent, don't roll your eyes and write off this franchise as just another "Caillou" or "Barney" to be endured. "PAW Patrol" is fun, for sure — but it also teaches kids to respect and appreciate the real-life heroes who come to our rescue when we are in need. Although his backstory frequently slows down the film, by the end Chase is risking his life once again, leaping high in the sky to save someone. It's a genuine moment in a CG cartoon, one that breaks through its trappings to show kids that there are brave heroes who would do this without thinking twice ... should you ever find yourself trapped at the top of a giant purple top hat.
As far as life lessons go, it's hard to come up with a better one than to appreciate the heroes among us. When it comes to a kind message hidden in an entertaining movie your kids will adore, "PAW Patrol" is indeed on a roll.