Why Rebecca Morgan From Chapelwaite Looks So Familiar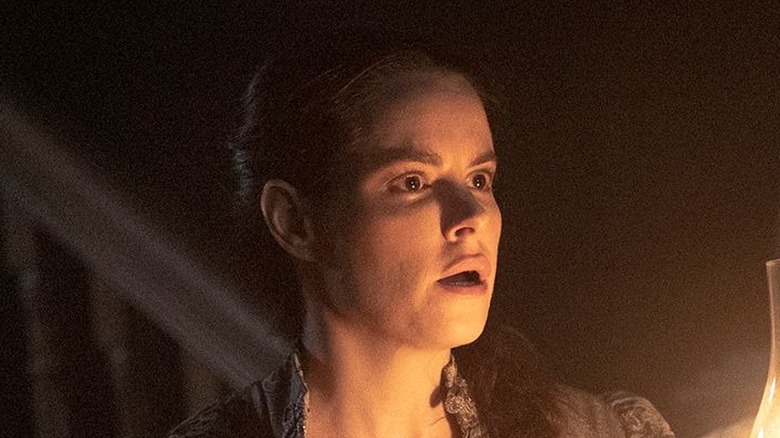 Epix
The first episode of Epix's new horror series "Chapelwaite" arrives on August 22 — and based on the trailer, there's plenty of reason to be excited. The show is a loose adaptation of Stephen King's story "Jerusalem's Lot," and audiences should expect plenty of Lovecraftian imagery and cursed bloodlines. Adrien Brody stars as Captain Charles Boone, a recent widower who brings his children to his family's ancestral home, Chapelwaite. As soon as the sea captain moves in, it becomes clear that something is very wrong with the house, and slowly but surely, the terrible secrets of his family threaten to destroy Boone and his loved ones.
One deviation from the short story that made it to the series is the character of Rebecca Morgan, a forward-thinking writer who poses as a governess so she can write a story about the Boones. The actress playing her may seem familiar to fans not only of a recent Canadian sitcom that became huge Stateside, but also a cult Syfy series that aired over four seasons.
This is where you may have seen Emily Hampshire before.
Emily Hampshire is best known for Twelve Monkeys and Schitt's Creek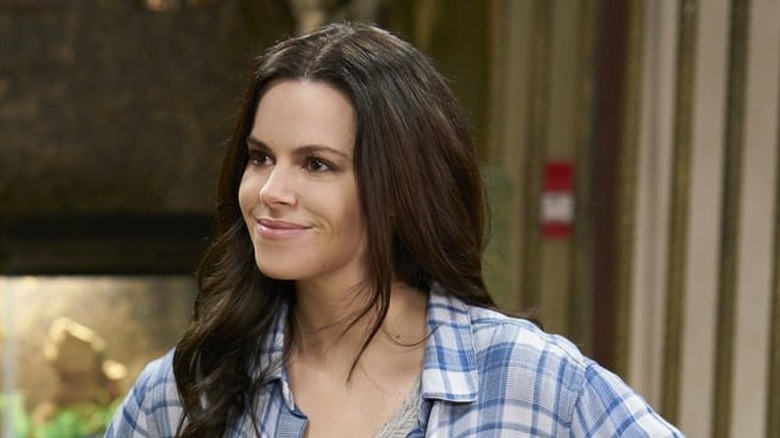 Pop TV
While Hampshire, originally from Montreal, has worked since she was a preteen, she is largely known for her roles on two beloved television series (per IMDb).
For six seasons, Emily Hampshire played Stevie, the bored and easily amused clerk at the hotel where the Rose family stays, on "Schitt's Creek." While Stevie bonds easily with David Rose over their social awkwardness and antipathy for most people, Hampshire is also wonderful at showing Stevie's capacity for joy and how she broadens her horizons. Like the other characters on "Schitt's Creek," Stevie ultimately changes for the better and becomes a more secure version of herself.
Around the same time as "Schitt's Creek," Hampshire also became a regular cast member of Syfy's 2014 television remake of "12 Monkeys." Over the course of 40 episodes, the actress played Jennifer Goines, a gender-flipped version of Brad Pitt's insane character from the original film.
Hampshire said in an interview that these parts always affect her deeply: "So by the end of doing something, I always feel like I've gotten so much from the character that I've been changed, and Stevie definitely changed me, as with Jennifer from '12 Monkeys,' they all changed me."
Hampshire has also appeared in films like Cosmopolis and Mother!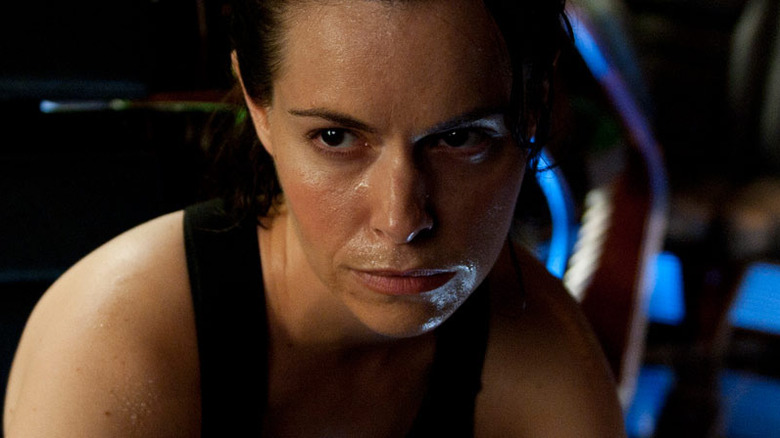 Entertainment One
While Hampshire is more famous as a TV actress — thanks to the status of "Schitt's Creek" as a popular streaming service staple — she's made more than her fair share of appearances in film.
In 2009, Hampshire played Alexandra, the love interest to an ersatz Leon Trotsky (Jay Baruchel), in "The Trotsky." A few years later, she would again co-star with Baruchel when she acted in "Cosmopolis" as Jane Melman, the protagonist's Chief of Finance.
2017 saw Hampshire take the part of the fool in Darren Aronofsky's "Mother!" In the same year, she also played the lead role of Keisha, a struggling single mother who pretends to be a psychic, in the neo-noir "Never Saw It Coming."
According to IMDb, Emily Hampshire's next film credit will apparently be in the upcoming horror flick "Home." While you wait for that and "Chapelwaite" to premiere, you can still watch her on "Schitt's Creek" using Netflix.