Where Was Rooster Cogburn Filmed?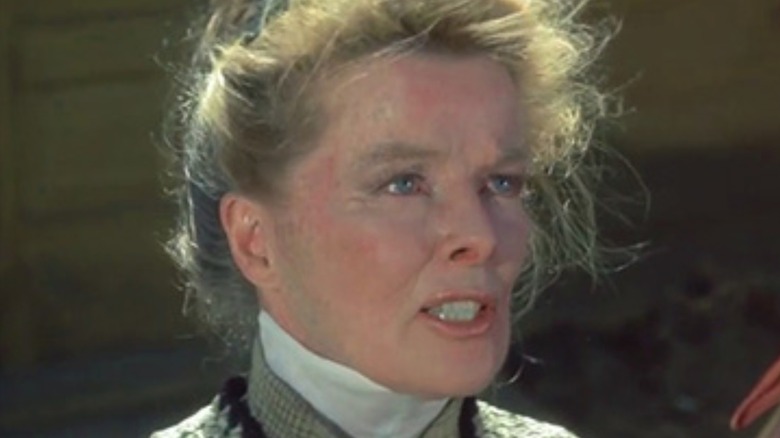 Universal Pictures
John Wayne and Katharine Hepburn are both among the most towering screen icons in the history of Hollywood. Hepburn, who topped the American Film Institute's ranking of the 50 greatest female stars, is a serious claimant to the throne of greatest actress ever, someone without whom the story of American cinema from the 1930s all through to the 1970s simply can't be told. The Duke, meanwhile, is so culturally ubiquitous as to be synonymous with the Wild West. And yet, despite having starred in dozens of films in their decades-long careers, they never shared the screen until "Rooster Cogburn" brought them together for the first time in 1975.
A sequel to the 1969 Wayne-starring Western "True Grit" — which modern film buffs might recognize as the one that inspired the Coens' 2010 remake with Jeff Bridges and Hailee Steinfeld — "Rooster Cogburn" follows the titular character, a U.S. Marshal past his prime, as he teams up with Eula Goodnight, the spinster daughter of a preacher, to retrieve a shipment of nitroglycerin that was stolen from the U.S. government. A nostalgic throwback to its stars' and the genre's heydays, "Rooster Cogburn" drips with reverence for the very idea of the Western, with all its mythical allure and hallowed American landscapes. But are the landscapes in it real ones? Where was this New Hollywood gem actually shot? Read on to find out.
Rooster Cogburn was shot in Oregon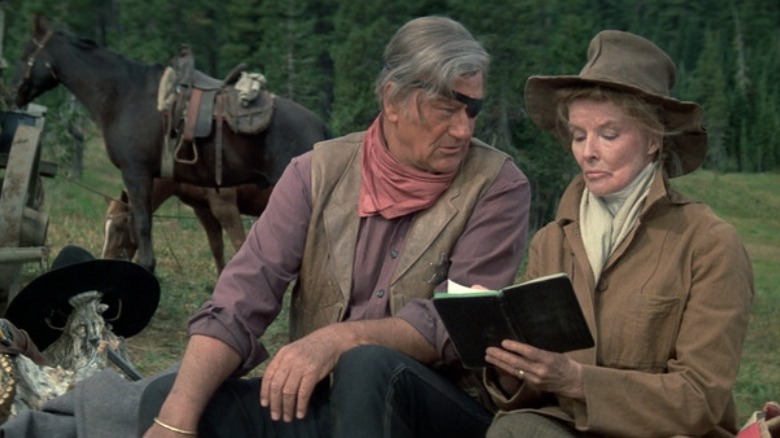 Universal Pictures
To hear the characters tell it, "Rooster Cogburn" is set in Arkansas. But, according to the October 8, 1974, edition of local newspaper The Bulletin, production for the film actually took place in the area of Bend, in central Oregon, where Katharine Hepburn, John Wayne, and the rest of the crew were stationed for the entirety of the shoot. The Bulletin specifically cites an "ambush scene" that was filmed near Fall River, a tributary of the famous Deschutes River.
Additionally, a modern listicle from the same paper notes that "Rooster Cogburn" was "filmed at Benham Falls and other areas around the Cascade Lakes as well as the Rogue River in southwestern Oregon."
Another Oregon location used in the film was Smith Rock State Park, northeast of Redmond. A set from "Rooster Cogburn" is still standing after all these years: The Rockhard building at the entrance of Smith Rock was originally built to serve as "Kate's Saloon" in the film.