Shang-Chi Marvel Legends Toy Leak Has Fans Freaking Out About Katy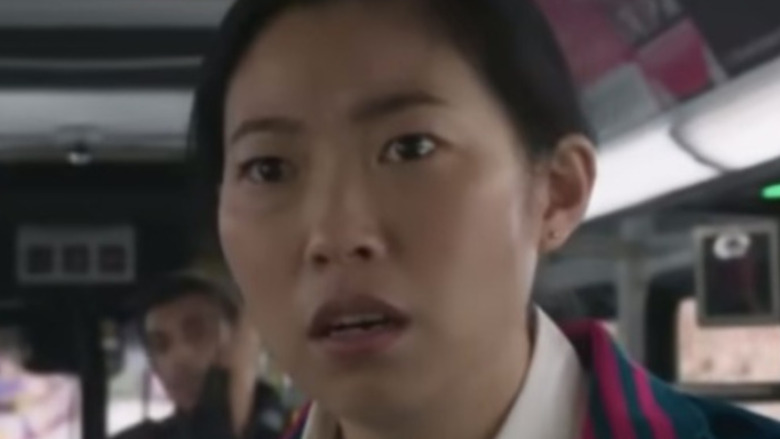 Marvel Studios
On Monday, Marvel Studios released the trailer for Shang-Chi and the Legend of the Ten Rings, giving fans their best look yet at Shang Chi, the newest MCU hero (played by Simu Liu), his nemesis Razor Fist (Florian Munteanu), and his father Wenwu (Tony Leung), also known as the Mandarin, an iconic Marvel villain most associated with Iron Man who's being used in a new and different capacity here.
The trailer also introduces viewers to Katy, played by Raya and the Last Dragon star Nora "Awkwafina" Lum. Katy is described as Shang-Chi's best friend, an ordinary woman who doesn't know Shang-Chi is a master martial artist and the heir to the nefarious Ten Rings organization. She's out of her depth in the world into which her friendship with Shang-Chi has plunged her, Awkwafina told Stylecaster. In the trailer, she's seen trying to steer an out-of-control city bus to safety, something for which her job as a hotel valet didn't really prepare her.
But is there more to Katy than meets the eye? Is she more powerful than she lets on — a secret that Marvel is also trying to keep from viewers until the movie comes out this fall? New unconfirmed, leaked images indicate that Katy is no ordinary person.
Is Katy a secret agent?
Marvel-focused toy blog Near Complete Set has photos of what is purported to be a Marvel Legends action figure depicting Katy wearing a traditional robe and holding a bow and arrow. Nothing we've previously seen or heard about Katy so far indicates that she's capable of going Mulan-mode, but now we have this toy that we can't confirm as authentic. The depiction of Katy on the back of the box only kind of looks like Awkwafina. Take it with a grain of salt. But knowing what we know about Marvel storytelling — the MCU loves a big reveal — it would make sense for Katy to be more than just a civilian friend to Shang-Chi. 
Fans on the MarvelStudiosSpoilers subreddit have a working theory about her. "I have a feeling Katy is gonna be that character that we all think is just a good best friend simply to be revealed to be a person Shang-Chi's father sent to watch over him," user RobbieEcho writes. Reddit user BNTTT4P built on the prediction: "What if she's the person Wenwu sent to watch Shang-Chi, and then she genuinely came to care for him?" they write. "It's no longer just a job for Wenwu. Shang-Chi is now her best friend and she might betray Wenwu for Shang-Chi's sake. We might get a 'oh, Katy's going to betray Shang-Chi!' moment, only for her to turn on Wenwu and put the odds in Shang-Chi's [favor]."
These are both very solid predictions. We won't know for sure until Shang-Chi comes out on Sept. 3, but this toy — if it's real — could be a good indicator of Katy's true identity.