Sir Ben Kingsley Reveals What It Was Really Like Working With The Cast Of Shang-Chi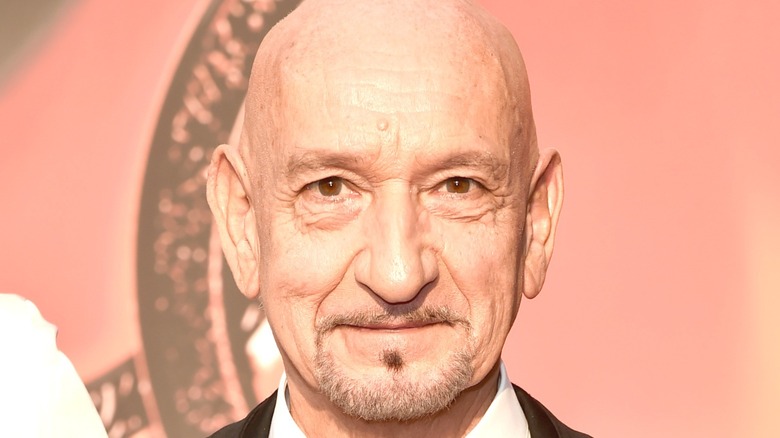 Alberto E. Rodriguez/Getty Images for Disney
"Shang-Chi and the Legend of the Ten Rings" feels like it's been a long time coming for a lot of reasons. For one thing, it's the first MCU film since 2019's "Captain Marvel" to focus on a brand-new character. The film, which features a largely Asian cast, also feels like an important course correction after 2016's "Doctor Strange" notoriously cast Tilda Swinton as the Ancient One (a character who has always been portrayed as an Asian man in the corresponding comic books).
There is one specific person for whom "Shang-Chi and the Legend of the Ten Rings" is also a very long time coming — Sir Ben Kingsley. The beloved actor was introduced way back in 2013 in "Iron Man 3." In all promotional materials for the third Iron Man film, fans were given the impression that Kingsley was playing classic Marvel baddie the Mandarin. However, once the movie was in theaters, fans were stunned to learn that Kingsley was not playing the Mandarin at all, but, rather, he was playing an actor named Trevor Slattery who was paid by A.I.M. to pretend to be the Mandarin.
Fans were frustrated at the turnabout, but there was hope for a little redemption. In the Marvel One-Shot short film "All Hail the King," fans got to see what became of Slattery after he was captured. The short version is that Slattery was put in jail, but there was a big reveal at the end of the short film where Slattery is told he would be taken to see the man whose name he stole.
Over a decade later, we are finally finding out Trevor's fate in "Shang-Chi and the Legend of the Ten Rings" and Kingsley is excited to talk about finally returning to the MCU.
The healing power of Shang-Chi's story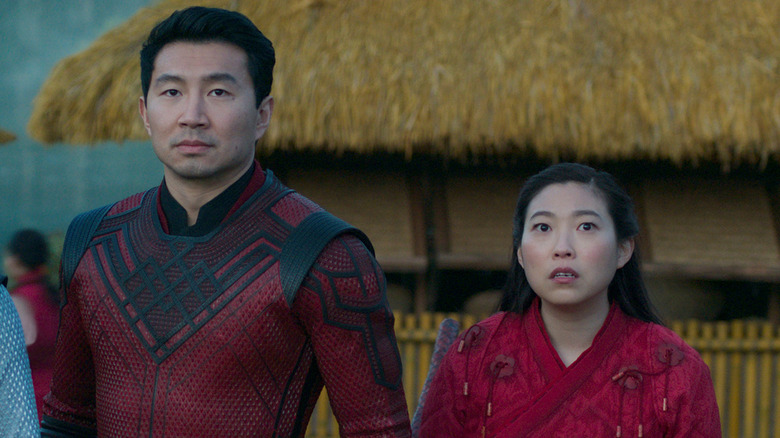 Marvel Studios
During a press event for "Shang-Chi and the Legend of the Ten Rings," the conversation turned toward the social impact certain films can have. In particular, the topic turned towards what is arguably Sir Ben Kingsley's most famous role as the lead in the 1982 biopic "Gandhi". Can "Shan-Chi" have as significant and impact now?
Kingsley began by singing the praises of the project. "When you hear [writer/director] Destin [Daniel Cretton] you know that the motives behind telling this story are pure, crystal clear, pure motives," he says. "They are motives that are life-enhancing, and they are not patronizing because they do introduce, in a beautiful way, memory, ancestry, loss, and families torn apart and reunited and reconfigured. All this is from Destin's heart and Kevin [Feige's] heart and the writer's heart. And if your motives are pure as a storyteller, the angels will come to assist you with that story. And to quote a great author whom I admire greatly, to tell a story is to heal. And I think this story, because it's so beautifully told and so rich, will, ultimately, be healing because it's not propaganda, it's just a really beautiful story."
Kingsley was excited for his character Trevor Slattery to survive, if not perhaps a little surprised. "Trevor, of course, is a Shakespearean actor, and he finds himself transported into a completely exotic environment that he survives thanks to the welcome that Kevin and Destin and my beautiful colleagues gave me," he revealed.
As to the impact of cultures while making "Shang-Chi" and the impact, Kingsley emphasizes how healing through performance can happen. "I have done 17 out of Shakespeare's whole canon of plays, so I'm sort of a Shakespearean actor, but as soon as I arrived on set, the fact that my colleagues were from a different culture was immaterial," he said. "We are actors together, we live on empathy and transformation and this is our currency. All the rest is irrelevant. If we can demonstrate that energy I think it will ultimately be soothing and healing and people will realize there's very little difference in storytelling, very little difference in art [across cultures]."
"Shang-Chi and the Legend of the Ten Rings" hits theaters on September 3.