Who Is The Star In The Blue Moon LightSky Housewarming Commercial?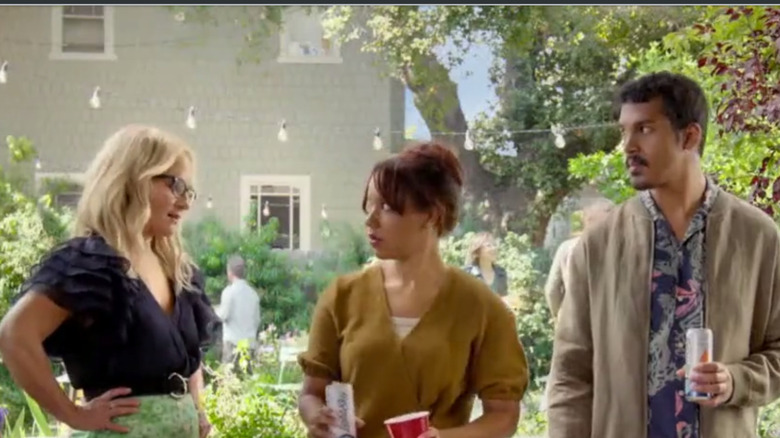 Blue Moon
The actress at the center of the Blue Moon LightSky TV commercial tells a woman at a party, about to dump a LightSky beer into a red cup, that a good beer like this has to be savored. What belongs in red cups? Ping pong balls, as unforgettably demonstrated by another bystander's pantomime, and you don't want to use something so cheap for a beer so good. The end of the ad instead shows the LightSky beer in a nice tall glass as the actress tells us via voiceover to "Savor every sip."
Casting her for this quick advertisement made sense then, as this TV and film actress has often been spotlighted for her intelligence and forthright, take no prisoners attitude.
She's appeared in huge box office hits as well as cult sitcoms, and has lately had a recurring role on a hit supernatural genre show. Here's more about the star of this Blue Moon ad and where you've likely seen her.
Rachael Harris first began acting in the '90s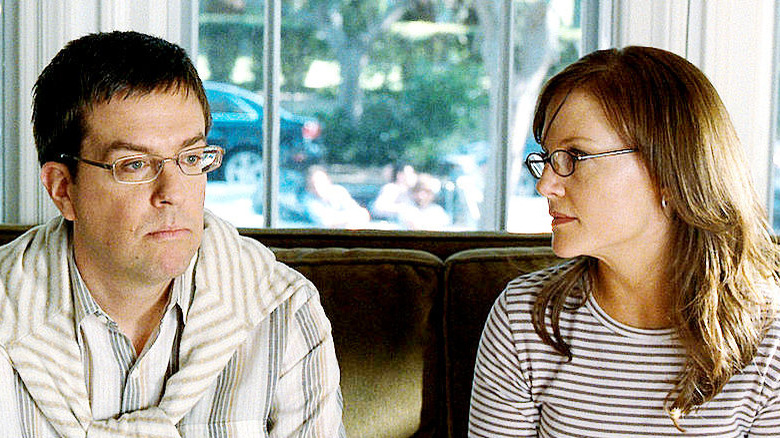 Universal
After appearing with LA troupe the Groundlings, actress Rachael Harris found a niche in guest roles on television starting in the '90s, often playing sarcastic, intelligent characters. This includes "Sister, Sister," "Reno 911," "The West Wing," "Friends," and "The Office." She was also a correspondent for "The Daily Show" from 2002 to 2003 (via IMDb).
She also found time to appear in plenty of movies, taking small, scene stealing roles in "Best In Show" and "Starsky & Hutch." 2009 saw Harris get cast in what is still one of the biggest films of her career, "The Hangover," as Stu's disapproving, adulterous fiancée Melissa. It's not the most three dimensional female character, but Harris tears into her lines with great relish.
In 2011, Harris took a rare lead role for indie dramedy "Natural Selection," where she played a married woman seeking out her dying husband's older son. No less than critic Roger Ebert praised her performance: "She engages our affection in the opening scenes and never lets go. She's the big reason that 'Natural Selection' is so engaging."
Harris has played the role of Linda on Lucifer since 2015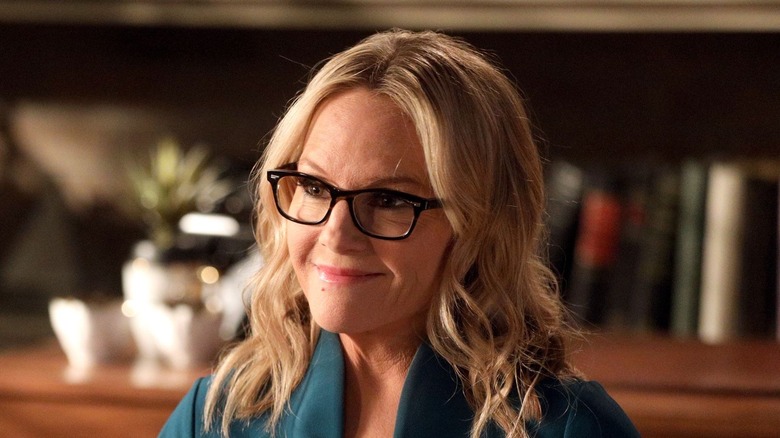 Netflix
In 2015, Rachael Harris became a part of the cast of Netflix series "Lucifer." She plays Linda, Lucifer's therapist, who at first acts on her feelings for him but ends the relationship as the demon becomes increasingly honest with her. Eventually, Linda is further drawn into Lucifer's world, even becoming pregnant by his older brother, the angel Amenadiel. In Season 4, she gives birth to Charlie, the first half angel, half human baby in the universe.
The show is set to end sometime next year with the sixth and final season, but Harris continues to stay busy, continuing to shoot her regular role in "Lucifer" in addition to shooting ads for Blue Moon.
When asked, the actress seemed grateful for the way her career has gone, even if being primarily a comic performer wasn't intentional (via Indiewire): "I wanted to go to New York and be a stage actress, doing things like Chekhov. None of that happened, and then I went to L.A. and an agent said, 'I think you belong in commercials and TV.' So I did that and got some opportunities that I absolutely love."