Ouran High School Host Club Season 2 - What We Know So Far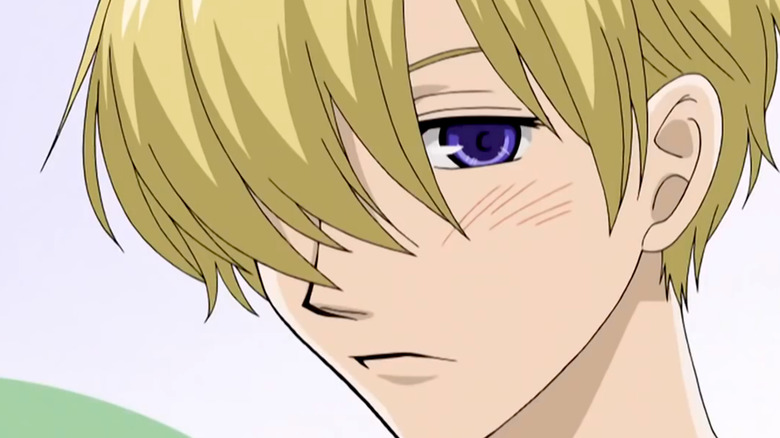 Bones
All the way back in 2006, the first season of the popular romantic comedy anime "Ouran High School Host Club" came out, consisting of 26 episodes. The series is based on the manga of the same name written and illustrated by Bisco Hatori, which was published from 2002 to 2010. 
"Ouran High School Host Club" follows a teenage girl named Haruhi Fujioka as she starts attending the prestigious Ouran High School on scholarship. Shortly after arriving, Haruhi enters a room looking for a place to study, only to stumble upon a meeting of the Host Club, consisting of six male students who have female "clients" that they entertain during their visits. Unfortunately, Haruhi is rather clumsy, and she destroys an expensive vase. The club, thinking she's a boy, has her join the club as a "Host" to pay back the loss. Well, it turns out that Haruhi has a natural talent with charming girls, and even after the boys find out that she's really a girl, they keep her secret so that she can remain a Host with them. 
The romantic comedy anime was very popular after it was released, and while there were drama CDs, a visual novel, and a live-action series that came out around the same time and later, there hasn't been a second season of the fan-favorite anime. 15 years after Season 1 was released, fans are still waiting for a second season of "Ouran High School Host Club," but will it ever come? Here's everything we know so far about "Ouran High School Host Club" Season 2.
What is the release date for Ouran High School Host Club Season 2?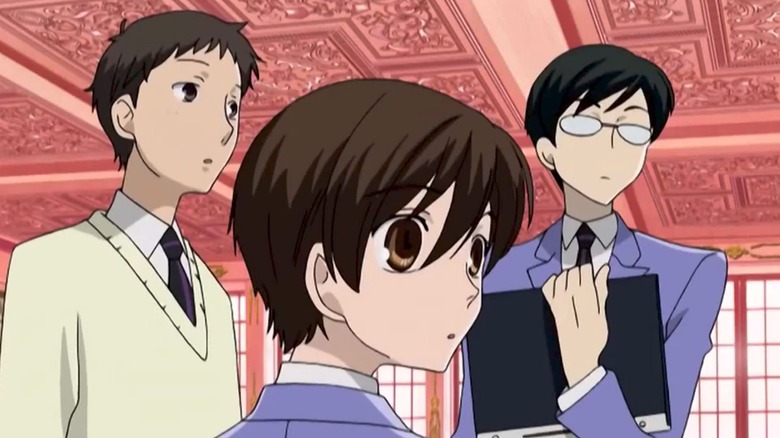 Bones
Unfortunately for fans of the older series, there is still no word on a possible second season and it's been more than 15 years. Rumors have been swirling for a long time now, with English voice cast actor Todd Haberkorn supposedly stating in a video a few years ago that he was approached by the original creators about Season 2, as reported by multiple media outlets like OtakuKart, but since then there's been nothing. Despite that, you can never really give up hope for another season when it comes to anime. There are many examples of anime that have gone over 10 years between seasons, such as the show "Digimon Adventure 02," which finished airing in 2001 and released the movie "Digimon Adventure tri. 1: Saikai" 14 years later. There was also 11 years between "Soukyuu no Fafner: Dead Aggressor" and "Soukyuu no Fafner: Dead Aggressor – Exodus," while the "Gunbuster" series had 16 years between seasons. 
"Ouran High School Host Club" has a lot working in its favor, as the animation studio Bones is still going strong, the original director currently isn't working on anything, and the show's only seen its popularity grow over the years. It's possible that the next entry in the franchise might be a movie or a reboot instead of Season 2, but that's just as exciting for fans who have been waiting so long. If the rumors of a possible upcoming "Ouran High School Host Club" Season 2 are true, then the earliest fans can expect to see new episodes is likely mid 2022, as the Bones studio has experienced some delays due to COVID-19 and has both "My Hero Academia 5" and "The Case Study of Vanitas" expected soon (Anime News Network).
What characters will be in the anime's second season?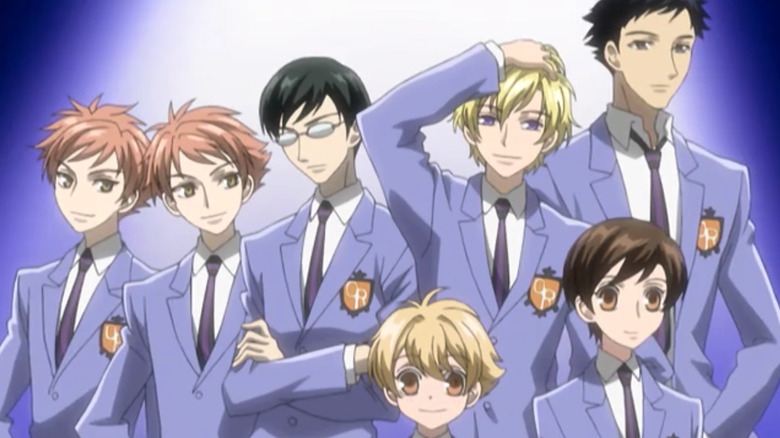 Bones
At the center of "Ouran High School Host Club" is Haruhi, but she is always with the six other members of the Host Club. The president of the club is Tamaki Suoh, the most popular Host with classic good looks and blonde hair. Although it takes him a long time to admit it, Tamaki develops strong romantic feelings for Haruhi. Always by Tamaki's side is Kyoya Ootori, who has black hair and glasses. He is the club member who handles the finances and other behind-the-scenes details, leaving the actual entertaining to everyone else. 
Then there are the mischievous twins, Kaoru and Hikaru Hitachiin, who most — save Haruhi — can barely tell apart. Mitsukuni "Honey" Haninozuka and Takashi "Mori" Morinozuka are cousins by marriage who care for each other like brothers. Mori is the tall, dark, and handsome Host, while Honey, despite being 18 years old, looks about six and uses his natural cuteness to appeal to his clients. Haruhi has a very close relationship with every member in the group and most of them have some sort of romantic feeling for her, but her connection to Tamaki is the strongest. 
What will Ouran High School Host Club Season 2 be about?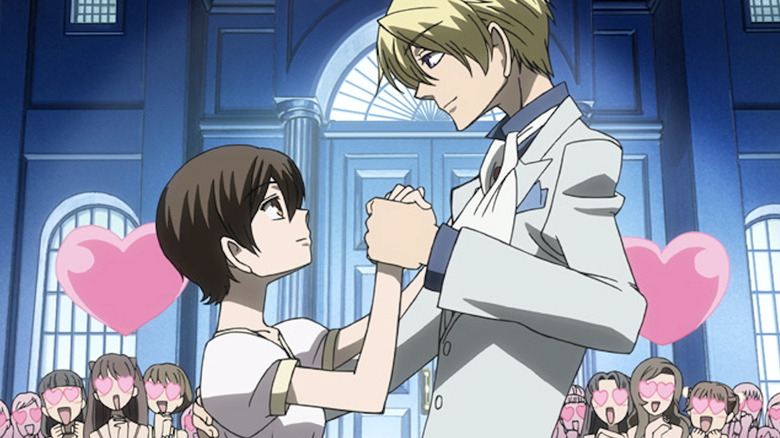 Bones
At the end of the first season of "Ouran High School Host Club," Haruhi and Tamaki reveal their romantic feelings for one another, but it seems like Kyoya is still in the running. Both Tamaki and Kyoya's fathers are very involved in the Host Club, and each parent wants their son to marry Haruhi in the long run. The first season ends with the fathers talking business, setting up what could be major issues going forward and tension between the two friends. 
While Season 1 doesn't go far enough into the romance for any of the characters to kiss, the show sets up a potential romantic relationship between Haruhi and Tamaki. If the second season were to follow the events of the manga, which has since completed its story, then it would show Haruhi and Tamaki's affections develop into a serious relationship. In the manga, the couple eventually gets married, but since the anime doesn't necessarily have to follow the exact same story, anything could happen. 
While a few of the main Hosts graduate from Ouran High School during the show, they frequently come back to help out with hosting duties, so there's no reason to worry that any of the main characters wouldn't return in Season 2 episodes. Fans of "Ouran High School Host Club" just need to keep their hopes up for another season to come soon. Within the world of anime, there's no telling when or if a show will be continued, no matter how many years after the fact it may be.