Bill And Ted's Bogus Journey Almost Had A Surprisingly Different Plot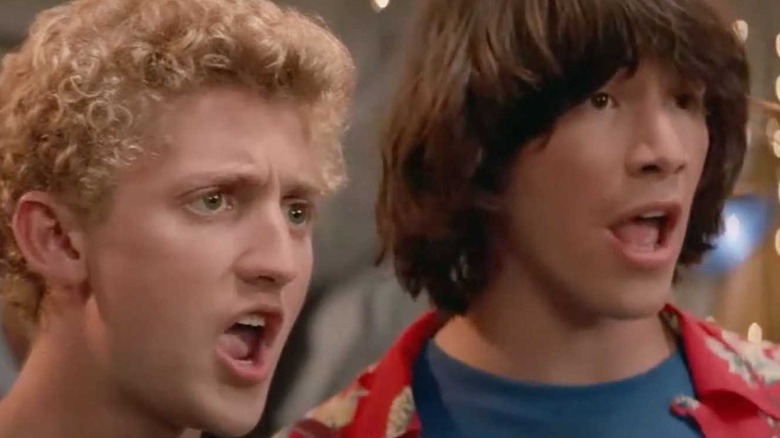 Orion Pictures
It's a tale as old as time travel. At least, it is for Bill and Ted. The dense dynamic duo's excellent adventures may not be the first thing to bring us time travel, but from their perspective they have been traversing the timeline for much longer than anyone else. The first movie, "Bill & Ted's Excellent Adventure," saw them going as far back as prehistoric times, ostensibly kidnapping the historical figures needed to pass their history class and become the universe's greatest rock band.
This ridiculous romp was followed up by a sequel, "Bill & Ted's Bogus Journey," a film that infamously departs from the established time travel formula by killing off the duo and following their ensuing journey through the afterlife. However, it wasn't always this way. The studio behind "Bill & Ted" originally had a surprisingly different plot in mind. They were convinced, however, to go a different way for a number of reasons.
Bogus Journey originally saw the duo become bookworms to pass their English class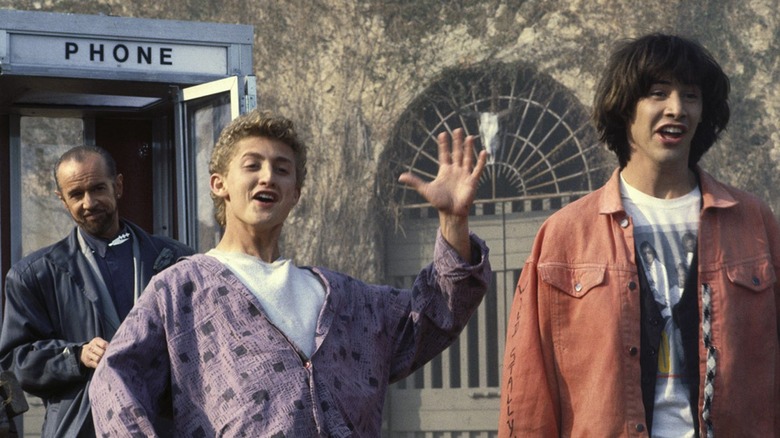 Orion Pictures
Between the releases of "Excellent Adventure" in 1989, and "Bogus Journey" in 1991, Orion Pictures had its own plans for the aforementioned sequel. According to the official "Bill & Ted" fan site, Orion was looking for something more akin to the first film. The studio asked writers Chris Matheson and Ed Solomon to write a story featuring Bill and Ted as they travel between different fictional worlds while picking up various fictional characters so that they can get a good grade on their literature presentation.
The obvious problem with this plan, however, is that it is essentially the same plot as the first film. The only difference is the superficial switch from history class to English. However, the writers disliked this plot, and shared their own ideas about Bill and Ted's journey in the afterlife with lead actors Alex Winter (Bill) and Keanu Reeves (Ted). They hoped the actors could convince Orion to change course; fortunately, they did.
"To be honest, Orion didn't really care whether they had us or not," Solomon said. "But they wanted Alex and Keanu; if they hadn't, we probably wouldn't be here now. We got to do things our way, so if it doesn't work it's our fault." Thankfully, "Bogus Journey" proved a worthy successor to the first film, paving the way for a legion of fans and the creation of 2020's "Bill & Ted Face the Music."