The Real Reason James Gunn's Creature From The Black Lagoon Remake Was Axed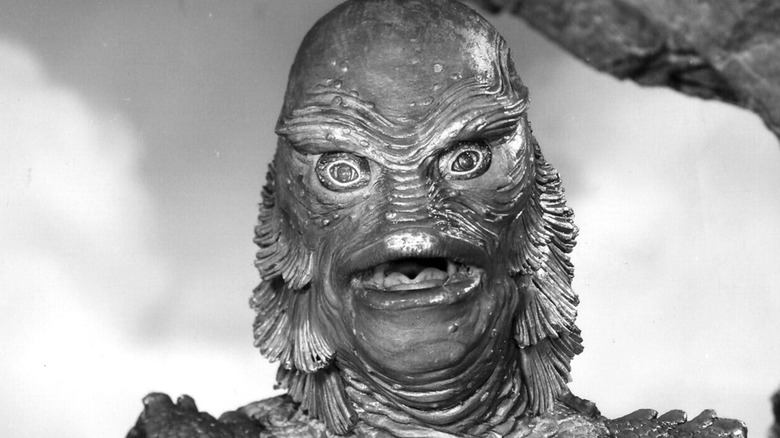 Universal Pictures
As the director of the MCU's "Guardians of the Galaxy" series and DC's "The Suicide Squad" film, James Gunn's reputation has been permanently tethered to the concept of shared cinematic universes. However, Gunn's interests extend far wider than just superhero flicks, and he's tried to make movies for at least one shared universe that doesn't adhere to the superhero format. In this case, Universal's shaky series of interconnected monster films dating back to the 1920s, currently called the Dark Universe. 
The Dark Universe officially started in 2014 with "Dracula: Untold" but has since rebooted itself on multiple occasions in response to the commercial failure of its films (via Digital Spy). The Dark Universe is currently doing much better in its third iteration. However, among all of these reboots, Universal has neglected to revamp "Creature from the Black Lagoon." This is a surprise given the success of the original 1954 version. 
Evidently, James Gunn thinks the Creature is worth another shot. In response to a fan question asking which Universal Monster franchise he would like to reboot, Gunn answered the question in a brief June 23 post on his Instagram Story. The acclaimed director revealed that he once asked Universal if he could make a "Creature from the Black Lagoon" reboot. Unfortunately, plans for the remake were quickly axed.
Universal turned James Gunn's idea down
Gunn only spoke very briefly on the subject of his proposed "Creature From the Black Lagoon" remake. In short, he revealed that Universal turned the idea down simply because they did not want him to make it. Whether Universal intends to make a "Creature from the Black Lagoon" reboot without James Gunn is unclear. However, the company has yet to announce any such reboot since Gunn's post, so it is very likely they intend to leave the franchise alone for the time being.
Another detail Gunn neglected to mention was when the director approached Universal with this idea. It is possible that Gunn approached Universal with the idea prior to the Dark Universe's beginning in 2014. Gunn had already made his name in horror with 2006's "Slither," and despite not being an official shared universe, Universal had made plenty of previously interconnected offshoot sequels to its classic films. Though, it might be more likely that he did so after the advent of the Dark Universe.
Either way, Universal clearly felt that it wasn't the right time to bring back "Creature from the Black Lagoon." Not every movie needs a remake, after all. Still, it would have been an interesting sight to see James Gunn work his magic on a classic monster movie franchise.